This is a weird time of year. Here in Berkeley it's a gorgeous day, sunny, though chilly. The magnolias are already blooming. It's not spring yet, not even winter. The looming New Year makes a guy think about transitions, the passage of time, new stuff—the usual. The numeral 2005 sounds new—shiny and pristine, just out of the box, wheareas 2004 sounds (already), old, scratched, a little battered, like my camera cellphone (which I bought in 2004). This blog is one of the transitions for the new year. I've started it for This is a weird time of year. Here in Berkeley it's a gorgeous day, sunny, though chilly. The magnolias are already blooming. It's not spring yet, not even winter. The looming New Year makes a guy think about transitions, the passage of time, new stuff—the usual. The numeral 2005 sounds new—shiny and pristine, just out of the box, wheareas 2004 sounds (already), old, scratched, a little battered, like my camera cellphone (which I bought in 2004). This blog is one of This is a weird time of year. Here in Berkeley it's a gorgeous day, sunny, though chilly. The magnolias are already blooming. It's not spring yet, not even winter. The looming New Year makes a guy think about transitions, the passage of time, new stuff—the usual. The numeral 2005 sounds new—shiny and pristine, just out of the box, wheareas 2004 sounds (already), old, scratched, a little battered, like my camera cellphone This is a weird time of year. Here in Berkeley it's a gorgeous day, sunny, though chilly. The magnolias are already blooming. It's not spring yet, not even winter. The looming New Year makes a guy think about transitions, the passage of time, new stuff—the usual. The numeral 2005 sounds new—shiny and pristine, just out of the box, wheareas 2004 sounds
[About]
[Go]
Home
Previous
Archive
Coffee
Cafes
Arts



A Christmas Miracle
12:49 PM Saturday, December 25, 2004
[But they said it's closed all day on New Year's]
Espresso Roma, Berkeley. Add another miracle to the historic list of those occurring on December 25. A cafe (not just any cafe, but my "headquarters" Espresso Roma) was open—at least until 1 PM.
Normally I spend Dec 25 with Barbara, but this year she has gone to Seattle to visit her son and I stayed home. I called my daughter on the cellphone and located her visiting the whole family on the East Coast. I caught them as they were trying unsuccessfully to restart my 87-year-old mother's heritage blueberry iMac, which had weathered a relocation move over three state lines. I told them how to zap the PRAM, and bam! it worked.
But that's not the miracle. The miracle is that a drugstore, a gas station, AAA road service (I had run out of gas—duh!), and most miraculous of all, my beloved Espresso Roma, were all open (see photo). I must say I was also impressed by the technology that made it possible to "visit" family on what would otherwise be a very lonely holiday.
And now—home to my PowerMac G5, then off to a Chinese restaurant and a movie.—JDL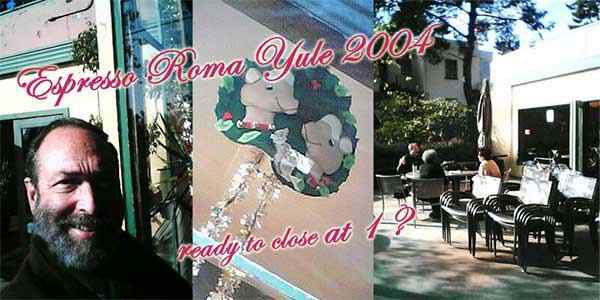 Go: [ Home | Previous | Archive | Gods & Myths | Cafes | Coffee | People | Arts ]