This is a weird time of year. Here in Berkeley it's a gorgeous day, sunny, though chilly. The magnolias are already blooming. It's not spring yet, not even winter. The looming New Year makes a guy think about transitions, the passage of time, new stuff—the usual. The numeral 2005 sounds new—shiny and pristine, just out of the box, wheareas 2004 sounds (already), old, scratched, a little battered, like my camera cellphone (which I bought in 2004). This blog is one of the transitions for the new year. I've started it This is a weird time of year. Here in Berkeley it's a gorgeous day, sunny, though chilly. The magnolias are already blooming. It's not spring yet, not even winter. The looming New Year makes a guy think about transitions, the passage of time, new stuff—the usual. The numeral 2005 sounds new—shiny and pristine, just out of the box, wheareas 2004 sounds (already), old, scratched, a little battered, like my camera cellphone (which I bought in 2004). This blog is one This is a weird time of year. Here in Berkeley it's a gorgeous day, sunny, though chilly. The magnolias are already blooming. It's not spring yet, not even winter. The looming New Year makes a guy think about transitions, the passage of time, new stuff—the usual. The numeral 2005 sounds new—shiny and pristine, just out of the box, wheareas 2004 sounds (already), old, scratched, a little battered, like my camera This is a weird time of year. Here in Berkeley it's a gorgeous day, sunny, though chilly. The magnolias are already blooming. It's not spring yet, not even winter. The looming New Year makes a guy think about transitions, the passage of time, new stuff—the usual. The numeral 2005 sounds new—shiny and pristine, just out of the box, wheareas 2004
[About]
[Blogroll]
Anders Fagerjord
Bay Area Bloggers
Berkeley Blogs
Bloggerdydoc
Doug Miller
Hewn & Hammered
Jill's Definition of Weblog
Jonas Luster
Laughing Squid
Mark Bernstein
Moleskinerie
Tant Mieux
The Dynamist
The Year of Coffee Blog

[Go]
Tag Cloud: 50 Tags
Tag Cloud: 125 Tags
Tag Cloud: 250 Tags




<<
#

?
>>

Who Links Here
Go: [ Home | Previous | Archive | Gods & Myths | Cafes | Coffee | People | Arts ]
Blog About Your Passions
10:01 PM Monday, September 12, 2005
[The future of the blogosphere?]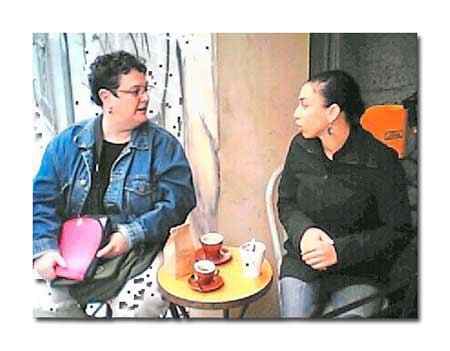 Niall Kennedy, Community Manager at Technorati, is a blogger who has many interesting things to say about the current status and the future of the blogosphere. I had a brief chat with him at the Laughing Squid Blog Launch Party earlier this year, and I have been following his blog since then. Today Niall posted an item about the importance, for bloggers, of writing about your passions, citing the Blue Bottle Coffee Company in San Francisco as an example. Their staff has a blog featuring some of the most beautiful coffee photos I've seen in a long time. Niall had this to say about blogging:
"Do I really have anything important to say? Will anyone read what I write? Choose a topic you are passionate about and share it with the world."
Another person who is indeed passionate about coffee is known as DogMilque, who co-hosts the Espresso Group on Flickr. As of today I don't know his real name, but he posts on the aforementioned Blue Bottle staff blog. He has given me some great tips about local sources of espresso good and not so good as I was researching my 3-part espresso piece. As for Blue Bottle, i have taken a few photos there myself, which I posted to Flickr. The name, by the way, comes from zur Blauen Flasche, said to have been the first coffeehouse in Vienna.
|
Technorati Tags:
Espresso
Technorati
Flickr
Tag
NiallKennedy
Go: [ Home | Previous | Archive | Gods & Myths | Cafes | Coffee | People | Arts ]
Copyright ©2004-2005 Jonathan David Leavitt