"The meaning of life and other trivia." Copyright ©2004, 2005, 2006, 2007, 2008 Jonathan David Leavitt. All rights reserved.
Every page now has Seesmic/Disqus video commenting. Scroll to the bottom to see or post video comments. To read a text-only version of Jonathan's Coffeeblog on your iPhone or other mobile phone, click here. Or to see the graphics with less text, click here.
Go: [ Home | Previous | Archive | Gods & Myths | Cafes | Coffee | Nations & Empires | People | Arts ]
[ Words | New Media | Cinema | Gastronomy | Productivity | Yiddish ]
Nuts about Notes - 8:58 PM Monday, June 1, 2009
[Notes marked in mud, sand, skin, or trees?]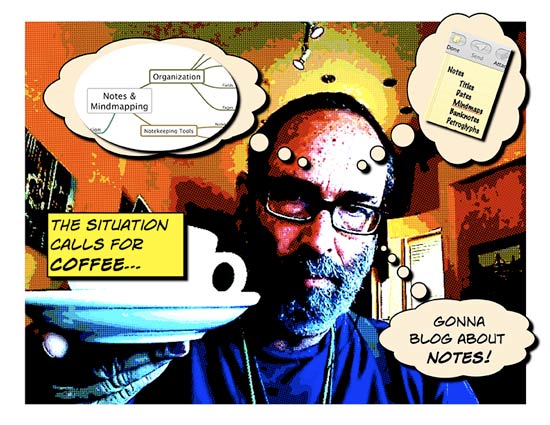 That's me. Since my first computer with floppy drives (a Kaypro II) I've been fascinated with creating, organizing, transmitting, and re-using small scraps of text and perhaps photos or sketches. Back in the Kaypro days there was a fascinating bit of software called KAMAS, which could make text outlines, and later with my first Mac, there was a great program called MindWrite. Now there are many programs for handling notes on computers and smartphones. As time went on I became interested in the existing variety of non-electronic note-making tools (notebooks, scrapbooks, and sketchbooks). At this point I realize that notes, and all of the things one can do with them, are a special interest of mine.
...
[Read More
|
Top of Page]
Tarkovsky vs. Hollywood - 5:47 PM Sunday, March 15, 2009
[Plus Yurodivy and Skomorokhs]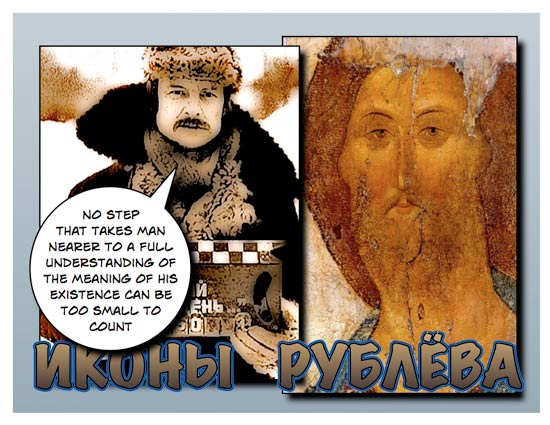 Last night I watched a strange, long, movie called Andrei Rublev. It was in my Netflix queue, and had finally risen to the top after months. I don't even remember why I added it to my queue, but I obviously had the right instincts when I did, because the film got me thinking about many things, not the least of which were Russia, the role of court jesters and holy fools, the meaning of art, and of course, the meaning of life, which is the fundamental theme of Jonathan's Coffeeblog. The film was the work of a Russian director named Andrei Tarkovski, who worked in the Soviet Union and ended his days as a defector. He was buried in a cemetery for Russians in France in 1986.
...
[Read More
|
Top of Page]
Footsteps on the Moon - 5:19 PM Sunday, February 22, 2009
[Old ideas never die, unless they're blown away.]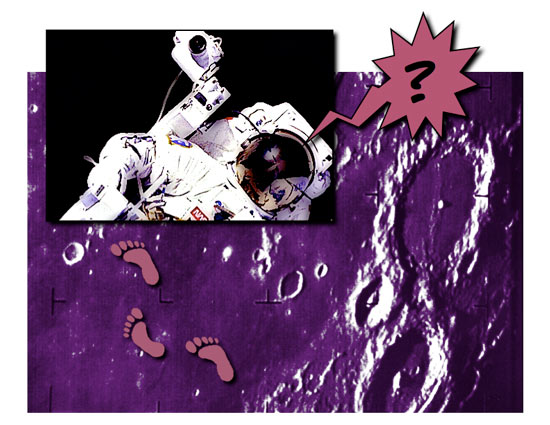 Back in 1969, when Neil Armstrong became the first human being to set foot on earth's moon, I remember something that was reported on television. The bootprints of the heavy space suit footwear made impressions in the loose topsoil of the moon's surface, and because the moon has no wind to blow the bootprints away, it was predicted that they would be there for millions of years. Millions. Literally. That, to me, was "mindblowing," in the jargon of the era. Years later, when I became interested in the origins of ideas, and the course of history of these ideas, I began to realize that ideas, too, have the potential to last forever in the minds of humans unless there is some "wind" that eradicates them. Moreover, it takes a lot of such "wind" over a long period of time, to extinguish an old idea from human memory.
...
[Read More
|
Top of Page]
Lenin - 1:16 PM Thursday, February 5, 2009
[The HOW of implementing the Marxian revolution.]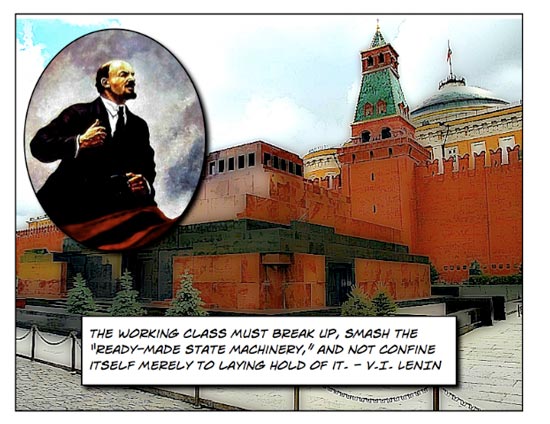 For a long time, I've been wanting to blog about V. I. Lenin, the Soviet revolutionary whose ideas and deeds virtually define what is now known as "left-wing." The problem with blogging about Lenin is keeping it short and to the point. I set myself the goal of finding a maximum of three points I could make about Lenin. I think I've done that, and will make those points, after a little background information:
...
[Read More
|
Top of Page]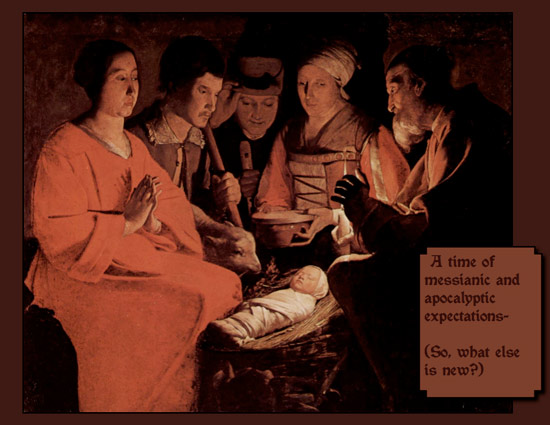 I've written before in the Coffeeblog about what it was like growing up as a Jewish boy, more or less, in a Christian country, more or less. As Christmas rolls around again (Hanukkah already started a few days ago), my thoughts turn to this theme once again. I began writing this on Christmas Eve, 2008. Although the terms are confusing, I want to write about Jews who consider themselves Christians, and about Christians who consider themselves Jewish. A good starting point is the life of one Jesus of Nazereth, born in the northern region of the land of Israel called Galilee, approximately 2,008 years ago (Wikipedia says the Jesus was probably born some time between 2 and 7 AD). It is in honor of the birth of Jesus that the holiday of Christmas is being celebrated today in Christian countries, but also in places like Japan. Even a self-designated atheist like the Jewish-born Ayn Rand enjoyed, supported, and celebrated Christmas.
...
[Read More
|
Top of Page]
Don't Shrug Her Off - 2:10 PM Monday, December 15, 2008
[Movie Review: The Passion of Ayn Rand]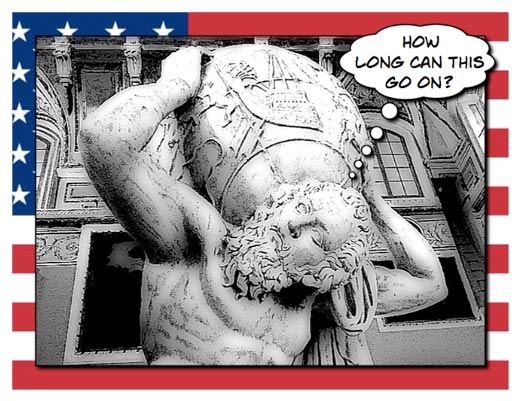 I have long been, and still am, a fan of the great Russian-born Hollywood screenwriter, novelist, philosopher, and radical advocate of capitalism, Ayn Rand. Her name surfaced again recently in a Newsweek article which blamed her for the current worldwide financial meltdown. This is not about that, however, but about a movie made about Miss Rand by Showtime, an adaptation of Barbara Branden's book, "The Passion of Ayn Rand," which I saw on a Netflix rental DVD. I loved the movie, which I had never seen though it came out in 1999.
...
[Read More
|
Top of Page]
blog comments powered by
Comments (View)