"The meaning of life and other trivia." Copyright ©2004, 2005, 2006, 2007, 2008 Jonathan David Leavitt. All rights reserved.
Every page now has Seesmic/Disqus video commenting. Scroll to the bottom to see or post video comments. To read a text-only version of Jonathan's Coffeeblog on your iPhone or other mobile phone, click here. Or to see the graphics with less text, click here.
Go: [ Home | Previous | Archive | Gods & Myths | Cafes | Coffee | Nations & Empires | People | Arts ]
[ Words | New Media | Cinema | Gastronomy | Productivity | Yiddish ]
Cappuccino - 10:55 PM Sunday, June 8, 2008
[One-third espresso, one-third milk, and...]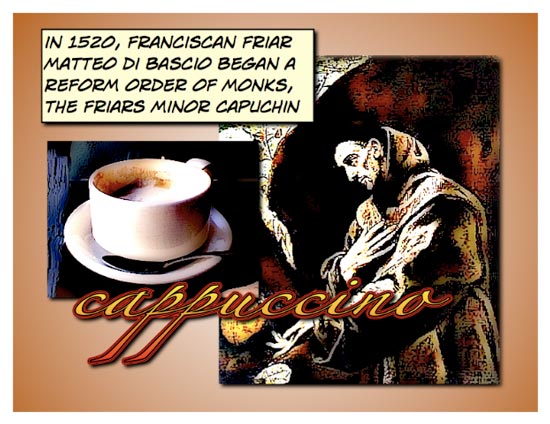 The other day I received an alarming notice from the California State Bureau of Coffeeblogging. They were concerned that I had not posted a coffee-related item to Jonathan's Coffeeblog since August of 2007. Had I not posted a cafe-related item in January of 2008, my Coffeeblogging license would already have been revoked. I was in deep trouble, and there was only one way out of the mess: post something to Jonathan's Coffeeblog having to do with coffee, and post it fast. And so, here it is: the subject of today's Coffeeblog post is cappuccino.
...
[Read More
|
Top of Page]
Ethiopian Coffee - 12:38 PM Monday, August 27, 2007
[From the place where all coffee started.]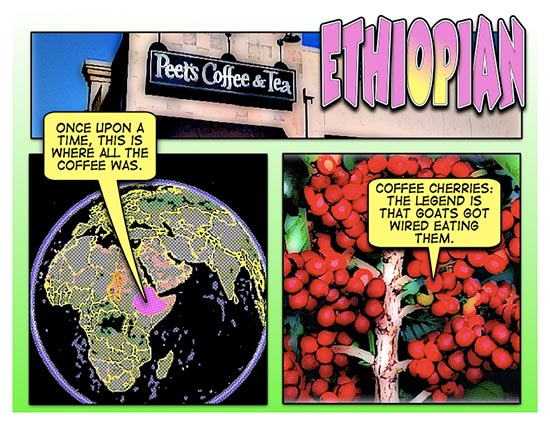 I call this a Coffeeblog, and yet I haven't written about coffee since April 12, more than four months ago. I'm in danger of having my coffeeblogging license revoked by the State Bureau of Transportation and Communication, so I'd better write something about coffee and write it now. But what? How much can a guy say about coffee? Then I remembered that Peet's serves a different coffee every day, so I could just bop into the El Cerrito Peet's and leave the choice of topic up to the gods. The gods, and Peet's, didn't disappoint me. They chose Ethiopian Fancy, coffee from the place where all coffee started. As a beverage, that is. And that was a good choice, since Ethiopia is a very interesting place....
[Read More
|
Top of Page]
Coffee in the Twitterverse - 5:40 PM Thursday, April 12, 2007
[What are you brewing right now?]
Just how important is coffee to the functioning of the blogosphere? Very important, one would think. But that would only be idle speculation. Now it is possible not just to think, but to know, on a case-by case basis, thanks to Twitter and Twitterverse. As blogs have multiplied into the tens of millions and become more bloated and complex there is a trend in the reverse direction towards microblogging, based on the design principle of economy, less is more. Twitter, an extremely popular service created by a company named Obvious, enforces the "less" part of the principle by limiting the length of blogposts to 140 characters. That's what I was hinting at when I posted this item about Twitter in late March. In addition to the 140-character limit, the Twitter folks request that every update posted be an answer to the question "what are you doing right now?" Most Twitter members respect that request most of the time. And there is an extraordinary presence of the "movers and shakers" of the blogosphere and of the Web 2.0 world among avid Twitter updaters....
[Read More
|
Top of Page]
If Bees Drank Coffee - 8:00 PM Sunday, March 18, 2007
[Delexa's coffee website popularity ranking.]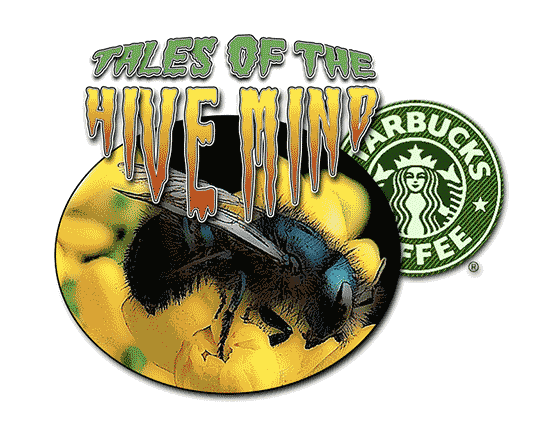 The ease with which Internet communication can aggregate the opinions of many millions of human individuals has brought about a renewed interest in what is being called the Hive Mind. An ancient Utopian ideal which goes back even before Plato's Republic and Sparta, the Hive Mind is a major theme in science fiction. The many websites which tally popularity lists, most notably Digg.com, have created the notion of a planetary, or at least species-specific human Hive Mind, which is now instantly accessible....
[Read More
|
Top of Page]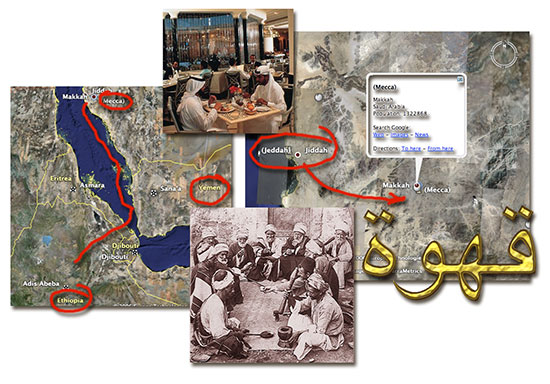 In 1587, a writer named Abd al-Qazir Al-Jaziri wrote a history of coffee, under the title Umdat al safwa fi hill al-qahwa. The Arabic word qahwa, said to mean both "coffee" and "wine", is the root of our word "coffee," through the Turkish word kahve, as referenced in this bilingual website. The standard story of coffee is that it originated in Ethiopia, was traded across the Red Sea to Yemen through the port of al-Mukha (Mocha, get it?), whence it made its way up the shipping routes to Mecca and Medina, and from there to Cairo, Constantinople, Vienna, Paris, Italian towns, and London. Since this all happened during the period just prior to release of Abd al-Qazir Al-Jaziri's book, one would like to read it, or at least a translation....
[Read More
|
Top of Page]
Roast Your Own - 1:16 PM Friday, September 22, 2006
[How the extremely hip prefer to do it]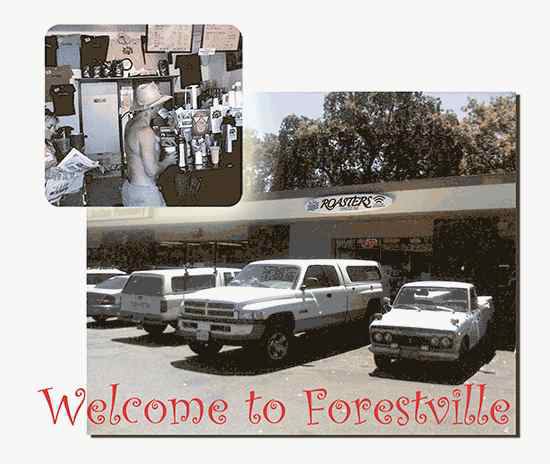 ...
[Read More
|
Top of Page]
Let the Good Blogs Roll - 3:11 PM Friday, April 14, 2006
[Look at the sidebar to the right!]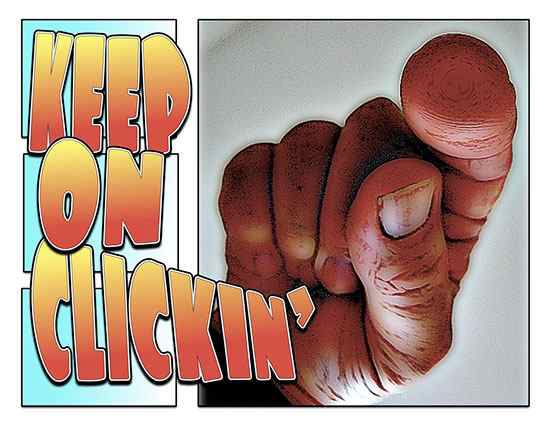 ...
[Read More
|
Top of Page]
Peet's Coffee of Berkeley - 9:12 PM Friday, December 9, 2005
[Vaticans (or perhaps Meccas or Jerusalems)]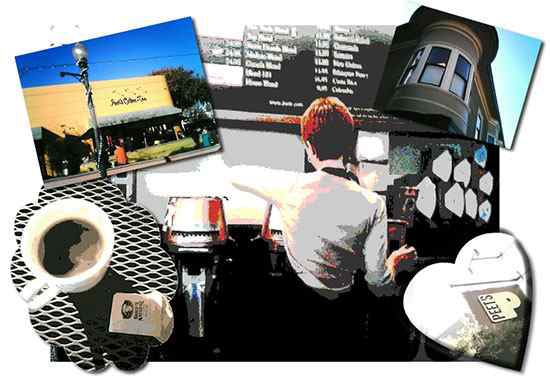 ...
[Read More
|
Top of Page]
Tu Vuo' Fa' l'Americano - 4:29 PM Thursday, October 27, 2005
[Is an Americano the Ultimate Non-Fat Latte?]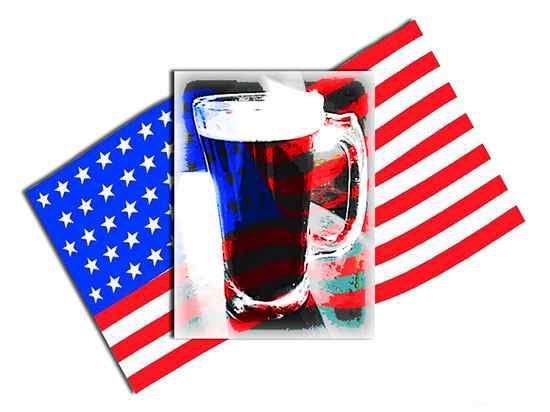 ...
[Read More
|
Top of Page]
The I-Word - 9:11 PM Sunday, October 9, 2005
[Must coffee be made slowly, artfully, with love and tender appreciation?]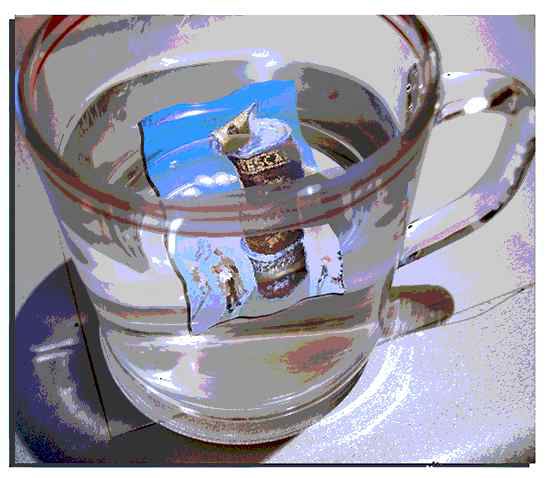 ...
[Read More
|
Top of Page]
Ahhhh, the Wi-Fi - 6:19 PM Tuesday, September 20, 2005
[Gay red umbrellas in front]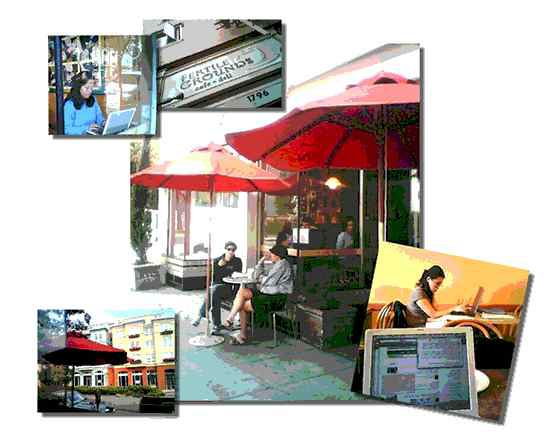 ...
[Read More
|
Top of Page]
Blog About Your Passions - 10:01 PM Monday, September 12, 2005
[The future of the blogosphere?]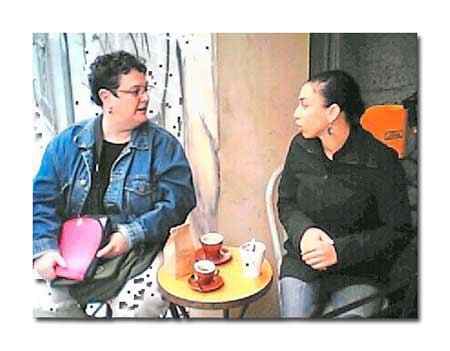 ...
[Read More
|
Top of Page]
Chock Full of Antioxidants - 12:44 PM Saturday, September 3, 2005
[Is coffee good because it's BAD?]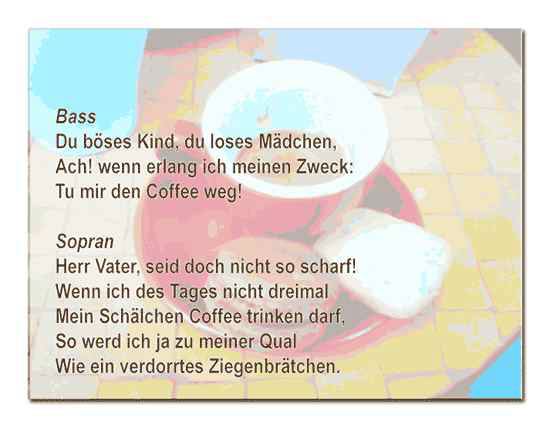 ...
[Read More
|
Top of Page]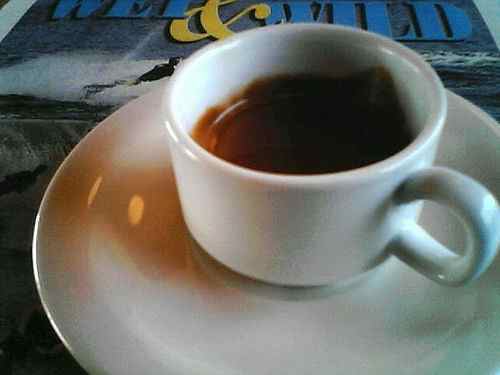 ...
[Read More
|
Top of Page]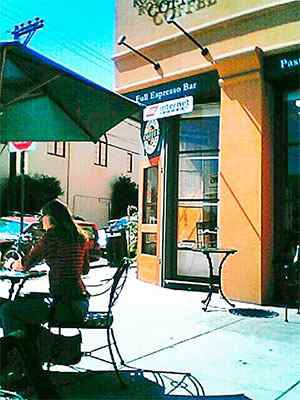 ...
[Read More | Top of Page]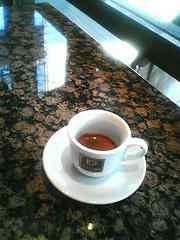 ...
[Read More
|
Top of Page]
We've got a theme song! - 9:59 PM Monday, June 20, 2005
[The real sugar is at the bottom]

...
[Read More
|
Top of Page]
Ca Phe Sua Da - 9:47 PM Saturday, June 4, 2005
[Sippers of the Crimson Sage]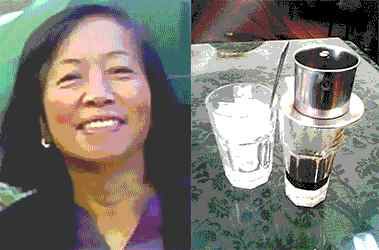 ...
[Read More
|
Top of Page]
Go Figure - 1:57 PM Saturday, May 28, 2005
[What is the capital of Rhode Island?]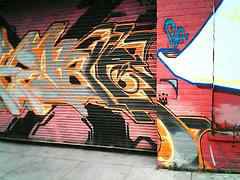 ...
[Read More
|
Top of Page]
Yuck! - 1:14 PM Monday, May 16, 2005
[It's the ceremonial ritual qualities]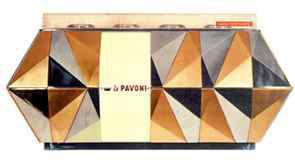 ...
[Read More | Top of Page]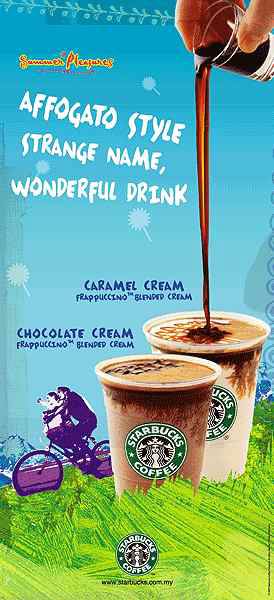 ...
[Read More
|
Top of Page]
It's time to activate the Coffee page link in the navigation bar and the "Go" sidebar. (After all, this is the Coffeeblog). My grand plan is to add a lot more items about coffee and its history, characteristics, producers, consumers, and their ilk to the new Coffee Page, as well as the home page. (There is already a "Cafes" page where the coffeehouse-related articles are listed.)...
[Read More
|
Top of Page]
Sex, Starbucks, and Rock and Roll - 2:34 PM Wednesday, March 30, 2005
[Ray Charles and a Rainy Night in Seattle]
When was the last time you were at Starbucks and either 1) had sex or 2) heard rock and roll? Never, right? So what is the common thread that links these three phenomena of contemporary culture? More than you might think....
[Read More
|
Top of Page]
Coffee History by the Numbers - 2:46 PM Tuesday, December 21, 2004
[Do you know where your coffee has been?]
Coffee Timeline:
...
[Read More
|
Top of Page]
blog comments powered by
Comments (View)