"The meaning of life and other trivia." Copyright ©2004, 2005, 2006, 2007, 2008 Jonathan David Leavitt. All rights reserved.
Every page now has Seesmic/Disqus video commenting. Scroll to the bottom to see or post video comments. To read a text-only version of Jonathan's Coffeeblog on your iPhone or other mobile phone, click here. Or to see the graphics with less text, click here.
Go: [ Home | Previous | Archive | Gods & Myths | Cafes | Coffee | Nations & Empires | People | Arts ]
[ Words | New Media | Cinema | Gastronomy | Productivity | Yiddish ]
Rough Draft on an iPhone - 5:23 PM Sunday, October 12, 2008
[A park or a beach, for example. ]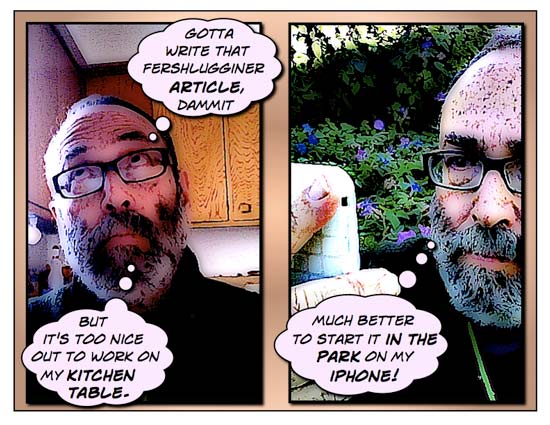 The laptop freed the writer from his office, and the iPhone freed him from his laptop. An iPhone is compact and light enough to be carried almost everywhere, and the writer can now choose the setting in which to write his article: a park or a beach, for example. I began this blogpost on my iPhone while lying in bed, on my back. The choice of setting can enhance the writer's creativity, diminish his anxiety, and help him find more time during the day....
[Read More
|
Top of Page]
September Song - 7:14 PM Monday, September 1, 2008
[Like a kid coming back from summer vaction]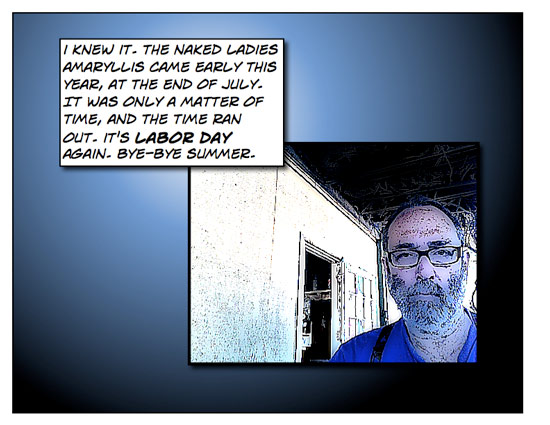 The first day of September has rolled around. The belladonna lilies warned me. Of course it had to happen. Summer has got to end. It's not officially over until 22 September at 1544 UTC. But here in the USA, today is Labor Day, the first Monday on September, reportedly established in 1882 by the Central Labor Union of New York, Brooklyn, and New Jersey. It's the last day of a symbolic summer vacation. Tomorrow is back to work.
...
[Read More
|
Top of Page]
The Stress of Not Blogging - 8:23 PM Tuesday, April 8, 2008
[A productive way of telling stories.]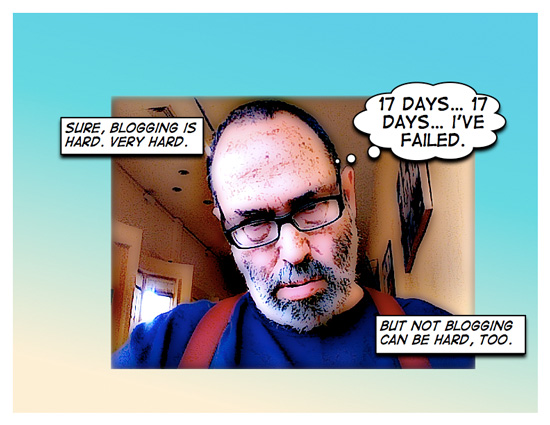 It's Tuesday, April 8, 2008 5:17:01 PM US/Pacific. I just looked at the Coffeeblog and learned that my last post was March 20: Purim. It's over. It's been over for 17 days. And yet, until this item, I haven't posted anything to the Coffeeblog. Seventeen days. Two weeks and three days. And that troubles me. I experience it as stressful. The stress of not blogging. And that brings me to a recent meme purveyed in the dead tree medium known as the New York Times. As their recent headline (April 6) trumpeted (in part) "Writers Blog Till They Drop."
...
[Read More
|
Top of Page]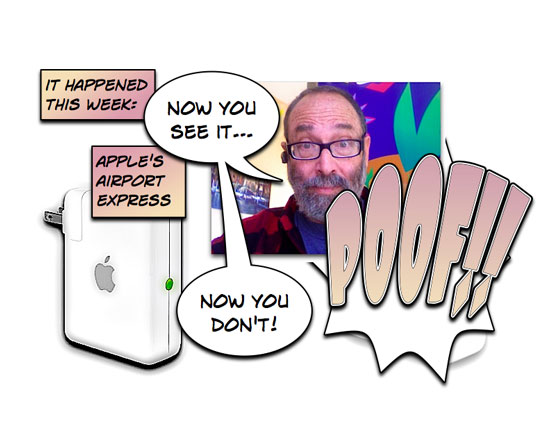 Since 2004, Apple has had a nifty product called Airport Express, a $100 wireless router with an audio jack that works with iTunes. Run an audio cable from the gadget to your stereo system or TV sound system, and you can play back iTunes from any computer in the house that has wireless access. It's a great way to listen to your MP3's and purchased iTunes over your best speakers. For years I've coveted Airport Express, but held off buying one, making do with a wired connection from an old iPod....
[Read More
|
Top of Page]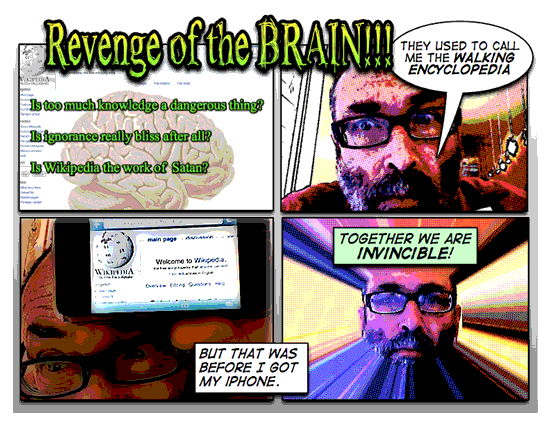 It's not even a month since I shelled out 600 smackers and an obscene amount of tax for my iPhone, and it's already changed my life. Could it change yours? If you avoid computers, email, and mobile phones, probably not. But then, you wouldn't be reading this. For me, however, things have already changed. I'm no longer tethered to Wi-Fi. I can access websites, send and receive email, check in with my Twitter buddies, and do text messages anywhere where my old cellphone worked. Since the iPhone has a speaker, I can play podcasts in the car while driving, then walk off at my destination without interrupting the program. (Audio podcasts, dammit! Watching videos while driving could change your life by ending it. It's more tempting than you think.) The iPhone camera is easier to use and captures better images that my old cameraphone, so I'm taking more photos than ever (here are some)....
[Read More
|
Top of Page]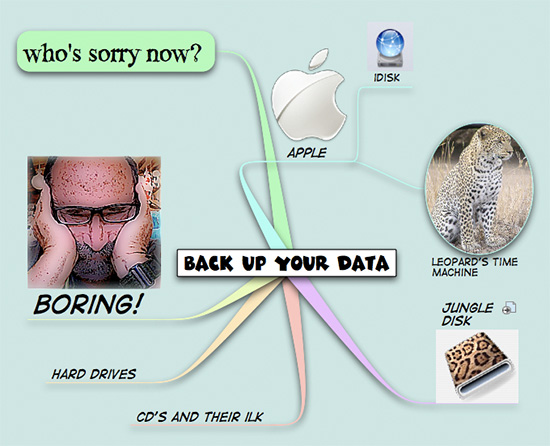 Who's sorry now? Well, I'm sort of sorry that I'm even writing this. It's not like nobody has ever written anything on any weblog about backing up data. That topic, moreover, is certainly not in the same league as, for example, Ismail and the Safavids, or Robert Bechtle's Religious Art. Nevertheless, I feel a sort of duty to write about it because I recently passed the anniversary of the time I was able to pull off a last-minute rescue of everything on my laptop's hard drive. The gods, assuming that any of them exist, were good to me, and it's payback time....
[Read More
|
Top of Page]
Mind Mapping - 3:22 PM Friday, February 16, 2007
[What do I want for lunch?]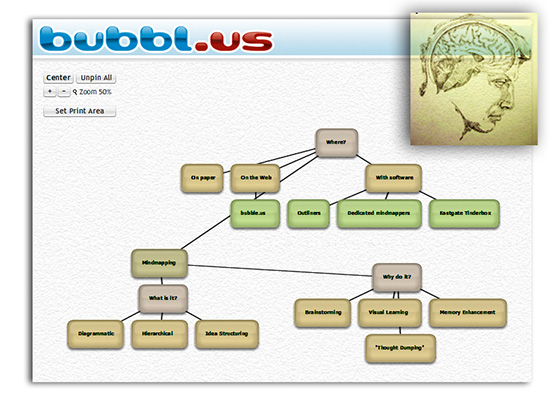 In my last post, I made a timid foray into the vast topic of chaos. Now I am ready to tackle the subject for which I prepared by exploring chaos: mindmapping. There has been plenty written on that topic on the Internet already; what follows is my own opinion, and a description of how I use mindmapping. First of all, what is it? I describe it as a hierarchically structured diagrammatic method of recording ideas....
[Read More
|
Top of Page]
Nooks & Crannies - 8:01 PM Tuesday, November 28, 2006
[Dead-time use of high-tech gadgets.]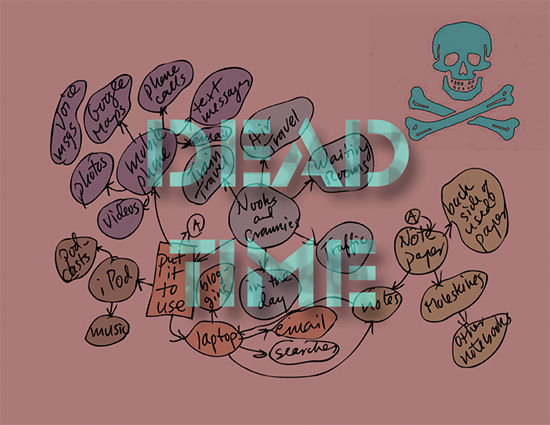 The routine of life is full of much "dead time"—seconds, minutes, or even hours or days when one feels like time is being wasted and lost: nooks and crannies in the flow of the day. Dead time is different from dolce far niente, when the pleasure of laying back and being idle can be savored and relished. Dead time feels like a waste, and is annoying. Examples of dead time include waiting for a traffic light to change or stalled traffic to start moving again, waiting in a dentist or doctor's waiting room, waiting for a plane to board, waiting for the plane to reach its destination, waiting for a scheduled event to start, etc., etc....
[Read More
|
Top of Page]
Putzing 2.0 - 5:01 PM Friday, September 15, 2006
[The Devil's Workflow.]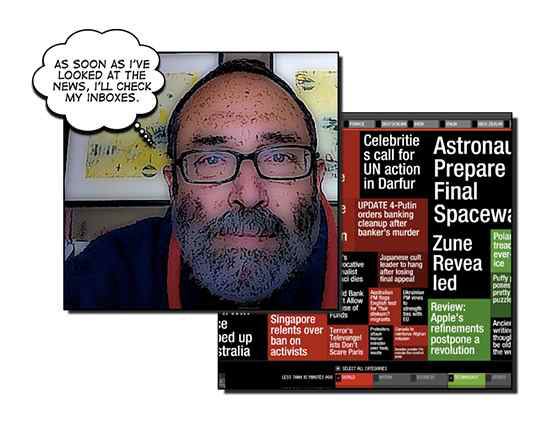 ...
[Read More
|
Top of Page]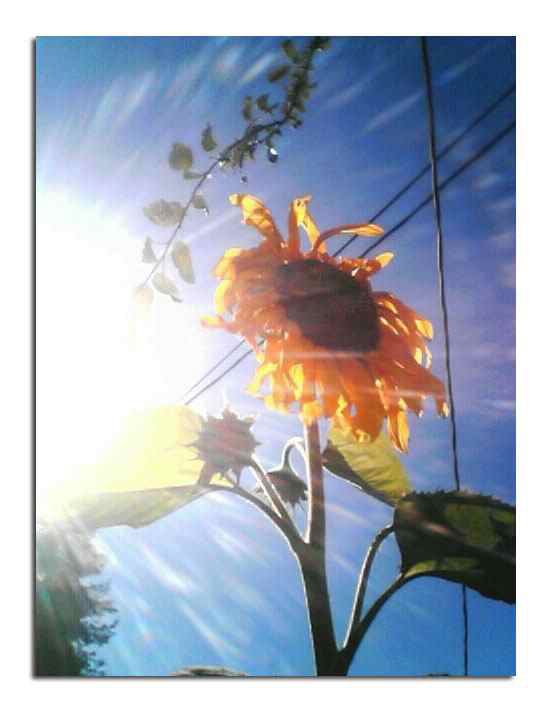 ...
[Read More
|
Top of Page]
The Great God Pan is Dead? - 4:50 PM Friday, June 23, 2006
[Comparing Apples and Lemons]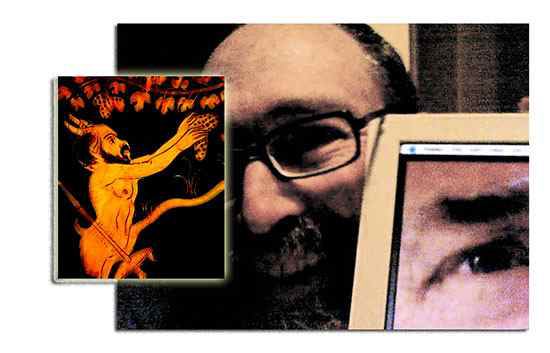 ...
[Read More
|
Top of Page]
A Week or Two Without a Laptop - 1:27 PM Friday, June 9, 2006
[An irreversibly essential extension of the human body]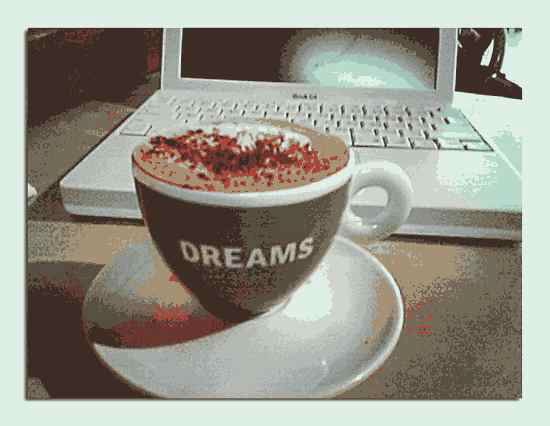 ...
[Read More
|
Top of Page]
43 Inboxes - 4:06 PM Saturday, April 8, 2006
[Can an ornery cuss be productive?]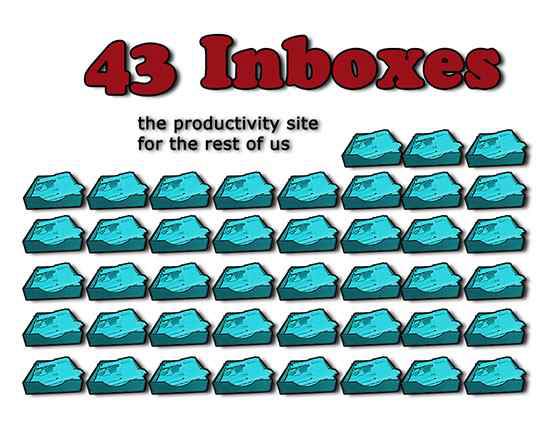 ...
[Read More
|
Top of Page]
Dolce Far Molto - 6:01 PM Thursday, February 2, 2006
[The focus of a Cro-Magnon hunter]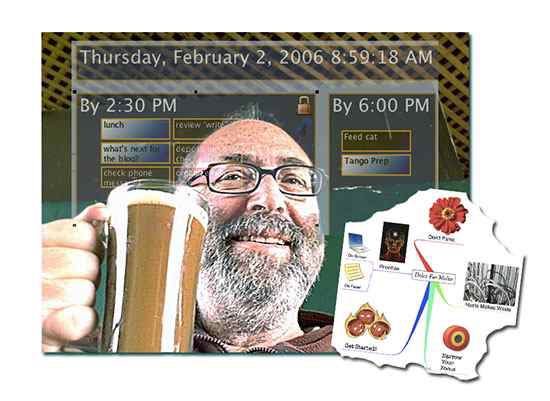 ...
[Read More
|
Top of Page]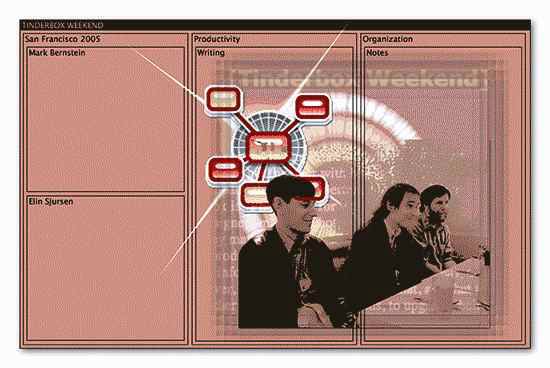 ...
[Read More
|
Top of Page]
Getting Stuff Done - 3:54 PM Monday, October 24, 2005
[Using the blog to distract yourself from Getting Things Done?]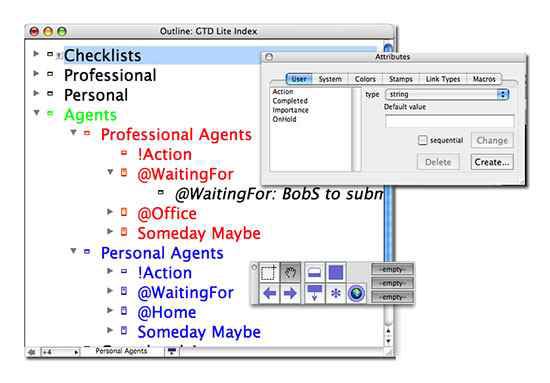 ...
[Read More
|
Top of Page]
...
[Read More | Top of Page]
The Italians call it dolce far niente, sweetly doing nothing. In the Ashkenazi Jewish diaspora it's called putzing around. Today is a good day for it. It's a preview of spring, the Espresso Roma terrace is replete with gay chatter (not that kind of gay, the other kind of gay), and, as I write these words, it's three minutes before 3:00 PM—the hour at which most of the day has been shot to hell....
[Read More
|
Top of Page]
Blogger's Block - 9:47 PM Monday, January 31, 2005
[A soul is a terrible thing to make]
Blogging has suddenly metamorphosed from something to aid and abet procrastination into something to procrastinate about. Not that I'm surprised....
[Read More
|
Top of Page]
blog comments powered by
Comments (View)