5:23 PM Sunday, October 12, 2008
[A park or a beach, for example. ]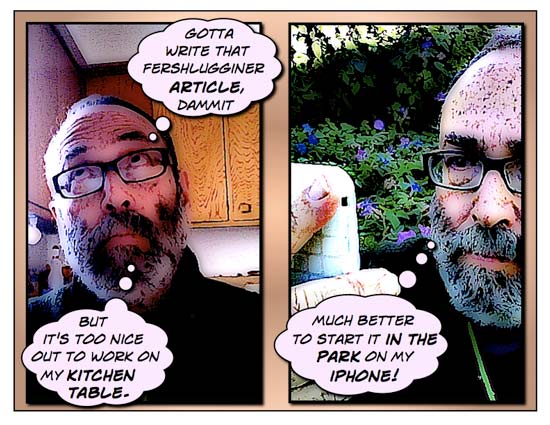 The laptop freed the writer from his office, and the iPhone freed him from his laptop. An iPhone is compact and light enough to be carried almost everywhere, and the writer can now choose the setting in which to write his article: a park or a beach, for example. I began this blogpost on my iPhone while lying in bed, on my back. The choice of setting can enhance the writer's creativity, diminish his anxiety, and help him find more time during the day.
The major limitation of the iPhone as a writing tool is the keyboard, which is too small to enable the writer to produce easily large amounts of text. Until recently, however, there was another limitation: the ability to structure the main themes and topics of the article, and to rearrange these topics to best represent the author's ideas. The second limitation has now been overcome, thanks to an iPhone application downloadable from iTunes, called CarbonFin Outliner.
Using the ingenious CarbonFin interface, the writer can create, organize, and rearrange topics and add notes to each topic. These can then be exported to a full-size computer via email or by synchronizing with the writer's page on the CarbonFin Outliner website. Email export includes text-only, which is handy for formatting a to-do list, since the outliner provides an option for making each topic a task with completion checkboxes. Better yet for the article writer: his iPhone-based creation can be exported as an OPML file.
OPML (Outline Processor Markup Language) is a variety of XML file for storage and transmission of outlines. It enables the writer, once on his Mac laptop or desktop, to import his iPhone creation into a very powerful text processing program called Tinderbox. I have written about Tinderbox elsewhere.
The process described (for Mac users with Eastgate's Tinderbox) -
1. Structure the article and start the body text notes on the iPhone, [Screenshots one, two, & three] .
2. Email the draft as an OPML file to the computer where you will publish the article.
3. Drag the OPML file onto a Tinderbox file window [screenshot]
4. Complete the notes in Tinderbox, making use of a full keyboard.
5. Revise the draft, taking advantage of Tinderbox' many features for structuring text.
6. Copy the whole article from a text view, which Tinderbox calls a Nakakoji view [screenshot]
7. Polish and publish the article, which has been built from the original iPhone topic notes.
Summary: A writer's creativity can be enhanced using an iPhone to structure the article to be written, with more powerful software such as Tinderbox to complete the process.
Keywords: article file iphone outliner text tinderbox writer Coffeeblog
More Links: Outliner Tinderbox iPhone
More Images: Outliner OPML Writer
Permanent Link to This Entry
| | Technorati Tag:
Outliner
blog comments powered by
Comments (View)
Send the URL for this item to your Twitter Friends!
Word search for recent posts to Jonathan's Coffeeblog: