"The meaning of life and other trivia." Copyright ©2004, 2005, 2006, 2007, 2008 Jonathan David Leavitt. All rights reserved.
Every page now has Seesmic/Disqus video commenting. Scroll to the bottom to see or post video comments. To read a text-only version of Jonathan's Coffeeblog on your iPhone or other mobile phone, click here. Or to see the graphics with less text, click here.
Go: [ Home | Previous | Archive | Gods & Myths | Cafes | Coffee | Nations & Empires | People | Arts ]
[ Words | New Media | Cinema | Gastronomy | Productivity | Yiddish ]
Tarkovsky vs. Hollywood - 5:47 PM Sunday, March 15, 2009
[Plus Yurodivy and Skomorokhs]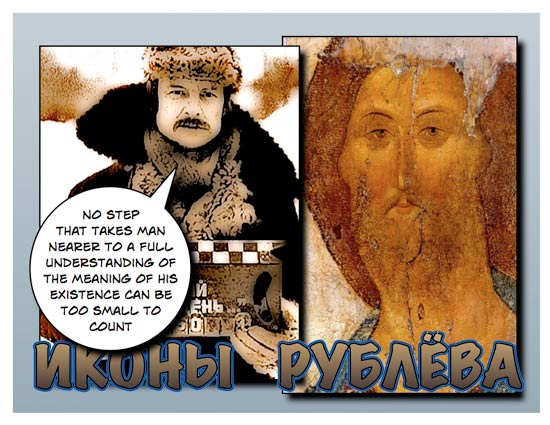 Last night I watched a strange, long, movie called Andrei Rublev. It was in my Netflix queue, and had finally risen to the top after months. I don't even remember why I added it to my queue, but I obviously had the right instincts when I did, because the film got me thinking about many things, not the least of which were Russia, the role of court jesters and holy fools, the meaning of art, and of course, the meaning of life, which is the fundamental theme of Jonathan's Coffeeblog. The film was the work of a Russian director named Andrei Tarkovski, who worked in the Soviet Union and ended his days as a defector. He was buried in a cemetery for Russians in France in 1986.
...
[Read More
|
Top of Page]
To the Shores of Tripoli - 11:23 AM Friday, November 21, 2008
[The Songs of War, Part 6]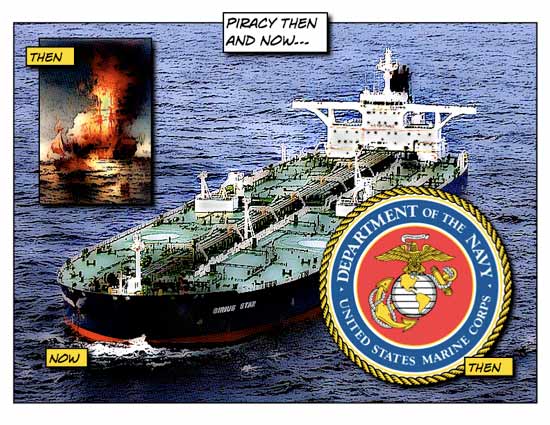 And so my multipart series on the songs of war continues. For the latest episode I had in mind a song related to the American Revolution, but events on the news during this past week influenced me to choose another song, the official hymn of the United States Marines, which is also the oldest official song of the United States military. The event that inspired this blogpost? The hijacking of a Saudi Arabian oil tanker with a petroleum cargo reportedly worth $100 million. Did the United States Marines intervene and rescue the crew and salvage the cargo? Well, no. Not this time (as of the date that I am writing this.) What, then is the connection? The connection is the second line of the first stanza of the Marines' hymn, "to the shores of Tripoli." [YouTube video] That second line refers to an important historical event known as the First Barbary War (1801-1805), important not only in US history but to the maritime history of the Mediterranean and the Atlantic Ocean, to European and American relations with sovereign Islamic states, and to international policy on piracy on the high seas.
...
[Read More
|
Top of Page]
Gloomy Sunday - 7:00 PM Sunday, October 5, 2008
[Dead people in the streets. Everywhere.]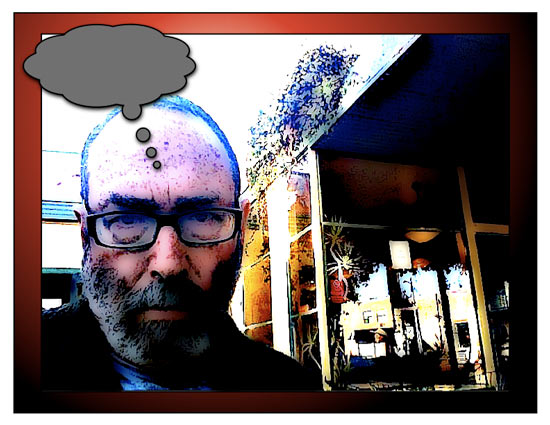 Yes, it's Sunday, and yes it's gloomy. Not totally gloomy. In fact, the sun is out and it's near the end of a beautiful day. So why am I writing about this? Because I'm feeling kind of gloomy, and there's no better day to write about gloomy Sundays and about the song "Gloomy Sunday," which has an interesting story behind it. If you had read my last blogpost, you might have gotten the idea that I was skeptical about the huge financial bill that was pending before the US Congress, skeptical because the same people who caused the financial crisis were now lobbying hard for a $700 billion-dollar fix. And, although there is much evidence that the bill was opposed by a large majority of Americans, it was passed anyway. And, yes, it's October, autumn already, and yes, it's Sunday, the gloomiest day of the week second only to "blue Monday." My last two blogposts were grim, melancholy, and morose, and now: Gloomy Sunday. Will I ever pull out of this spiritual nosedive? You betcha. But not in this blogpost, which is all about gloom. Not gloom and doom. Just gloom.
...
[Read More
|
Top of Page]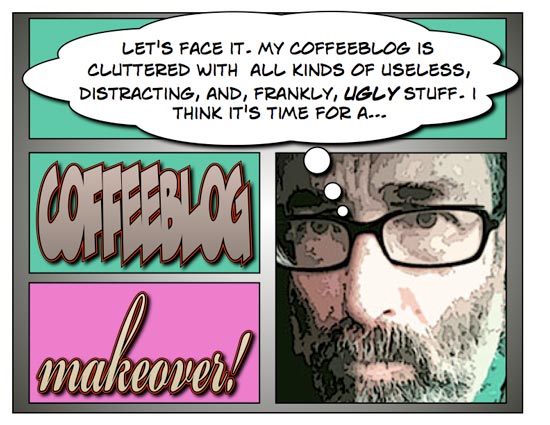 I've tried it before. I changed the background color of the page templates for Jonathan's Coffeeblog, and found a color I didn't totally hate. And now, finally, I've taken the bull by the horms and, hopefully, made the ol' C'blog more useful and readable. In large measure I was able to do this due to the tactful guidance of a friend who is an interface designer for the Web and mobile devices. The Coffeeblog has grown organically and incrementally, like a huge fungus, although I prefer the metaphor of Rome and Paris which also grew organically from small beginnings. It has always been, and still is, my toy to play with powerful and interesting software for integrating text and images.
...
[Read More
|
Top of Page]
Yiddish - 1:11 PM Wednesday, January 30, 2008
[Oy, is it Jewish!]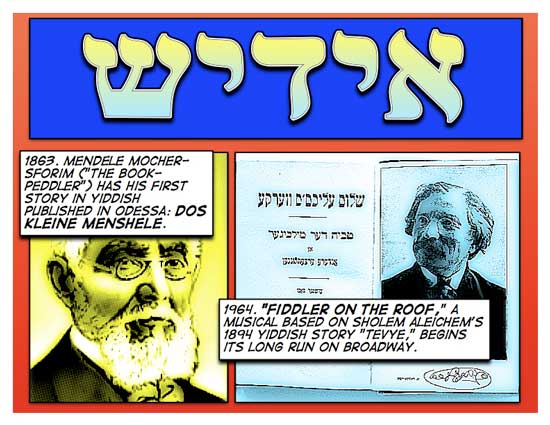 What chutzpah! I should schmooze with that schmegeggie? Oy, vey! Yes, we're talking Yiddish here, the fershlugginer Jewish language that refused to die. After being urged by Ksenya Gurshtein, an up-and-coming blogger, curator, and art historian, I added a Yiddish page to the Coffeeblog. As a kid, however, I was encouraged to avoid the use of Yiddish around starchy white Protestant Anglo-Saxons and other neighbors who might look down on this all-too-colorful linguistic remnant of the East European ghetto, or at the very least, find it bizarre, very foreign, and well, too Jewish. And they should have found it very, very Jewish. Because Yiddish is, you should pardon me for saying so, very, very Jewish. Oy, is it Jewish! In fact, Yiddish means "Jewish." In Yiddish. As a kid I heard some adults call the language "Jewish" rather than Yiddish. They were speaking English when they said that, of course.
...
[Read More
|
Top of Page]
I am Curiousyellow - 12:07 PM Thursday, November 15, 2007
[Long? Boring? Banned in Massachusetts?]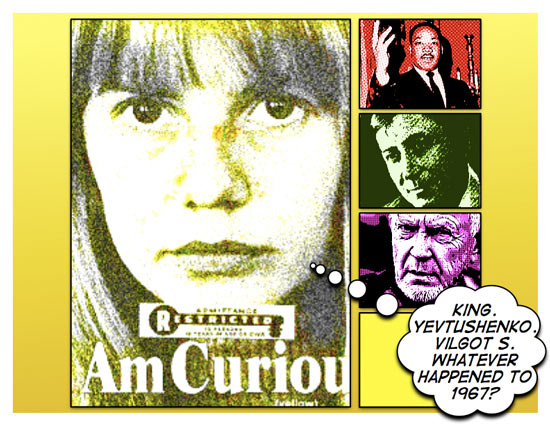 The month after I started Jonathan's Coffeeblog, I was curious about the process of starting a blog using the Blogger website. I gave my exploratory blog the title "Curious" with the username (changed later) of "curiousyellow," which I made up on the moment, suddenly recalling the 1967 Swedish film I am Curious (Yellow). Since then, curiousyellow has been my username on many social websites, including Flickr, del.icio.us, Twitter, and Seesmic. Recently I decided to see the movie again to see if my opinion of it had changed. It has changed....
[Read More
|
Top of Page]
Eulogy for the Counterculture - 3:58 PM Friday, November 9, 2007
[Did the Counterculture Americanize the rest of the world?]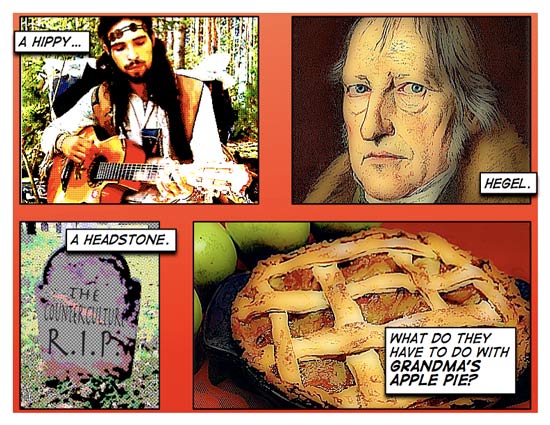 The Counterculture of the 1960's is dead. Kaput. History. A little over forty years ago the Summer of Love, one of the iconic events of the Counterculture, took place here in San Francisco. The following year there occurred the world-wide cataclysm of 1968, the emergence of the New Left, which challenged everything across the political spectrum, including the Old Left. However, 1968 in its turn was an echo of 1848, the year that the Communist Manifesto was published, and the suffering urban workers rose up against their nouveau-riche middle-class overlords and the still-powerful aristocracy....
[Read More
|
Top of Page]
Osanpo Video - 8:20 PM Tuesday, October 23, 2007
[I had an epiphany.]

There is a very popular group on the photography-oriented social networking website Flickr: Osanpo Camera. It is so popular that they have a daily limit on the number of photos that can be posted. Now, osanpo is a Japanese word that means, essentially, "free walking," If the o at the beginning of the word means "honorable," as it does in many other Japanese words, than osanpo means "honorable free walking." In my opinion osanpo deserves to be honored; it is a fascinating yet very democratic art form. I wanted to read more about it, but I can't read Japanese and most Internet references to osanpo are in that language. However. I would like to believe that a new project of mine, a video project, is in the best osanpo tradition....
[Read More
|
Top of Page]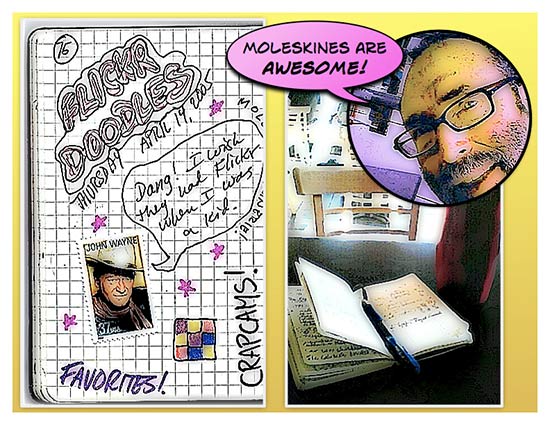 For those of you who may not know what a "Moleskine" is, it's a notebook made by an Italian firm, Modo e Modo, and marketed in bookstores, art supply stores, upscale stationery stores, museums, and the like. What makes a Moleskine different from other notebooks is that it's probably better-made than most (though there is some serious competition, especially price competition), it has some Italian pizzazz (like Alfa Romeos and bruschetta), it has an unusual name, and, probably most importantly, it has become a cult object, creating in turn, an aura of celebrity among certain other examples of such a prosaic product as a notebook. Moleskines come in assorted sizes, bindings, page layouts, and with or without pre-loaded information....
[Read More
|
Top of Page]
Fall Colors: In Berkeley? - 2:55 PM Monday, October 8, 2007
[Try visiting a beach on Christmas Day.]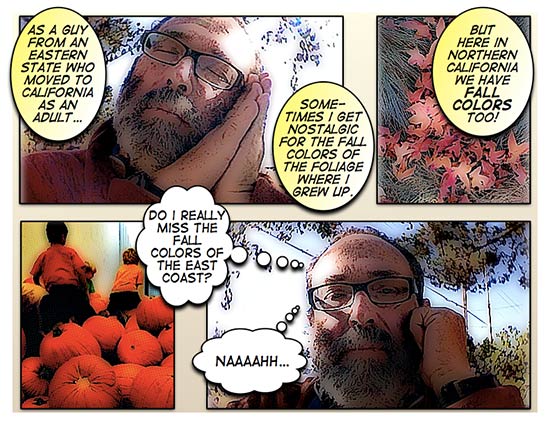 The colors of the foliage during autumn in New England are legendary, at least here in the USA. We Californians who were born and raised in the Eastern USA lament the loss of the seasonal changes, especially as October rolls around. An occasional earthquake or mudslide we can stand, but we are nostalgic for fall foliage. Or so we believe. As for me, at this time of year, I am always pleasantly surprised: we do have fall colors. Autumn is a beautiful time in Berkeley....
[Read More
|
Top of Page]
Pack Up Your Troubles - 10:10 PM Sunday, August 12, 2007
[The Songs of War, Part 5.]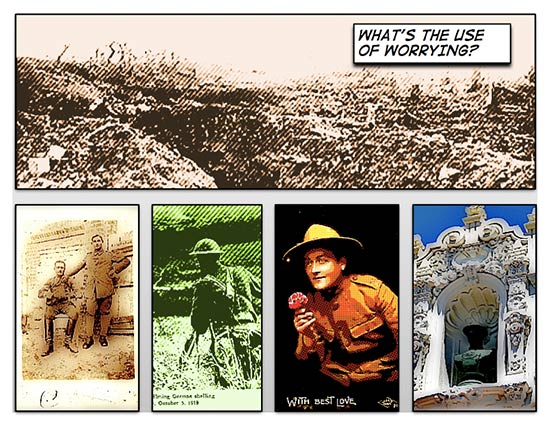 They called it the War to End All Wars, the War to Make the World Safe for Democracy, and the Great War. We call it World War I. Two empires were dismantled by the victors, leaving the world in the shambles we are dealing with today, and a third changed its name to the Soviet Union. Wikipedia says that one side had 5,525,000 military dead and 4,121,000 military missing, while the other side had 4,386,000 dead and 3,629,000 missing. The war gave us the machine gun, the tank, air forces, and probably gave us the modern peace movement. No, there wasn't a lot to smile about....
[Read More
|
Top of Page]
Nel Blu Dipinto di... - 3:05 PM Thursday, July 26, 2007
[I feel it in the solar plexus.]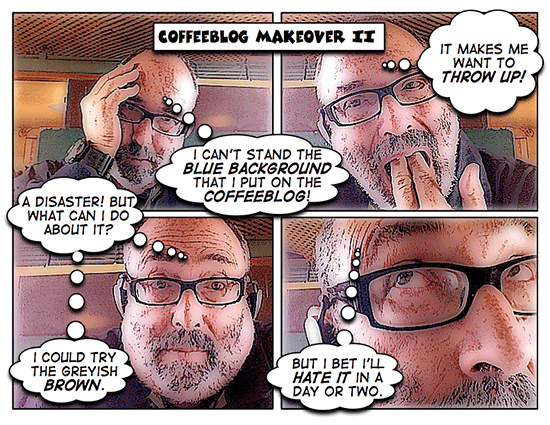 OMG. What have I done to the dear old Coffeeblog? What was I thinking?
...
[Read More
|
Top of Page]
Easier on the Eyes? - 9:39 PM Friday, July 20, 2007
[Suddenly it began to look very PC.]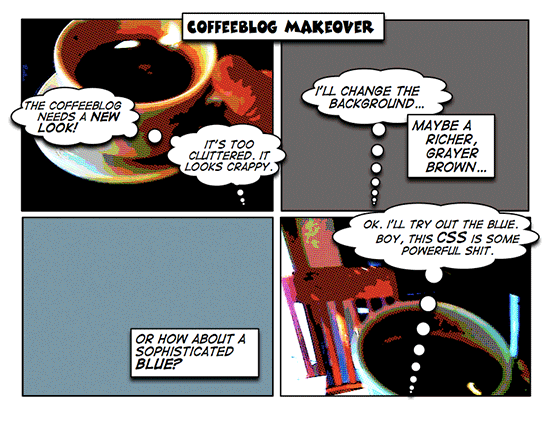 I suppose that it had something to do with my new iPhone. That Apple minimalism got to me. Actually it may have begun earlier this year when I spent more than 200 bucks on a pair of Prada glasses. On a cost-per-wear basis, that's not too bad, but that was the first time I spent a lot of extra money just because something looked stylish. My old Japanese glasses cracked right across the bridge of my nose, and I couldn't fix them with duct tape. Are you beginning to see a trend here? A life-long nerd suddenly craves high style. Not that I can or will change my whole life. The Prada glasses and the iPhone are merely tokenistic. I still love my rust-colored fleece jacket which I bought on sale at REI when the color became very unfashionable. My girlfriend hates it but it's an old friend....
[Read More
|
Top of Page]
Edith Piaf, the Movie - 4:01 PM Friday, July 13, 2007
[The vernacular language of Paris.]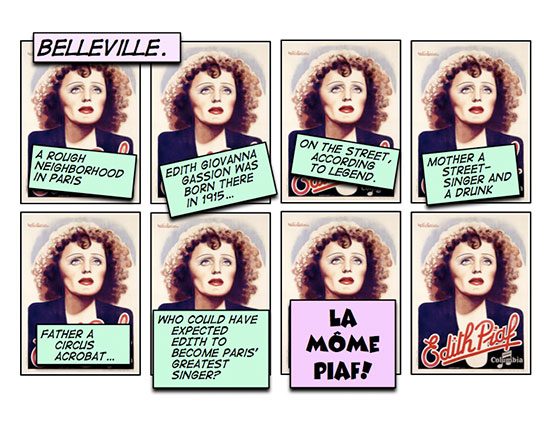 The other day I saw a great movie with a friend and I want to write about it to recommend it to my readers. I'm having a hard time writing about it, however, and I don't know why. Maybe I'll figure out why by the time I finish this. Anyhow, the movie was about Edith Piaf, the great French singer who died in the 1960's, and was named (for non-French audiences) La Vie en Rose, meaning "life in pink" or "the rosy life," after the famous song written by Piaf herself. The French title of the movie is La Môme, meaning the "kid" (human, not goat), and is Parisian slang. Actually, the vernacular language of Paris was almost as much the subject of the movie as Piaf herself....
[Read More
|
Top of Page]
Ninna Nanna Malandrineddu - 2:04 PM Saturday, June 16, 2007
[Keep the family's honor.]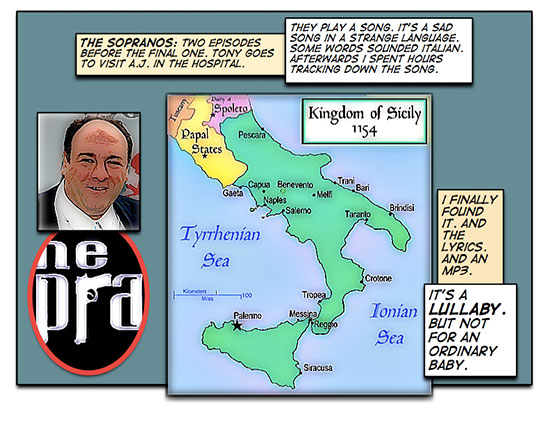 It's over. The Sopranos television series has aired its last episode. If you're a fan like I am you've seen them all, and you're going to miss Tony and Carmela and Meadow and AJ and the rest of the family and the Family. At the end of the third episode from the last, AJ is in the hospital, and Tony goes to visit him. A song starts to play and then the credits roll....
[Read More
|
Top of Page]
Itazuke Tower - 6:52 PM Wednesday, June 6, 2007
[The Songs of War, Part 4.]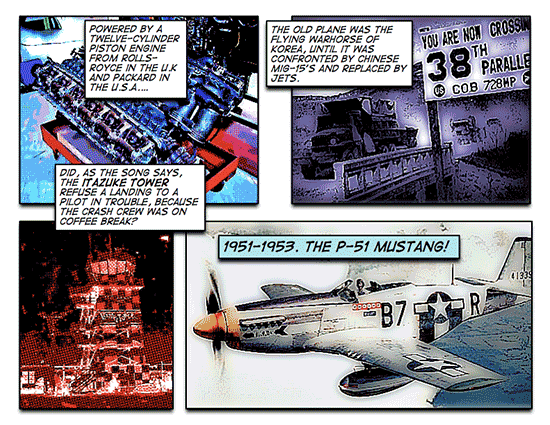 As a high school student I and two buddies, an inseparable threesome, were fans of the folk singer Oscar Brand, who collected funny songs, election songs and the kind of rough and rollicking songs sung by sailors, soldiers, and pilots of military aircraft. What I didn't know then was that Oscar had a whole album of Air Force songs, and one of those songs is about to become my nominee for the best war song of the Korean War (1950-1953). Another Cold War proxy campaign like Vietnam, one can make the argument that the Korean War never actually ended. To this day the US still has troops in South Korea, and North Korea now has long-range missiles and has conducted underground nuclear testing....
[Read More
|
Top of Page]
Little Lulu and Marge - 3:49 PM Sunday, April 29, 2007
[If you want to send a message, try Western Union.]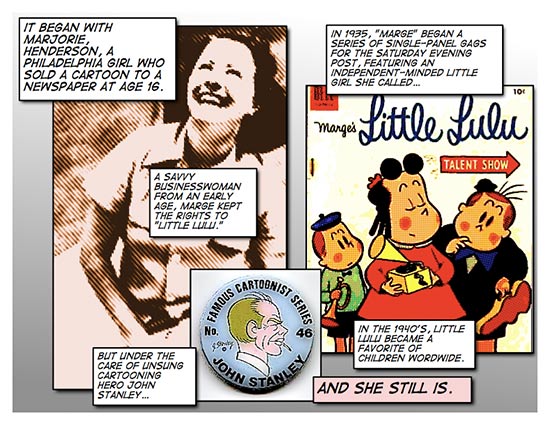 A visit to a cousin last week stirred up childhood memories when I saw her daughter reading a book of Little Lulu comics. The Dutchess of Kensington (she spells it with a T because she is Pennsylvania Dutch) came along for the visit, reminding everyone that Little Lulu has always been, and still is, her favorite cartoon character. As a ten-year-old at camp in the 1950, I read zillions of comics passed around by the other boys. Although we boys preferred more violent, adventurous stuff, there was plenty of Lulu, the girl in the short red dress, who had her own mind and followed it. ...
[Read More
|
Top of Page]
Molon Labe: 300, the Movie Review - 8:20 PM Monday, April 9, 2007
[Bashed, impaled, speared, run through, mutilated and pierced.]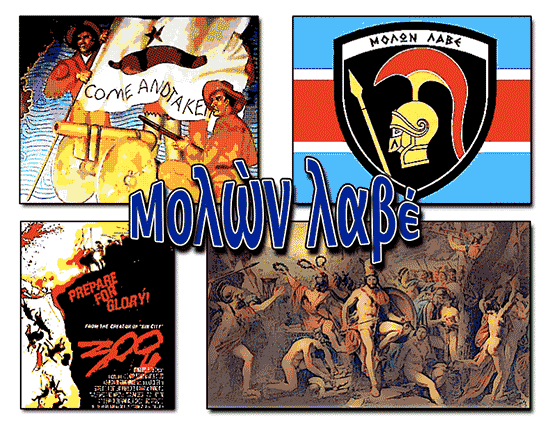 Do a Google search for the phrase Movie Reviews "300." You will probably, as I did, get about 22,100,000 hits. Why, you might ask, does the Warner Brothers action movie, based on a Frank Miller graphic novel, in turn based on the Battle of Thermopylae which took place in Greece in 480 BC, require yet another review, which is what you are reading? Read on…...
[Read More
|
Top of Page]
300: The Book Review - 7:04 PM Sunday, March 25, 2007
[Testosterone-powered drama.]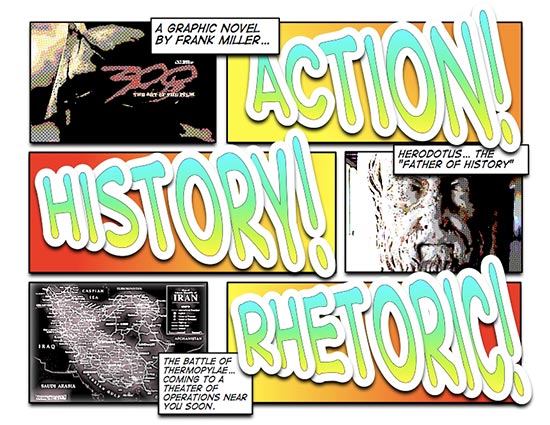 A fascinating cultural phenomenon is unfolding before us. A battle fought 2,486 years ago, chronicled by a Greek known as the Father of History, resurrected from the dusty basement of academia by a cartoonist who turned it into a 1990's comic book series, has now hit the movie theaters in a groundbreaking mash-up of cinematography and computer graphics, a blockbuster hit, which inspired an cry of outrage from the spokesmen for a Middle Eastern theocracy, who are blaming the whole thing on (that's right) the Jews....
[Read More
|
Top of Page]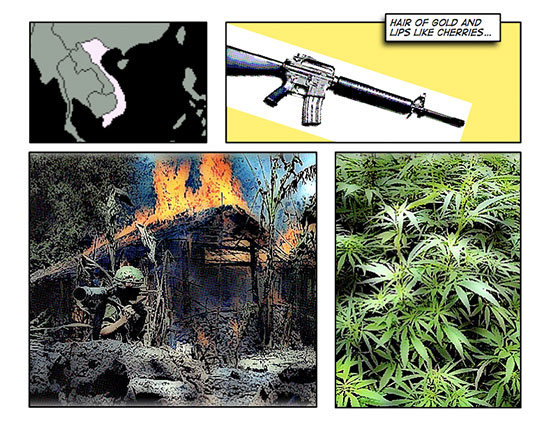 How many of you Coffeeblog fans out there knew that Claude "Curly" Putman, Jr. wrote the greatest war song of the Vietnam War era? Yes, this is the third in the Coffeeblog series on the greatest songs of America's wars, which began with "Hadji Girl" and followed with "Lili Marlene." What makes the Vietnam war special in this series, is that I was there. I heard the songs. And I've picked the greatest war song of that era, though I suppose there are other candidates. (John Lennon's "Imagine?" it's not a war song, it's a peace song.)...
[Read More
|
Top of Page]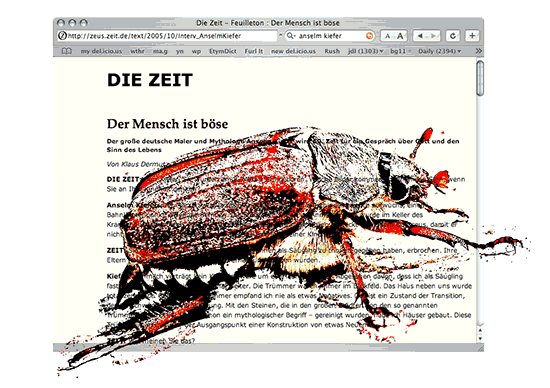 Maikäfer flieg.
Dein Vater ist im Krieg.
Die Mutter ist im Pommerland,
Pommerland ist abgebrannt.
Maikäfer flieg.
...
[Read More
|
Top of Page]
Vlogging a Dead Horse - 3:33 PM Friday, December 1, 2006
[Captain Video has been promoted.]
As of today, Jonathan's Coffeeblog makes its debut as Jonathan's CoffeeVlog. That's right, instead of the usual static image, there's a video, courtesy of YouTube. If you can get the YouTube link to run, you will see a talking head clip of your trusty CoffeeVlogger pondering the difficult question of whether the term vlog is monosyllablic, with a V instead of a B, or polysyllabic, pronounced vee-log in English....
[Read More
|
Top of Page]
If a Squid Could Laugh - 7:33 PM Friday, November 17, 2006
[Why, Geek Art, of course.]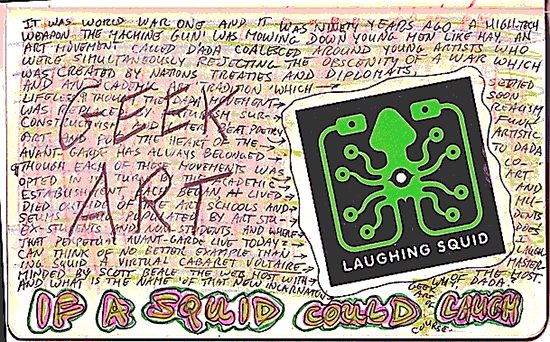 It was World War One, and it was ninety years ago. A high-tech weapon, the machine gun, was mowing down young men like hay. An art movement called Dada, which rejected the apparent lifelessness of the academic art tradition, coalesced around young artists who resisted the obscenity of a mass war created by diplomats and their treaties. Though the Dada movement was rapidly replaced by Surrealism, Constructivism, Futurism, and decades later, by Beat Poetry, Funk Art, and Pop, the heart of the artistic avant-garde has always belonged to Dada....
[Read More
|
Top of Page]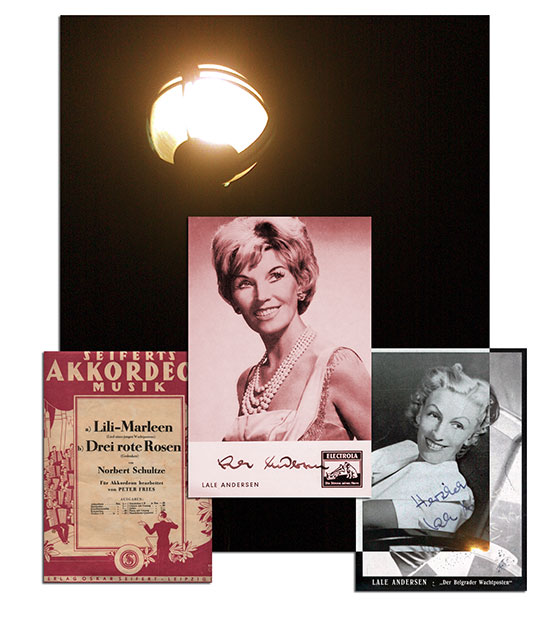 Some time ago I threatened to write a series about war songs, and I hereby post part 2 of that series. Lili Marleen, written as a poem by Hans Leip in 1915, and set to music by prolific German songwriter Norbert Schutlze in 1938, concerned a girl waiting for her soldier boyfriend underneath a lantern: "Wenn sich die späten Nebel drehen, werd' ich bei der Laterne stehen, wie einst Lili Marleen, Wie einst Lili Marleen." (If the late-night mists swirl, I'll be standing by the lantern, as I once did, Lili Marlene.")...
[Read More
|
Top of Page]
Flickr, Zooomr, and Shutr(fly) - 5:38 PM Sunday, October 22, 2006
[The "old days," which means a year ago.]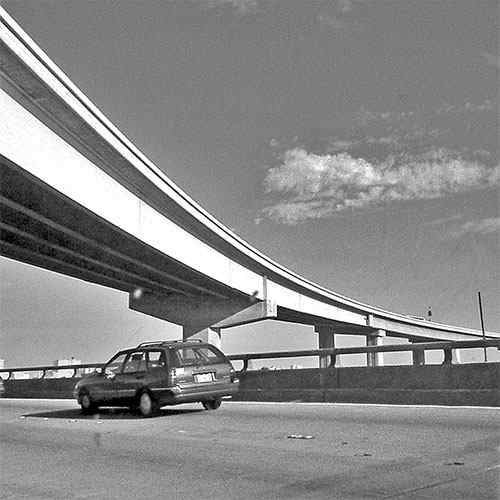 ...
[Read More
|
Top of Page]
A Dinky Little Ride - 7:28 PM Sunday, October 15, 2006
[Five minutes of total fun.]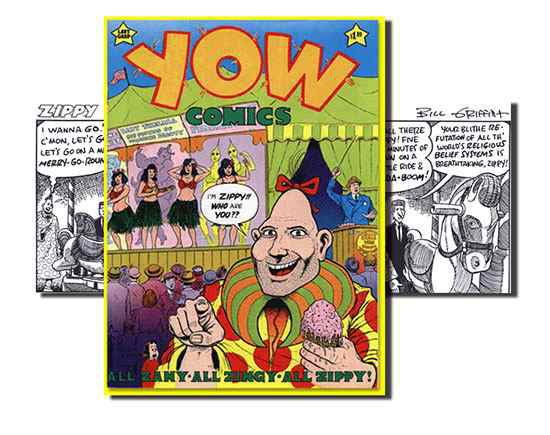 ...
[Read More
|
Top of Page]
Hopperesque - 6:02 PM Monday, September 4, 2006
[It just made Sartre sick to his stomach.]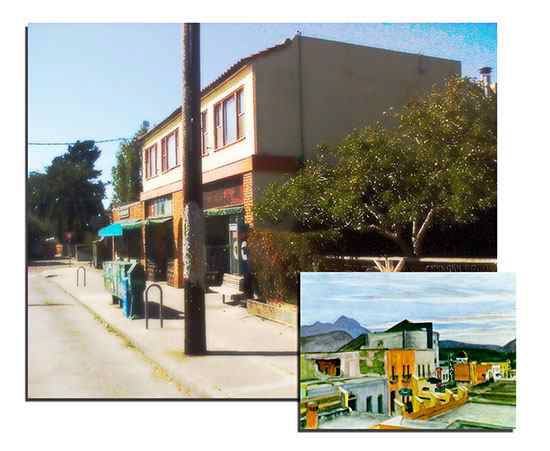 ...
[Read More
|
Top of Page]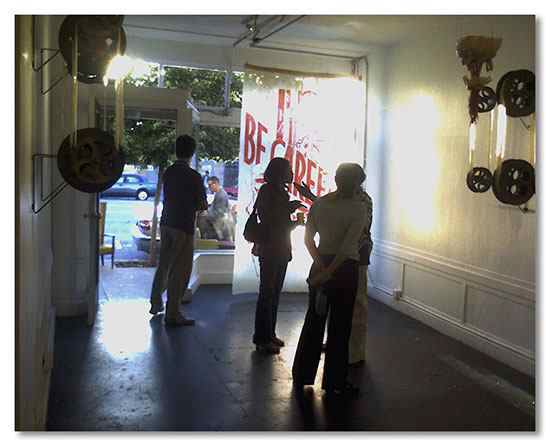 ...
[Read More
|
Top of Page]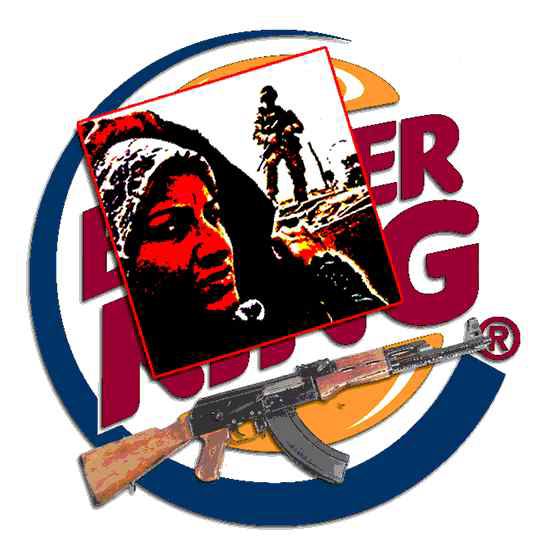 ...
[Read More
|
Top of Page]
Georges Brassens - 4:04 PM Thursday, May 11, 2006
[When there is no more wine in my barrel…]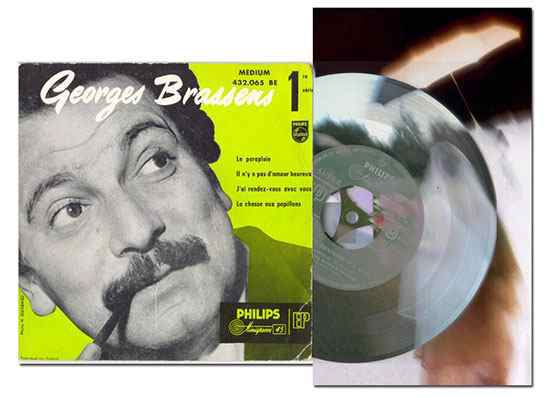 ...
[Read More
|
Top of Page]
Bettie Page - 9:23 PM Monday, April 17, 2006
[Stranger bedfellows than one would imagine]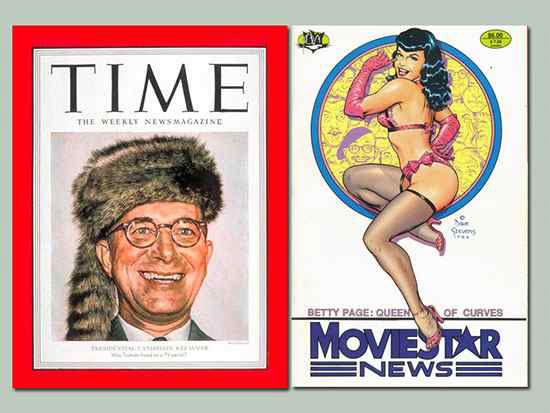 ...
[Read More
|
Top of Page]
Zorro and the Californios - 9:45 PM Friday, March 31, 2006
[California's favorite fictional vigilante]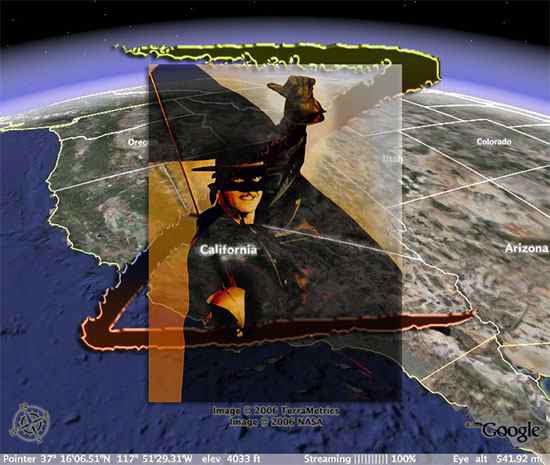 ...
[Read More
|
Top of Page]
The Role of Chutzpah in Art - 2:23 PM Friday, February 17, 2006
[What was Andres Serrano really trying to say?]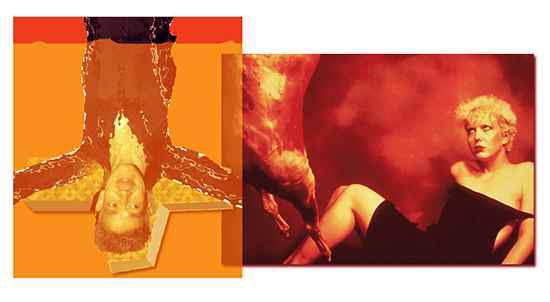 ...
[Read More
|
Top of Page]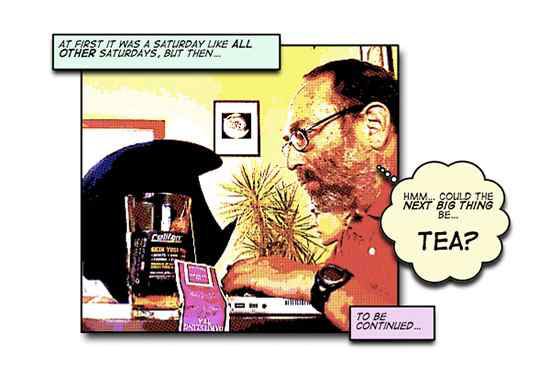 ...
[Read More
|
Top of Page]
White Swan, Black Swan - 3:38 PM Wednesday, February 8, 2006
[Mythmakers par excellence]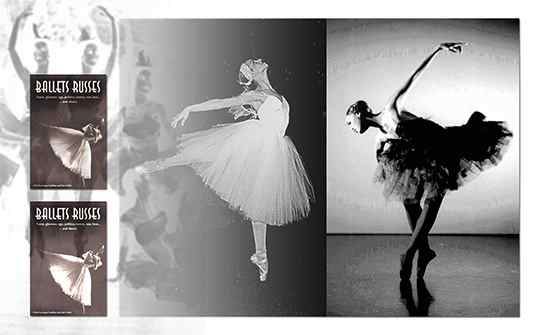 ...
[Read More
|
Top of Page]
Capote (The Movie) - 7:34 PM Monday, November 7, 2005
[in the DNA of every cell, the capacity for homicide]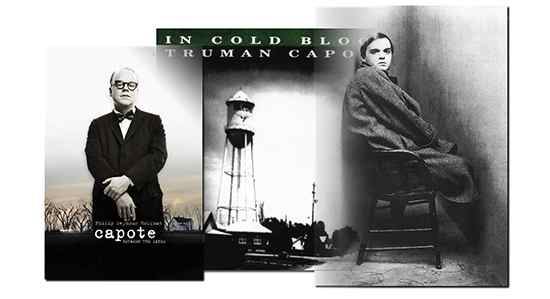 ...
[Read More
|
Top of Page]
Wearable Architecture - 6:11 PM Thursday, October 13, 2005
[Return to intrauterine nirvana]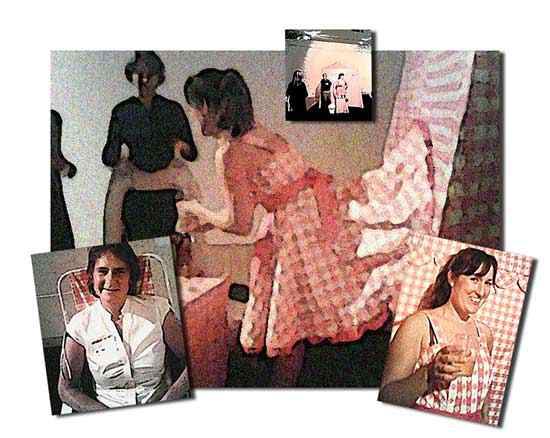 ...
[Read More
|
Top of Page]
Chock Full of Antioxidants - 12:44 PM Saturday, September 3, 2005
[Is coffee good because it's BAD?]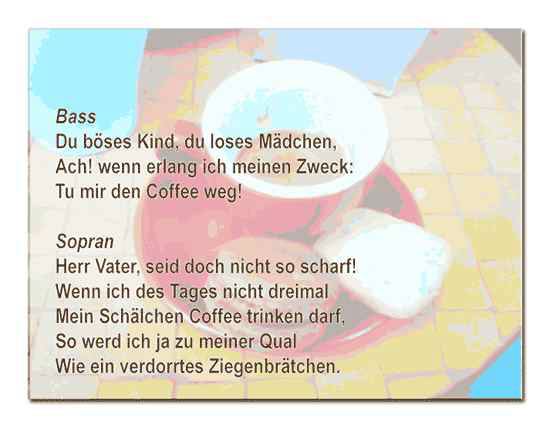 ...
[Read More
|
Top of Page]
From Ashcan to Abiquiu - 3:25 PM Friday, August 19, 2005
[No Patio Furniture: None]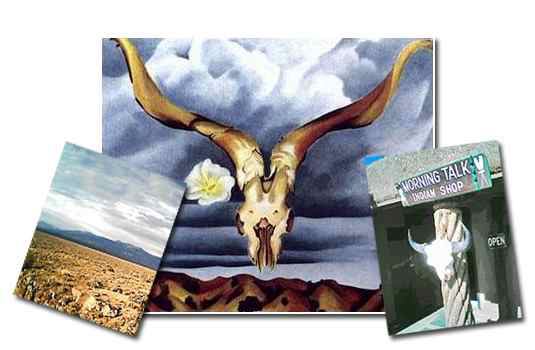 ...
[Read More
|
Top of Page]
Kokopelli and Green Chili - 4:05 PM Saturday, July 30, 2005
[I gotta find Wi-Fi, preferably free Wi-Fi]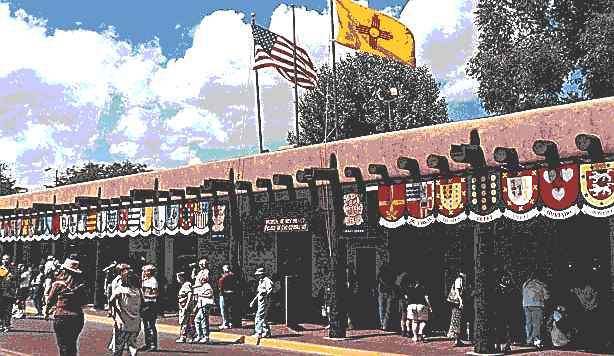 ...
[Read More
|
Top of Page]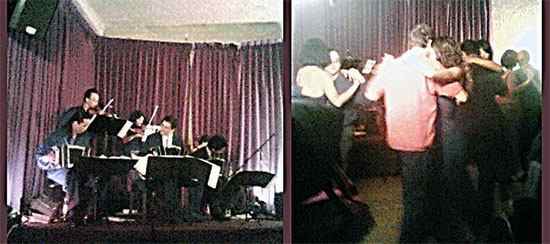 ...
[Read More
|
Top of Page]
We've got a theme song! - 9:59 PM Monday, June 20, 2005
[The real sugar is at the bottom]

...
[Read More
|
Top of Page]
The Other Giotto - 1:40 PM Friday, June 17, 2005
[Since when is "Schmaltz" Italian?]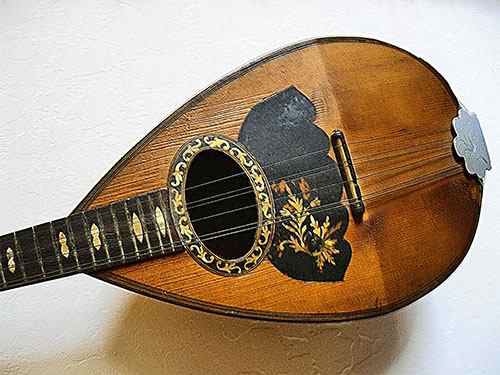 ...
[Read More
|
Top of Page]
Cold Start - 2:54 PM Friday, June 10, 2005
[Frankly, Scarlett, I DO give a damn]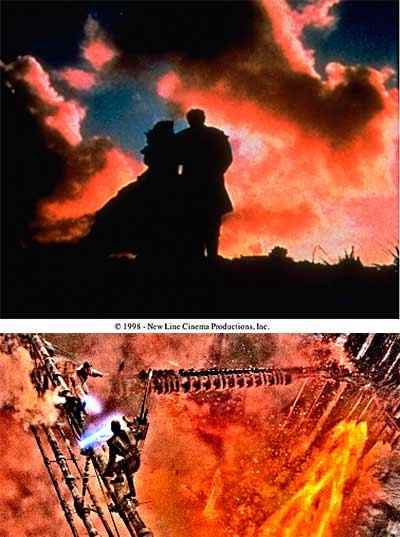 ...
[Read More
|
Top of Page]
Synchronicity Rocks - 5:52 PM Thursday, June 2, 2005
[Jung, Schmung]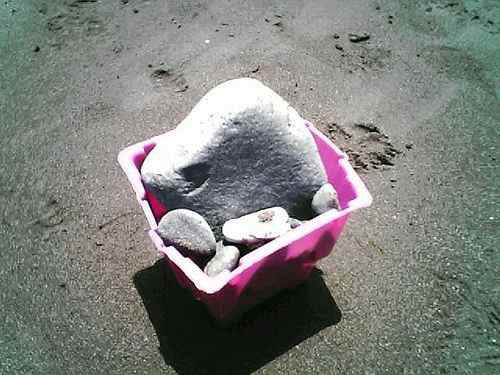 ...
[Read More
|
Top of Page]
Sith Happens - 7:11 PM Tuesday, May 24, 2005
[Long Ago and Far Away?]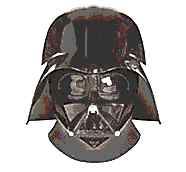 ...
[Read More
|
Top of Page]
A Tale of Two Artists - 10:55 PM Thursday, May 19, 2005
[Colorful, Whimsical Ceramic Figures]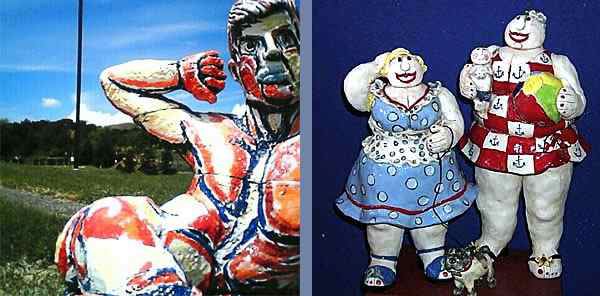 ...
[Read More
|
Top of Page]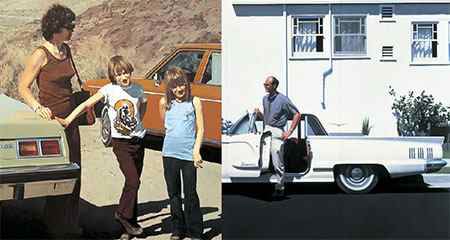 ...
[Read More
|
Top of Page]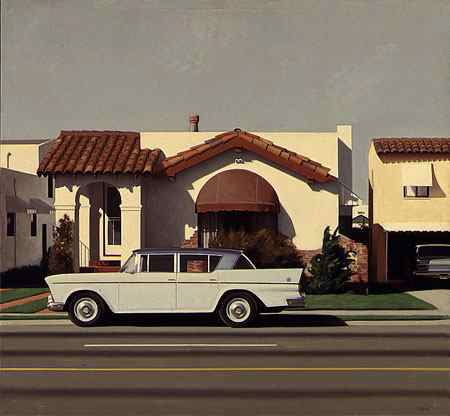 ...
[Read More
|
Top of Page]
Sex, Starbucks, and Rock and Roll - 2:34 PM Wednesday, March 30, 2005
[Ray Charles and a Rainy Night in Seattle]
When was the last time you were at Starbucks and either 1) had sex or 2) heard rock and roll? Never, right? So what is the common thread that links these three phenomena of contemporary culture? More than you might think....
[Read More
|
Top of Page]
...
[Read More | Top of Page]
Full Circle - 1:28 PM Wednesday, March 16, 2005
[Layers of Meaning]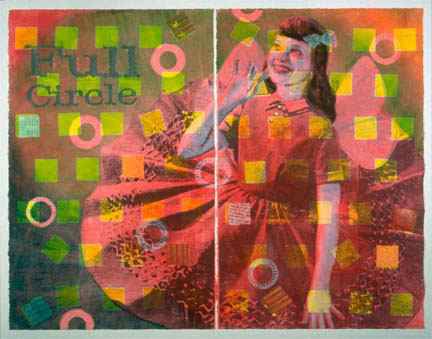 ...
[Read More
|
Top of Page]
...
[Read More
|
Top of Page]
Art for the Inner Child - 3:02 PM Saturday, February 26, 2005
[The Spirit of the Moment]
Once upon a time there were artists who created large, exciting paintings, who didn't try to make pictures of anything, but just used beautiful colors to make people go "ooooh" and "ahhhhh." These artists were called the "Abstract Expressionists." Grownups said some nice things about these paintings and also some bad things. Some grownups liked the colors and the oooohing and the ahhhhing, because they knew that these artists were painting what they felt in the spirit of the moment: they were "expressing themselves." Other grownups said that the painters were cheating because they didn't make detailed pictures like photographs. "Hey, any kid could do that", they said.
...
[Read More
|
Top of Page]
Girls just want to have fun - 9:12 PM Sunday, February 6, 2005
[From the Jazzerbabes to the Cockettes]
As I was writing my last coffeeblog post I was sitting at a table at Espresso Roma with Barbara and a group of Jazzerbabes. "Are you writing about us?" one of the 'Babes asked. At the time, I wasn't. But then I started to think about it, why not? There was a cultural phenomenon going on here that goes almost unnoticed. It was indeed noticed by Cyndi Lauper when she sang in the '80's about girls having fun. It was also noted in a recent issue of the New York times magazine where the Red Hat phenomenon was reported. And, if red hats don't do it for her, maybe she's a latent Sweet Potato Queen. As the father of two daughters, now adults, I observed daily for decades that Lauper was right.
...
[Read More
|
Top of Page]
Blogger's Block - 9:47 PM Monday, January 31, 2005
[A soul is a terrible thing to make]
Blogging has suddenly metamorphosed from something to aid and abet procrastination into something to procrastinate about. Not that I'm surprised....
[Read More
|
Top of Page]
Bette's Oceanview Diner - 4:48 PM Wednesday, January 12, 2005
[Peggy Guggenheim and the Cherry Tomatoes]
After a week of rain and showers, the sun is out again. Today I wanted lunch somewhere special, a change from the routine. I decide to drive to a little oasis of high-style in Berkeley, at 4th street near the old Spenger's restaurant. I suddenly got in the mood for Bette's Oceanview Diner, a conscious effort at 50's nostalgia chic, but nonetheless a pleasant place to eat. I sat at the counter and got a big mug of coffee. Right next to the ketchup bottle, tastefully arranged against the backdrop of a chromed menu holder, were packets of Splenda, always a good sign....
[Read More
|
Top of Page]
It's a Jungle Out There - 8:43 AM Wednesday, January 5, 2005
[Do wild women get the greens?]
While parking around the corner from my favorite coffee hangout, I noticed this garden in the front yard of a cottage. There are many such gardens in Berkeley, celebrating the luxuriant overgrowth of foliage. These "jungle gardens" (my name for them) are so wild that one is never sure that they were intended to look that way, or they are simply neglected. Neglect, however, when it comes to gardens which don't relay on artificial nurture, is not really neglect, but delegation of horticultural responsibilities to Mother Nature....
[Read More
|
Top of Page]
The Dawn of 2005 - 8:19 PM Saturday, January 1, 2005
[Four percent of the 21st Century has come and gone]
I have been through many New Year's Eves, 61 to be exact, but somehow this one seemed a little different. For the first time I feel solidly within the 21st Century. I did not feel that way after that absurd celebration of the millennium on New Year's Eve 2000, nor even last year. Probably it just took time to sink in. But now I am feeling that the 20th Century is over, completely over....
[Read More
|
Top of Page]
December Light - 9:54 AM Wednesday, December 29, 2004
[Just a few days left of December]
...
[Read More
|
Top of Page]
The Coffeeblog's New Look - 10:16 PM Monday, December 27, 2004
[Bad news for beancounters.]
Gone are the coffeebeans and the retro look, replaced by something more 21st Century. Or that was the idea, anyhow.—JDL
[Read More
|
Top of Page]
blog comments powered by
Comments (View)