This is a weird time of year. Here in Berkeley it's a gorgeous day, sunny, though chilly. The magnolias are already blooming. It's not spring yet, not even winter. The looming New Year makes a guy think about transitions, the passage of time, new stuff—the usual. The numeral 2005 sounds new—shiny and pristine, just out of the box, wheareas 2004 sounds (already), old, scratched, a little battered, like my camera cellphone (which I bought in 2004). This blog is one of the transitions for the new year. I've started it This is a weird time of year. Here in Berkeley it's a gorgeous day, sunny, though chilly. The magnolias are already blooming. It's not spring yet, not even winter. The looming New Year makes a guy think about transitions, the passage of time, new stuff—the usual. The numeral 2005 sounds new—shiny and pristine, just out of the box, wheareas 2004 sounds (already), old, scratched, a little battered, like my camera cellphone (which I bought in 2004). This blog is one This is a weird time of year. Here in Berkeley it's a gorgeous day, sunny, though chilly. The magnolias are already blooming. It's not spring yet, not even winter. The looming New Year makes a guy think about transitions, the passage of time, new stuff—the usual. The numeral 2005 sounds new—shiny and pristine, just out of the box, wheareas 2004 sounds (already), old, scratched, a little battered, like my camera This is a weird time of year. Here in Berkeley it's a gorgeous day, sunny, though chilly. The magnolias are already blooming. It's not spring yet, not even winter. The looming New Year makes a guy think about transitions, the passage of time, new stuff—the usual. The numeral 2005 sounds new—shiny and pristine, just out of the box, wheareas 2004
[Tsatskes]
[Readers]
[About]
[Blogroll]
43 Folders
Anders Fagerjord
Bay Area Bloggers
Berkeley Blogs
Blue Bottle Clown College
Cafexperiment
Coffeegeek
Denver Coffeehouses
Dogmilque
Doug Miller
Emily Chang's eHub
Hewn & Hammered
Jill's Definition of Weblog
Jonas Luster
Laughing Squid
Le Blaugue à Beleg
Loïc Le Meur Blog
Mark Bernstein
Moleskinerie
Seesmic Blog
Tant Mieux
The Dynamist
Tonx Dot Org

[Go]
Send Me Email:
coffeeblogger (at) doublesquids.com




<<
#

?
>>

Who Links Here
1:21 PM Thursday, October 11, 2007
[Like Alfa Romeos and bruschetta.]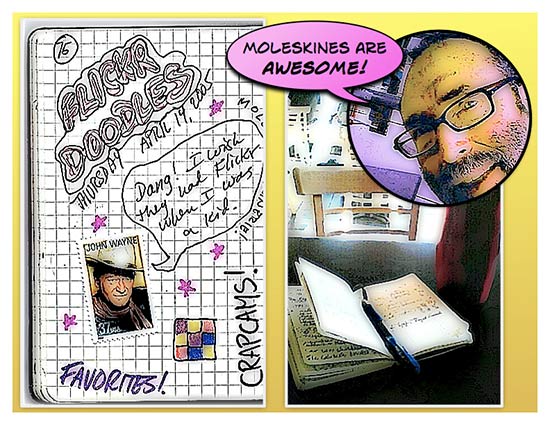 For those of you who may not know what a "Moleskine" is, it's a notebook made by an Italian firm, Modo e Modo, and marketed in bookstores, art supply stores, upscale stationery stores, museums, and the like. What makes a Moleskine different from other notebooks is that it's probably better-made than most (though there is some serious competition, especially price competition), it has some Italian pizzazz (like Alfa Romeos and bruschetta), it has an unusual name, and, probably most importantly, it has become a cult object, creating in turn, an aura of celebrity among certain other examples of such a prosaic product as a notebook. Moleskines come in assorted sizes, bindings, page layouts, and with or without pre-loaded information.
I happen to be a devotee of the Moleskine cult because I think that Moleskines are, well, cool. I like the fact that the hardbound editions have what I call a "Bible Ribbon", a sturdy fabric ribbon sewed into the spine that serves as a bookmark, just like those in the Gideon Bibles I used to see in hotel rooms as a kid. (Gee, do they have Korans in hotel room drawers in Mecca? Guess I'll never find out.) Another feature that I like is a little end pocket for storing tickets, receipts, and other ephemera for artists and their ilk. And the paper quality is pretty good. Although I have a variety of sketchbooks, I prefer drawing and writing in my Moleskines.
I am pondering the question whether the Moleskine cult would exist, or be as huge as it is, without the contribution of a web-savvy fellow born in the Philippine Islands, Armand Frasco, who has put Moleskine on the map. The popular blog he founded, Moleskinerie, after which I named this Coffeeblog post, has a great deal to say about the notebook and those who use it, in fact much more than I have read. There is is also a Moleskinerie group on Flickr.
How did Moleskine get it's unusual name? As I understand it, it was once made in France, where it was bound with a kind of oilcloth called "moleskin," an English word for a fabric which was once made of, or at least simulates, the skin of the blind insectivorous mammal called a mole. The moleskin fabric, made mostly in England, had a short soft pile on one side, resembling the fur of the mole, and could be used for making comfortable clothes. The French, marketing their "moleskin" notebooks, added a silent E at the end to make the French pronunciation more like the English. When Italians took over the product, the kept the E, which is pronounced in Italian, resulting in the American pronunciation of the notebook's name as "mole-uh-skeen-eh". And that's what I call mine.
The animal, the mole, is called taupe in French. Taupe, by the way, is also a French word descritbing a color resembling the actual skin of an actual mole. My new Coffeeblog background color is almost taupe, but not quite. And I decided that I don't hate it. Put that in your Moleskine and call it Art.
More Links: Moleskine
More Images: Moleskinerie
Permanent Link to This Entry
|
|
| Technorati Tag:
moleskine
blog comments powered by
Comments (View)
Send the URL for this item to your Twitter Friends!
Word search for recent posts to Jonathan's Coffeeblog:
"The meaning of life and other trivia." Copyright ©2004, 2005, 2006, 2007, 2008 Jonathan David Leavitt. All rights reserved.
Every page now has Seesmic/Disqus video commenting. Scroll to the bottom to see or post video comments. There are also Haloscan comments at the end of each separate blogpost article. To read a text-only version of Jonathan's Coffeeblog on your iPhone or other mobile phone, click here. Or to see the graphics with less text, click here.