This is a weird time of year. Here in Berkeley it's a gorgeous day, sunny, though chilly. The magnolias are already blooming. It's not spring yet, not even winter. The looming New Year makes a guy think about transitions, the passage of time, new stuff—the usual. The numeral 2005 sounds new—shiny and pristine, just out of the box, wheareas 2004 sounds (already), old, scratched, a little battered, like my camera cellphone (which I bought in 2004). This blog is one of the transitions for the new year. I've started it This is a weird time of year. Here in Berkeley it's a gorgeous day, sunny, though chilly. The magnolias are already blooming. It's not spring yet, not even winter. The looming New Year makes a guy think about transitions, the passage of time, new stuff—the usual. The numeral 2005 sounds new—shiny and pristine, just out of the box, wheareas 2004 sounds (already), old, scratched, a little battered, like my camera cellphone (which I bought in 2004). This blog is one This is a weird time of year. Here in Berkeley it's a gorgeous day, sunny, though chilly. The magnolias are already blooming. It's not spring yet, not even winter. The looming New Year makes a guy think about transitions, the passage of time, new stuff—the usual. The numeral 2005 sounds new—shiny and pristine, just out of the box, wheareas 2004 sounds (already), old, scratched, a little battered, like my camera This is a weird time of year. Here in Berkeley it's a gorgeous day, sunny, though chilly. The magnolias are already blooming. It's not spring yet, not even winter. The looming New Year makes a guy think about transitions, the passage of time, new stuff—the usual. The numeral 2005 sounds new—shiny and pristine, just out of the box, wheareas 2004
[About]

[Blogroll]
[Go]
Send Me Email:
coffeeblog (at) doublesquids.com




<<
#

?
>>

Who Links Here
1:35 PM Thursday, December 21, 2006
[Could the real coffee mecca be...]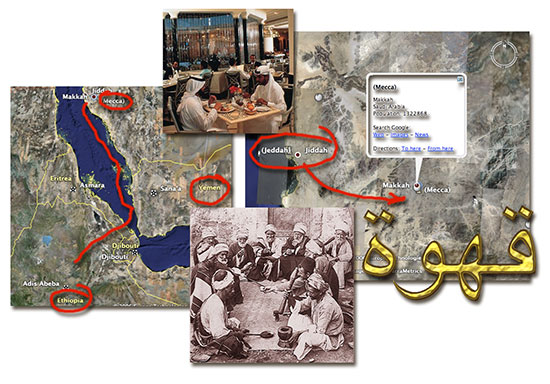 In 1587, a writer named Abd al-Qazir Al-Jaziri wrote a history of coffee, under the title Umdat al safwa fi hill al-qahwa. The Arabic word qahwa, said to mean both "coffee" and "wine", is the root of our word "coffee," through the Turkish word kahve, as referenced in this bilingual website. The standard story of coffee is that it originated in Ethiopia, was traded across the Red Sea to Yemen through the port of al-Mukha (Mocha, get it?), whence it made its way up the shipping routes to Mecca and Medina, and from there to Cairo, Constantinople, Vienna, Paris, Italian towns, and London. Since this all happened during the period just prior to release of Abd al-Qazir Al-Jaziri's book, one would like to read it, or at least a translation.
Like Turkish coffee at the bottom of the cup, the plot thickens. It turns out that a partial translation was made by a Frenchman named Antoine Galland, it's available through an Amazon affiliate, and I ordered it. More about that when I get it and read it.
Meanwhile, the Wikipedia and many other websites have identified the author of the coffee history as Malaye Jaziri, a Kurdish poet who wrote in the Iranic language called Kumanji. The Kurdish poet was reportedly born in 1570 and would have been seventeen when the coffee book came out, plus, he would have to be pretty familiar with Arabia, so frankly, I doubt that Abd al-Qazir Al-Jaziri and Malaye Jaziri are one and the same, Wikipedia to the contrary notwithstanding. What is paticularly intriguing to me about al-Jaziri's history is the role of coffeehouses in sixteenth-century Mecca, where the infamous Khair Beg Incident took place: an abortive ban on coffee by the Turkish governor of Mecca.
All of the above led me to the question, what is the current status of coffehouses in Mecca (Al-Makkah, Saudi Arabia, destination of Moslem pilgrims worldwide)? After a long, frustrating fershlugginer Internet search, I learned relatively little, but I did find out that: 1) Tea houses abound in Mecca. 2) The Makkah Hilton has the Al Fayhaa Coffee Shop which serves Arabic style coffee, and may have a Starbucks; 3)There are many Starbucks stores in Saudi Arabia, including Medina and in a mall in Jidda, which is a hop, skip, and a jump from Mecca; 4) A coffeehouse in Wales (go figure!) is named after Mecca, and 5) Seattle's reputation is growing as the American coffee mecca. Be that as it may, and bearing in mind that as a non-Muslim, I do not expect to be able to visit any coffeehouses in Mecca, as a coffee-maven, and as a coffee history buff, I would like to think that Mecca is still the real coffee mecca.
More Links: Makkah Coffeehouse Arabia Yemen
More Images: Makkah Coffeemug Ibrik
Permanent Link to This Entry
|
|
| Technorati Tag:
Mecca
PS. If any of my readers have been to a coffeehouse in Mecca and would like to tell us about it, email me at coffeeblog (at) doublesquids.com.
Word search for recent posts to Jonathan's Coffeeblog:
Copyright ©2004, 2005, 2006 Jonathan David Leavitt