This is a weird time of year. Here in Berkeley it's a gorgeous day, sunny, though chilly. The magnolias are already blooming. It's not spring yet, not even winter. The looming New Year makes a guy think about transitions, the passage of time, new stuff—the usual. The numeral 2005 sounds new—shiny and pristine, just out of the box, wheareas 2004 sounds (already), old, scratched, a little battered, like my camera cellphone (which I bought in 2004). This blog is one of the transitions for the new year. I've started it This is a weird time of year. Here in Berkeley it's a gorgeous day, sunny, though chilly. The magnolias are already blooming. It's not spring yet, not even winter. The looming New Year makes a guy think about transitions, the passage of time, new stuff—the usual. The numeral 2005 sounds new—shiny and pristine, just out of the box, wheareas 2004 sounds (already), old, scratched, a little battered, like my camera cellphone (which I bought in 2004). This blog is one This is a weird time of year. Here in Berkeley it's a gorgeous day, sunny, though chilly. The magnolias are already blooming. It's not spring yet, not even winter. The looming New Year makes a guy think about transitions, the passage of time, new stuff—the usual. The numeral 2005 sounds new—shiny and pristine, just out of the box, wheareas 2004 sounds (already), old, scratched, a little battered, like my camera This is a weird time of year. Here in Berkeley it's a gorgeous day, sunny, though chilly. The magnolias are already blooming. It's not spring yet, not even winter. The looming New Year makes a guy think about transitions, the passage of time, new stuff—the usual. The numeral 2005 sounds new—shiny and pristine, just out of the box, wheareas 2004
[Tsatskes]
[Readers]
[About]
[Blogroll]
43 Folders
Anders Fagerjord
Bay Area Bloggers
Berkeley Blogs
Blue Bottle Clown College
Cafexperiment
Coffeegeek
Denver Coffeehouses
Dogmilque
Doug Miller
Emily Chang's eHub
Hewn & Hammered
Jill's Definition of Weblog
Jonas Luster
Laughing Squid
Le Blaugue à Beleg
Loïc Le Meur Blog
Mark Bernstein
Moleskinerie
Seesmic Blog
Tant Mieux
The Dynamist
Tonx Dot Org

[Go]
Send Me Email:
coffeeblogger (at) doublesquids.com




<<
#

?
>>

Who Links Here
4:35 PM Monday, January 15, 2007
[All burnt up.]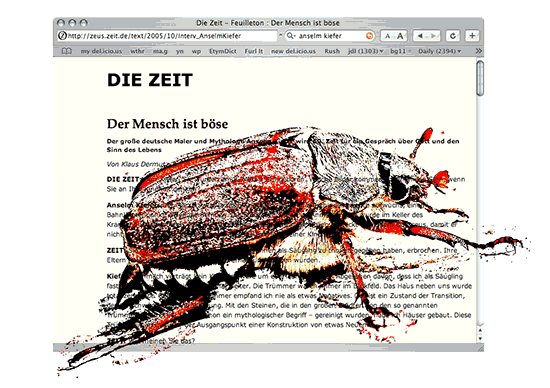 Maikäfer flieg.
Dein Vater ist im Krieg.
Die Mutter ist im Pommerland,
Pommerland ist abgebrannt.
Maikäfer flieg.
I knew almost nothing about the German artist Anselm Kiefer when I went to his retrospective yesterday at the San Francisco Museum of Modern Art. I knew at once that I had to write about him, but what? There is so much to write about, and so much that has already been written. However, one of his huge paintings, on burlap, I think, stuck in my memory and determined my choice. The painting showed a black, scorched field, and near the horizon Kiefer had written a German nursery rhyme, the one quoted above. Given my limited knowledge of the German language (my grandfather, a high school German teacher, had taught me some as a child), I recognized the resemblance between Kiefer's quote in the painting and the American nursery rhyme, "Ladybug, ladybug fly away home; your house is on fire, your children will burn." My translation of the German version is, "May-Beetle, fly! Your father's in the war, your mother's in the Pommerland. The Pommerland is all burnt up; May-Beetle, fly!"
Among many other subjects, Anselm Kiefer has been haunted by things that are all burnt up. Born at the end of World War Two, he was keenly aware that his parent's generation, by democratically electing Adolf Hitler as their Chancellor, had brought about the event known as the Holocaust, which is another way of saying (in Greek) that something or some people were all burnt up. Another of Kiefer's obsessions was Germany itself, its history, its myths, and how it got that way. And that brings us back to the Pommerland. A little poking around on the Internet informed me that the Pommerland, called Pomerania in English, is a region fought over for millennia by Germanic and Slavic peoples, more recently by Germany and Poland. The Poles gave it its name, Pomorze, meaning, "by the sea," which it is.
The nursery rhyme goes back to a war called the Thirty Years War, when Sweden, for some reason, took over the Pommerland. Bertolt Brecht, the German playwright, addressed the same tragic war in his painful, and perhaps tedious play, Mother Courage and her Children. And now back to Anselm Kiefer. He is definitely a "gods and myths" kind of guy, and his huge paintings and sculpture, heavy-duty subject material, and rough textures (not only burlap, but lots of lead and charcoal, great blobs of tar-like black oil paint, dried plants and dirt) make him irresistible to a fellow like your Coffeeblogger. Go Google him and see his art if you can, since no screen large or small can portray the size and texture of his works.
More Links: AnselmKiefer Kiefer Pomerania
More Images: AnselmKiefer Pommern Maikäfer
Permanent Link to This Entry
| | Technorati Tag:
AnselmKiefer
.
blog comments powered by
Comments (View)
Send the URL for this item to your Twitter Friends!
Word search for recent posts to Jonathan's Coffeeblog:
"The meaning of life and other trivia." Copyright ©2004, 2005, 2006, 2007, 2008 Jonathan David Leavitt. All rights reserved.
Every page now has Seesmic/Disqus video commenting. Scroll to the bottom to see or post video comments. To read a text-only version of Jonathan's Coffeeblog on your iPhone or other mobile phone, click here. Or to see the graphics with less text, click here.