This is a weird time of year. Here in Berkeley it's a gorgeous day, sunny, though chilly. The magnolias are already blooming. It's not spring yet, not even winter. The looming New Year makes a guy think about transitions, the passage of time, new stuff—the usual. The numeral 2005 sounds new—shiny and pristine, just out of the box, wheareas 2004 sounds (already), old, scratched, a little battered, like my camera cellphone (which I bought in 2004). This blog is one of the transitions for the new year. I've started it This is a weird time of year. Here in Berkeley it's a gorgeous day, sunny, though chilly. The magnolias are already blooming. It's not spring yet, not even winter. The looming New Year makes a guy think about transitions, the passage of time, new stuff—the usual. The numeral 2005 sounds new—shiny and pristine, just out of the box, wheareas 2004 sounds (already), old, scratched, a little battered, like my camera cellphone (which I bought in 2004). This blog is one This is a weird time of year. Here in Berkeley it's a gorgeous day, sunny, though chilly. The magnolias are already blooming. It's not spring yet, not even winter. The looming New Year makes a guy think about transitions, the passage of time, new stuff—the usual. The numeral 2005 sounds new—shiny and pristine, just out of the box, wheareas 2004 sounds (already), old, scratched, a little battered, like my camera This is a weird time of year. Here in Berkeley it's a gorgeous day, sunny, though chilly. The magnolias are already blooming. It's not spring yet, not even winter. The looming New Year makes a guy think about transitions, the passage of time, new stuff—the usual. The numeral 2005 sounds new—shiny and pristine, just out of the box, wheareas 2004
[Tsatskes]
[Readers]
[About]
[Blogroll]
43 Folders
Anders Fagerjord
Bay Area Bloggers
Berkeley Blogs
Blue Bottle Clown College
Cafexperiment
Coffeegeek
Denver Coffeehouses
Dogmilque
Doug Miller
Emily Chang's eHub
Hewn & Hammered
Jill's Definition of Weblog
Jonas Luster
Laughing Squid
Le Blaugue à Beleg
Loïc Le Meur Blog
Mark Bernstein
Moleskinerie
Seesmic Blog
Tant Mieux
The Dynamist
Tonx Dot Org

[Go]
Send Me Email:
coffeeblogger (at) doublesquids.com




<<
#

?
>>

Who Links Here
2:55 PM Monday, October 8, 2007
[Try visiting a beach on Christmas Day.]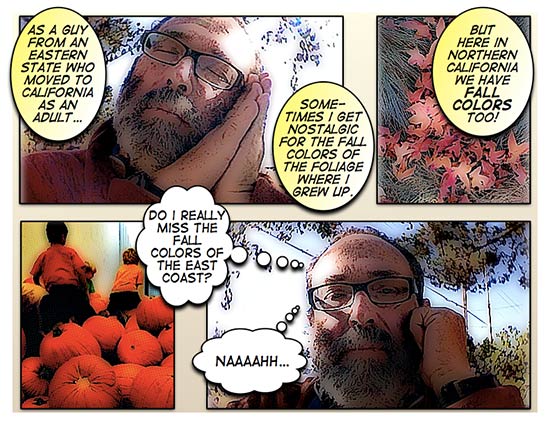 The colors of the foliage during autumn in New England are legendary, at least here in the USA. We Californians who were born and raised in the Eastern USA lament the loss of the seasonal changes, especially as October rolls around. An occasional earthquake or mudslide we can stand, but we are nostalgic for fall foliage. Or so we believe. As for me, at this time of year, I am always pleasantly surprised: we do have fall colors. Autumn is a beautiful time in Berkeley.
Part of the problem is that the native plants of Northern California tend to be evergreen, or turn a muted brown as winter approaches, as do the sycamores of Big Sur. The bright reds of the Vermont hillsides, or flaming aspen gold of Colorado is indeed absent. In Berkeley, there are a lot of exotic plantings which add color, especially pyracantha with its orange berries, and the Japanese maple, though small, which turns very red.
Another problem is that the garden flowers, so spectacular in the spring, die back in autumn. Other agricultural products, including gourds and pumpkins become more colorful, but they are no substitute for the flowers. Pumpkins are very big here, and in the seaside town of Half Moon Bay, south of San Francisco, there is an annual pumpkin festival.
The greatest thing about autumn in Northern California, however, is the light. True, the days end earlier now, but the gold from the sky, swooping in at an angle, in a way artists call "raking" must be seen to be believed. Van Gogh is said to have raved about the light of Southern France. Bah. Humbug. The light of the Golden State goes on and on past Thanksgiving Day deep into December. Really. Try visiting a beach on Christmas Day (if it's not raining, of course.) You'll see what I mean. Arrive in the late morning.
More Links: Autumn Fall AutumnLeaves
More Images: NorthernCalifornia Vermont Pennsylvania
Permanent Link to This Entry
|
|
| Technorati Tag:
Autumn
blog comments powered by
Comments (View)
Send the URL for this item to your Twitter Friends!
Word search for recent posts to Jonathan's Coffeeblog:
"The meaning of life and other trivia." Copyright ©2004, 2005, 2006, 2007, 2008 Jonathan David Leavitt. All rights reserved.
Every page now has Seesmic/Disqus video commenting. Scroll to the bottom to see or post video comments. There are also Haloscan comments at the end of each separate blogpost article. To read a text-only version of Jonathan's Coffeeblog on your iPhone or other mobile phone, click here. Or to see the graphics with less text, click here.