This is a weird time of year. Here in Berkeley it's a gorgeous day, sunny, though chilly. The magnolias are already blooming. It's not spring yet, not even winter. The looming New Year makes a guy think about transitions, the passage of time, new stuff—the usual. The numeral 2005 sounds new—shiny and pristine, just out of the box, wheareas 2004 sounds (already), old, scratched, a little battered, like my camera cellphone (which I bought in 2004). This blog is one of the transitions for the new year. I've started it This is a weird time of year. Here in Berkeley it's a gorgeous day, sunny, though chilly. The magnolias are already blooming. It's not spring yet, not even winter. The looming New Year makes a guy think about transitions, the passage of time, new stuff—the usual. The numeral 2005 sounds new—shiny and pristine, just out of the box, wheareas 2004 sounds (already), old, scratched, a little battered, like my camera cellphone (which I bought in 2004). This blog is one This is a weird time of year. Here in Berkeley it's a gorgeous day, sunny, though chilly. The magnolias are already blooming. It's not spring yet, not even winter. The looming New Year makes a guy think about transitions, the passage of time, new stuff—the usual. The numeral 2005 sounds new—shiny and pristine, just out of the box, wheareas 2004 sounds (already), old, scratched, a little battered, like my camera This is a weird time of year. Here in Berkeley it's a gorgeous day, sunny, though chilly. The magnolias are already blooming. It's not spring yet, not even winter. The looming New Year makes a guy think about transitions, the passage of time, new stuff—the usual. The numeral 2005 sounds new—shiny and pristine, just out of the box, wheareas 2004
[About]
[Blogroll]
[Go]
Send Me Email:
coffeeblog (at) doublesquids.com




<<
#

?
>>

Who Links Here
7:27 PM Sunday, November 5, 2006
[Coffeeblog 2.0? Don't be silly.]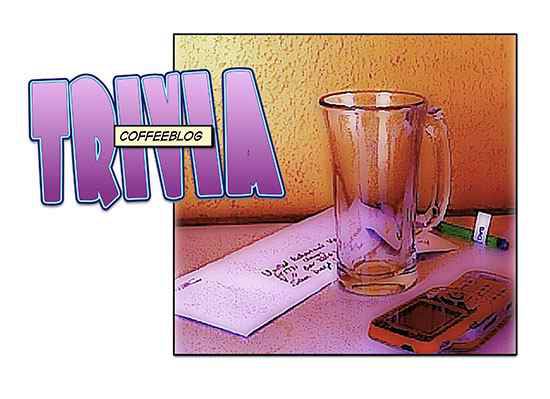 Today is the first day of the rest of the Coffeeblog. I've been posting less often, and it's been starting to feel like I've been writing a newspaper column. Bo-ring. At least for me. Probably even more boring for you guys. Something's gotta change. The time for Coffeeblog 2.0 is upon us. What form, however, would that take? More accurately, what content would it take. I'm not particularly dissatisfied with the form (layout, images, etc.) The thing is, it's almost 2007, and a weblog of this sort (what sort is it?) should be part of the cutting edge. Or so I like to think.
I saw a cool show at the Berkeley Art Museum about Wallace Berman, a Beat artist who was into social networking, collage, mail art and letterpress printing. Cool stuff, very cool. I could write about that, but not now. Berman, however, inspired me to do whatever it is I'm doing now, which is attempting to make the Coffeeblog more interesting to me, which, one would hope, would make it more interesting to everybody.
This post to the Coffeeblog was a cold start post. So far so good. If it was "about" anything it was about change. Part of the change, however, has to be escaping from the prison of "about." I can write it first, and find out what it's about later. If I want to. Maybe I don't want to. Maybe that's been the problem. Too much "about" can be a dangerous thing. Or if not dangerous, boring. The image I posted with it makes reference to Coffeeblog trivia. But is this trivial? I sort of hope it's leading to something that's not. The next big Coffeeblog thing, maybe?
More Links: BeatGeneration
More Images: Letterpress BeatGeneration
Permanent Link to This Entry
|
|
| Technorati Tag:
BeatGeneration
Word search for recent posts to Jonathan's Coffeeblog:
Copyright ©2004, 2005, 2006 Jonathan David Leavitt