This is a weird time of year. Here in Berkeley it's a gorgeous day, sunny, though chilly. The magnolias are already blooming. It's not spring yet, not even winter. The looming New Year makes a guy think about transitions, the passage of time, new stuff—the usual. The numeral 2005 sounds new—shiny and pristine, just out of the box, wheareas 2004 sounds (already), old, scratched, a little battered, like my camera cellphone (which I bought in 2004). This blog is one of the transitions for the new year. I've started it This is a weird time of year. Here in Berkeley it's a gorgeous day, sunny, though chilly. The magnolias are already blooming. It's not spring yet, not even winter. The looming New Year makes a guy think about transitions, the passage of time, new stuff—the usual. The numeral 2005 sounds new—shiny and pristine, just out of the box, wheareas 2004 sounds (already), old, scratched, a little battered, like my camera cellphone (which I bought in 2004). This blog is one This is a weird time of year. Here in Berkeley it's a gorgeous day, sunny, though chilly. The magnolias are already blooming. It's not spring yet, not even winter. The looming New Year makes a guy think about transitions, the passage of time, new stuff—the usual. The numeral 2005 sounds new—shiny and pristine, just out of the box, wheareas 2004 sounds (already), old, scratched, a little battered, like my camera This is a weird time of year. Here in Berkeley it's a gorgeous day, sunny, though chilly. The magnolias are already blooming. It's not spring yet, not even winter. The looming New Year makes a guy think about transitions, the passage of time, new stuff—the usual. The numeral 2005 sounds new—shiny and pristine, just out of the box, wheareas 2004
[Tsatskes]
[Readers]
[About]
[Blogroll]
43 Folders
Anders Fagerjord
Bay Area Bloggers
Berkeley Blogs
Blue Bottle Clown College
Cafexperiment
Coffeegeek
Denver Coffeehouses
Dogmilque
Doug Miller
Emily Chang's eHub
Hewn & Hammered
Jill's Definition of Weblog
Jonas Luster
Laughing Squid
Le Blaugue à Beleg
Loïc Le Meur Blog
Mark Bernstein
Moleskinerie
Seesmic Blog
Tant Mieux
The Dynamist
Tonx Dot Org

[Go]
Send Me Email:
coffeeblogger (at) doublesquids.com




<<
#

?
>>

Who Links Here
8:20 PM Monday, April 9, 2007
[Bashed, impaled, speared, run through, mutilated and pierced.]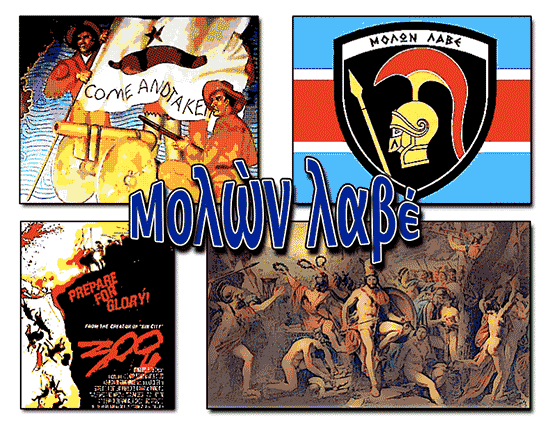 Do a Google search for the phrase Movie Reviews "300." You will probably, as I did, get about 22,100,000 hits. Why, you might ask, does the Warner Brothers action movie, based on a Frank Miller graphic novel, in turn based on the Battle of Thermopylae which took place in Greece in 480 BC, require yet another review, which is what you are reading? Read on…
If you want extensive details about the movie, explore some of the 22 million Google hits, and read what I wrote about the graphic novel here in Jonathan's Coffeeblog. Right now I am going to focus on one miniscule event in the movie: the scene when King Leonidas of the Spartans, asked by the Persian enemy to surrender the weapons of his ridiculously outnumbered force of 300 men, replies "Come and get them!" This defiant phrase has a history all its own. In Greek the phrase was molon labe. It is still the motto of the First Army Corps of the Hellenic Republic. Translated into English, it was the battle cry of a band of Texans in the town of Gonzales when defending their one cannon against the centralist government which had taken over Mexico.
The defiant spirit of molon labe permeates the entire movie. It is a very violent movie. Much blood is shed, heads roll, human bodies are bashed, impaled, speared, run through, mutilated and pierced too many times to count. Not all the piercing is combat-related. The character of the Shah Khashayar (Xerxes) is portrayed, for reasons one can only guess at, as an extremely tall tanned exotic wearing eyeliner, many pounds of heavy jewelry, and enough punk body piercings to gross out Fakir Musafar. (Well, not really.)
Other variants of molon labe include "bring it on!" which is a slogan equally beloved by former US presidential candidate John Kerry and televangelist Pat Robertson. My favorite molon labe-ism, however, is Clint Eastwood's "Go ahead. Make My Day," from his 1983 film Sudden Impact. The American Film Institute rates Eastwood's line as the sixth greatest movie quote of all time. What then, is Number One? It is Rhett Butler's rejoinder to Scarlett O'Hara in the 1939 film Gone with the Wind: "Frankly, my dear, I don't give a damn." And that brings me back to one of the 22,100,000 reviews of 300, in particular, the one in the New York Times, whose critic wrote: "its muscle-bound, grunting self-seriousness is more tiresome than entertaining." Violent, in-your-face, arrogant, jingoistic, cartoonish (it was a comic book, remember) as 300 might be, tiresome it's not. And even if it were, well, frankly, my dear… If you can handle the violence, go see it.
More Links: 300 Xerxes Khashayar Sparta Piercing
More Images: Thermopylae Piercing
Permanent Link to This Entry
|
|
| Technorati Tag:
300
blog comments powered by
Comments (View)
Send the URL for this item to your Twitter Friends!
Word search for recent posts to Jonathan's Coffeeblog:
"The meaning of life and other trivia." Copyright ©2004, 2005, 2006, 2007, 2008 Jonathan David Leavitt. All rights reserved.
Every page now has Seesmic/Disqus video commenting. Scroll to the bottom to see or post video comments. There are also Haloscan comments at the end of each separate blogpost article. To read a text-only version of Jonathan's Coffeeblog on your iPhone or other mobile phone, click here. Or to see the graphics with less text, click here.