This is a weird time of year. Here in Berkeley it's a gorgeous day, sunny, though chilly. The magnolias are already blooming. It's not spring yet, not even winter. The looming New Year makes a guy think about transitions, the passage of time, new stuff—the usual. The numeral 2005 sounds new—shiny and pristine, just out of the box, wheareas 2004 sounds (already), old, scratched, a little battered, like my camera cellphone (which I bought in 2004). This blog is one of the transitions for the new year. I've started it This is a weird time of year. Here in Berkeley it's a gorgeous day, sunny, though chilly. The magnolias are already blooming. It's not spring yet, not even winter. The looming New Year makes a guy think about transitions, the passage of time, new stuff—the usual. The numeral 2005 sounds new—shiny and pristine, just out of the box, wheareas 2004 sounds (already), old, scratched, a little battered, like my camera cellphone (which I bought in 2004). This blog is one This is a weird time of year. Here in Berkeley it's a gorgeous day, sunny, though chilly. The magnolias are already blooming. It's not spring yet, not even winter. The looming New Year makes a guy think about transitions, the passage of time, new stuff—the usual. The numeral 2005 sounds new—shiny and pristine, just out of the box, wheareas 2004 sounds (already), old, scratched, a little battered, like my camera This is a weird time of year. Here in Berkeley it's a gorgeous day, sunny, though chilly. The magnolias are already blooming. It's not spring yet, not even winter. The looming New Year makes a guy think about transitions, the passage of time, new stuff—the usual. The numeral 2005 sounds new—shiny and pristine, just out of the box, wheareas 2004
[Tsatskes]
[Readers]
[About]
[Blogroll]
43 Folders
Anders Fagerjord
Bay Area Bloggers
Berkeley Blogs
Blue Bottle Clown College
Cafexperiment
Coffeegeek
Denver Coffeehouses
Dogmilque
Doug Miller
Emily Chang's eHub
Hewn & Hammered
Jill's Definition of Weblog
Jonas Luster
Laughing Squid
Le Blaugue à Beleg
Loïc Le Meur Blog
Mark Bernstein
Moleskinerie
Seesmic Blog
Tant Mieux
The Dynamist
Tonx Dot Org

[Go]
Send Me Email:
coffeeblogger (at) doublesquids.com




<<
#

?
>>

Who Links Here
10:10 PM Sunday, August 12, 2007
[The Songs of War, Part 5.]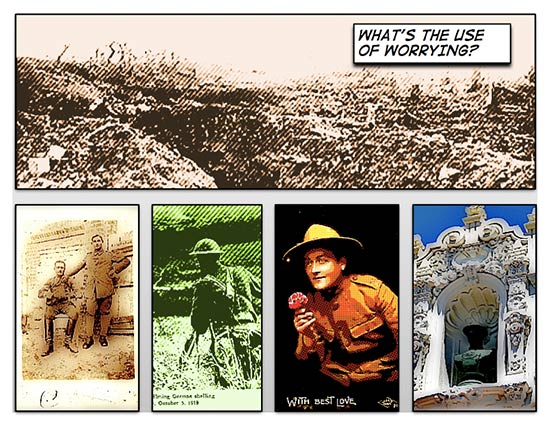 They called it the War to End All Wars, the War to Make the World Safe for Democracy, and the Great War. We call it World War I. Two empires were dismantled by the victors, leaving the world in the shambles we are dealing with today, and a third changed its name to the Soviet Union. Wikipedia says that one side had 5,525,000 military dead and 4,121,000 military missing, while the other side had 4,386,000 dead and 3,629,000 missing. The war gave us the machine gun, the tank, air forces, and probably gave us the modern peace movement. No, there wasn't a lot to smile about.
But smiling was exactly what George Henry Powell recommended when he wrote the WWI anthem, "Pack Up Your Troubles in Your Old Kit Bag and Smile, Smile, Smile." Did those 9,911,000 military personnel (the sum of the death stats for both sides) worry before they were killed? Most likely. Was worrying worthwhile? George said it never is worthwhile, and it certainly didn't prevent those 9,911,000 deaths.
With a war like that one, you probably had to have a song like George's. "Smile, boys, that's the style." Like Lili Marlene, the song's a morale-boosting march. The melody was written by George's brother Francis, and it won first prize in a contest for morale-building songs. The song even helped me get through second grade back in the late 1940's. Someone had made it into a cartoon short for the movies (it was probably this one), and I never forgot the words to the chorus. Although second grade was nothing like the Great War, I needed a little morale boosting at the time.
George took the show business name George Asaf, though Felix kept the Powell, and the song was featured in many films between 1931 and 1997, when Kathy Najimy sang it in a Disney animation about Danny the Cat. Wanna hear it? Go ahead, make your day. Download the lyrics here, and click on the "Play" button below to hear Murray Johnson's 1916 version. You can even bookmark it on del.icio.us if you want to. And smile, dammit.
Pack Up Your Troubles in Your Old Kit Bag and Smile, Smile, Smile
More Links: GreatWar WorldWarI ErsterWeltkrieg
More Images: Armistice WorldWarI Doughboy
Permanent Link to This Entry
|
|
| Technorati Tag:
WorldWarI
blog comments powered by
Comments (View)
Send the URL for this item to your Twitter Friends!
Word search for recent posts to Jonathan's Coffeeblog:
"The meaning of life and other trivia." Copyright ©2004, 2005, 2006, 2007, 2008 Jonathan David Leavitt. All rights reserved.
Every page now has Seesmic/Disqus video commenting. Scroll to the bottom to see or post video comments. There are also Haloscan comments at the end of each separate blogpost article. To read a text-only version of Jonathan's Coffeeblog on your iPhone or other mobile phone, click here. Or to see the graphics with less text, click here.