This is a weird time of year. Here in Berkeley it's a gorgeous day, sunny, though chilly. The magnolias are already blooming. It's not spring yet, not even winter. The looming New Year makes a guy think about transitions, the passage of time, new stuff—the usual. The numeral 2005 sounds new—shiny and pristine, just out of the box, wheareas 2004 sounds (already), old, scratched, a little battered, like my camera cellphone (which I bought in 2004). This blog is one of the transitions for the new year. I've started it This is a weird time of year. Here in Berkeley it's a gorgeous day, sunny, though chilly. The magnolias are already blooming. It's not spring yet, not even winter. The looming New Year makes a guy think about transitions, the passage of time, new stuff—the usual. The numeral 2005 sounds new—shiny and pristine, just out of the box, wheareas 2004 sounds (already), old, scratched, a little battered, like my camera cellphone (which I bought in 2004). This blog is one This is a weird time of year. Here in Berkeley it's a gorgeous day, sunny, though chilly. The magnolias are already blooming. It's not spring yet, not even winter. The looming New Year makes a guy think about transitions, the passage of time, new stuff—the usual. The numeral 2005 sounds new—shiny and pristine, just out of the box, wheareas 2004 sounds (already), old, scratched, a little battered, like my camera This is a weird time of year. Here in Berkeley it's a gorgeous day, sunny, though chilly. The magnolias are already blooming. It's not spring yet, not even winter. The looming New Year makes a guy think about transitions, the passage of time, new stuff—the usual. The numeral 2005 sounds new—shiny and pristine, just out of the box, wheareas 2004
[About]
[Blogroll]
Anders Fagerjord
Bay Area Bloggers
Berkeley Blogs
Bloggerdydoc
Doug Miller
Jill's Definition of Weblog
Jonas Luster
Laughing Squid
Mark Bernstein
Moleskinerie
Tant Mieux
The Dynamist
The Year of Coffee Blog

[Go]




<<
#

?
>>

Who Links Here
Go: [ Home | Previous | Archive | Gods & Myths | Cafes | Coffee | People | Arts ]
Kokopelli and Green Chili
4:05 PM Saturday, July 30, 2005
[I gotta find Wi-Fi, preferably free Wi-Fi]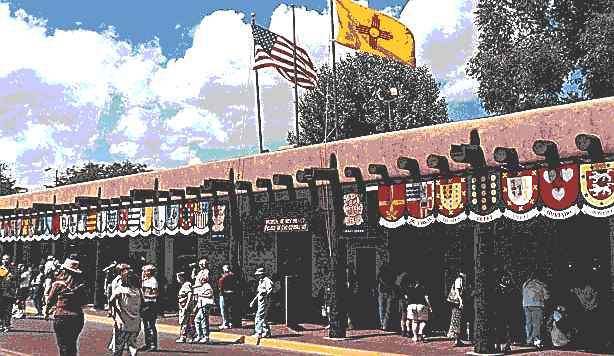 I am going to be visiting Santa Fe, New Mexico for a little while. I will still be posting to the Coffeeblog. However, there is a technical glitch.
I now have a new laptop, an iBook G4, and I'll be bringing it with me. I've decided not to post to the Coffeeblog directly from the laptop. Since I use Tinderbox, all the major blogging software is on the hard drive of my big desktop computer at home. I don't want to duplicate it on my laptop and create confusion. Also, I gotta find Wi-Fi, preferably free Wi-Fi, in Santa Fe since my hotel doesn't have it. Maybe I won't find it.
The solution: use comments to blog from Santa Fe. I can even post photos to the Internet, using Flickr. If I post photos, I'll give you the links in the comments. So, Coffeeblog fans, if you want to hear all about Santa Fe, read the comments. just down a few lines. If there are no comments, I didn't write them yet, I didn't find Wi-Fi, or something went wrong.
Hey, and you can post comments too. Like always.
|
Technorati tags:
SantaFe
Chili
NewMexico
Taos
Go: [ Home | Previous | Archive | Gods & Myths | Cafes | Coffee | People | Arts ]
Copyright ©2004-2005 Jonathan David Leavitt