This is a weird time of year. Here in Berkeley it's a gorgeous day, sunny, though chilly. The magnolias are already blooming. It's not spring yet, not even winter. The looming New Year makes a guy think about transitions, the passage of time, new stuff—the usual. The numeral 2005 sounds new—shiny and pristine, just out of the box, wheareas 2004 sounds (already), old, scratched, a little battered, like my camera cellphone (which I bought in 2004). This blog is one of the transitions for the new year. I've started it This is a weird time of year. Here in Berkeley it's a gorgeous day, sunny, though chilly. The magnolias are already blooming. It's not spring yet, not even winter. The looming New Year makes a guy think about transitions, the passage of time, new stuff—the usual. The numeral 2005 sounds new—shiny and pristine, just out of the box, wheareas 2004 sounds (already), old, scratched, a little battered, like my camera cellphone (which I bought in 2004). This blog is one This is a weird time of year. Here in Berkeley it's a gorgeous day, sunny, though chilly. The magnolias are already blooming. It's not spring yet, not even winter. The looming New Year makes a guy think about transitions, the passage of time, new stuff—the usual. The numeral 2005 sounds new—shiny and pristine, just out of the box, wheareas 2004 sounds (already), old, scratched, a little battered, like my camera This is a weird time of year. Here in Berkeley it's a gorgeous day, sunny, though chilly. The magnolias are already blooming. It's not spring yet, not even winter. The looming New Year makes a guy think about transitions, the passage of time, new stuff—the usual. The numeral 2005 sounds new—shiny and pristine, just out of the box, wheareas 2004
[Tsatskes]
[Readers]
[About]
[Blogroll]
43 Folders
Anders Fagerjord
Bay Area Bloggers
Berkeley Blogs
Blue Bottle Clown College
Cafexperiment
Coffeegeek
Denver Coffeehouses
Dogmilque
Doug Miller
Emily Chang's eHub
Hewn & Hammered
Jill's Definition of Weblog
Jonas Luster
Laughing Squid
Le Blaugue à Beleg
Loïc Le Meur Blog
Mark Bernstein
Moleskinerie
Seesmic Blog
Tant Mieux
The Dynamist
Tonx Dot Org

[Go]
Send Me Email:
coffeeblogger (at) doublesquids.com




<<
#

?
>>

Who Links Here
6:52 PM Wednesday, June 6, 2007
[The Songs of War, Part 4.]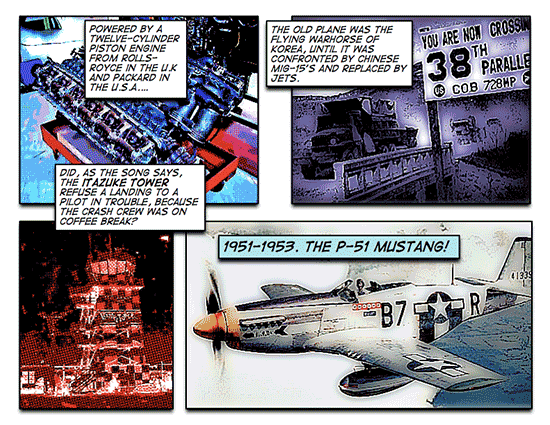 As a high school student I and two buddies, an inseparable threesome, were fans of the folk singer Oscar Brand, who collected funny songs, election songs and the kind of rough and rollicking songs sung by sailors, soldiers, and pilots of military aircraft. What I didn't know then was that Oscar had a whole album of Air Force songs, and one of those songs is about to become my nominee for the best war song of the Korean War (1950-1953). Another Cold War proxy campaign like Vietnam, one can make the argument that the Korean War never actually ended. To this day the US still has troops in South Korea, and North Korea now has long-range missiles and has conducted underground nuclear testing.
Back in the '50's, however, the pilots flying the World War II-era P-51D Mustangs were already sensitized to the fact that a proxy war was a kind of chess game using military personnel as pawns. To an old tune about a train named after a town in Indiana, an unknown airman wrote lyrics about a Mustang pilot trying to land with an overheated engine, a Rolls-Royce Merlin from the last big war. Desperately hoping to land before the engine blows up, he is told by the tower (Itazuke Tower, at the Air Force base in Fukuoka, Japan):
I cannot call the crash crew out, this is their coffee hour…
So take it on around again; you ain't no VIP.
The rest is, as they say, history. In the song the Mustang crashes , the pilot dies, and the Itazuke Tower, a proxy for a proxy, that is, a proxy for all bureaucrats running wars everywhere, goes "straight to hell" when Judgment Day finally comes around. And Judgment Day? When is that coming? Oscar Brand recorded a song about that too. The title: Pie in the Sky.
More Links: OscarBrand KoreanWar 38thParallel USAF
More Images: Mustang Korea Itazuke AirForce
Permanent Link to This Entry
|
|
| Technorati Tag:
KoreanWar
blog comments powered by
Comments (View)
Send the URL for this item to your Twitter Friends!
Word search for recent posts to Jonathan's Coffeeblog:
"The meaning of life and other trivia." Copyright ©2004, 2005, 2006, 2007, 2008 Jonathan David Leavitt. All rights reserved.
Every page now has Seesmic/Disqus video commenting. Scroll to the bottom to see or post video comments. There are also Haloscan comments at the end of each separate blogpost article. To read a text-only version of Jonathan's Coffeeblog on your iPhone or other mobile phone, click here. Or to see the graphics with less text, click here.