This is a weird time of year. Here in Berkeley it's a gorgeous day, sunny, though chilly. The magnolias are already blooming. It's not spring yet, not even winter. The looming New Year makes a guy think about transitions, the passage of time, new stuff—the usual. The numeral 2005 sounds new—shiny and pristine, just out of the box, wheareas 2004 sounds (already), old, scratched, a little battered, like my camera cellphone (which I bought in 2004). This blog is one of the transitions for the new year. I've started it This is a weird time of year. Here in Berkeley it's a gorgeous day, sunny, though chilly. The magnolias are already blooming. It's not spring yet, not even winter. The looming New Year makes a guy think about transitions, the passage of time, new stuff—the usual. The numeral 2005 sounds new—shiny and pristine, just out of the box, wheareas 2004 sounds (already), old, scratched, a little battered, like my camera cellphone (which I bought in 2004). This blog is one This is a weird time of year. Here in Berkeley it's a gorgeous day, sunny, though chilly. The magnolias are already blooming. It's not spring yet, not even winter. The looming New Year makes a guy think about transitions, the passage of time, new stuff—the usual. The numeral 2005 sounds new—shiny and pristine, just out of the box, wheareas 2004 sounds (already), old, scratched, a little battered, like my camera This is a weird time of year. Here in Berkeley it's a gorgeous day, sunny, though chilly. The magnolias are already blooming. It's not spring yet, not even winter. The looming New Year makes a guy think about transitions, the passage of time, new stuff—the usual. The numeral 2005 sounds new—shiny and pristine, just out of the box, wheareas 2004
[Tsatskes]
[Readers]
[About]
[Blogroll]
43 Folders
Anders Fagerjord
Bay Area Bloggers
Berkeley Blogs
Blue Bottle Clown College
Cafexperiment
Coffeegeek
Denver Coffeehouses
Dogmilque
Doug Miller
Emily Chang's eHub
Hewn & Hammered
Jill's Definition of Weblog
Jonas Luster
Laughing Squid
Le Blaugue à Beleg
Loïc Le Meur Blog
Mark Bernstein
Moleskinerie
Seesmic Blog
Tant Mieux
The Dynamist
Tonx Dot Org

[Go]
Send Me Email:
coffeeblogger (at) doublesquids.com




<<
#

?
>>

Who Links Here
6:02 PM Monday, September 4, 2006
[It just made Sartre sick to his stomach.]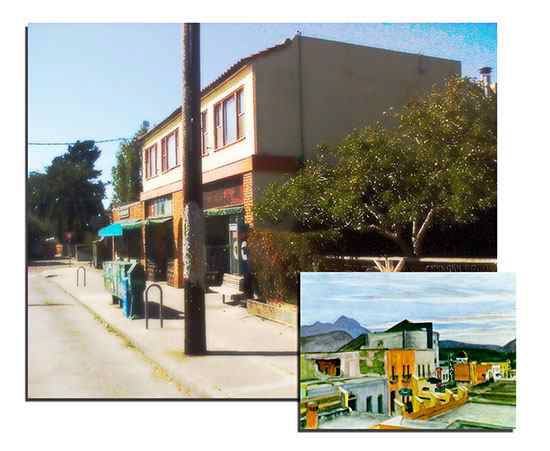 Today is Labor Day and I've been doing nothing laborious. I caught up on my sleep this morning and took my laptop to Espresso Roma this afternoon. I sat inside so I could easily read the screen, while I looked out at the golden sunlight on the terrace through the window. At 3:28 PM I left the cafe and was immediately inundated with a kind of light that I dubbed "Hopperesque," because it created a bittersweet, wistful, nostalgic, in fact downright sad mood like that in the paintings of Edward Hopper. Unlike Robert Bechtle, who in my view uses the same sunlight to create an upbeat, optimistic mood of boundless promise, Hopper manages to convey a sense of existential isolation, an alienation from meaning, famously attributed to the "death" of a monotheistic God. For some philosophers (Kierkegaard? Camus?) this sense of meaninglessness has led to the conclusion that everything is absurd, while for Sartre, who found solace in Communist politics, it just made him sick to his stomach.
Keisuke, of course, would have said, "it is of no importance," and I would be inclined to agree with him. Same sunshine, different moods. It is all part of life.
The other day I ate at a local restaurant which features "create your own pasta." You pick the pasta (fusilli, rigatoni, spaghetti, etc.), the sauce, and the condiments, and they make it as ordered. I ordered my own custom pasta, but it wasn't very good, and the next time I ordered pasta it was the plain old spaghetti and meatballs at another restaurant, which is always good. Life is like that. You gotta create your own pasta, or pick one that's already prepared for you, like Hasidism or Islam or Unitarianism or, for some, a '66 T-bird, and you hope the pasta's good. Does writing that make me an Existentialist? It is of no importance.
More links: Sartre Camus Kierkegaard Existentialism
More images: Hopper Pasta God Absurd
Permanent Link to This Entry
| | Technorati tags:
Edward Hopper
Existentialism
blog comments powered by
Comments (View)
Send the URL for this item to your Twitter Friends!
Word search for recent posts to Jonathan's Coffeeblog:
"The meaning of life and other trivia." Copyright ©2004, 2005, 2006, 2007, 2008 Jonathan David Leavitt. All rights reserved.
Every page now has Seesmic/Disqus video commenting. Scroll to the bottom to see or post video comments. To read a text-only version of Jonathan's Coffeeblog on your iPhone or other mobile phone, click here. Or to see the graphics with less text, click here.