This is a weird time of year. Here in Berkeley it's a gorgeous day, sunny, though chilly. The magnolias are already blooming. It's not spring yet, not even winter. The looming New Year makes a guy think about transitions, the passage of time, new stuff—the usual. The numeral 2005 sounds new—shiny and pristine, just out of the box, wheareas 2004 sounds (already), old, scratched, a little battered, like my camera cellphone (which I bought in 2004). This blog is one of the transitions for the new year. I've started it This is a weird time of year. Here in Berkeley it's a gorgeous day, sunny, though chilly. The magnolias are already blooming. It's not spring yet, not even winter. The looming New Year makes a guy think about transitions, the passage of time, new stuff—the usual. The numeral 2005 sounds new—shiny and pristine, just out of the box, wheareas 2004 sounds (already), old, scratched, a little battered, like my camera cellphone (which I bought in 2004). This blog is one This is a weird time of year. Here in Berkeley it's a gorgeous day, sunny, though chilly. The magnolias are already blooming. It's not spring yet, not even winter. The looming New Year makes a guy think about transitions, the passage of time, new stuff—the usual. The numeral 2005 sounds new—shiny and pristine, just out of the box, wheareas 2004 sounds (already), old, scratched, a little battered, like my camera This is a weird time of year. Here in Berkeley it's a gorgeous day, sunny, though chilly. The magnolias are already blooming. It's not spring yet, not even winter. The looming New Year makes a guy think about transitions, the passage of time, new stuff—the usual. The numeral 2005 sounds new—shiny and pristine, just out of the box, wheareas 2004
[Tsatskes]
[Readers]
[About]
[Blogroll]
43 Folders
Anders Fagerjord
Bay Area Bloggers
Berkeley Blogs
Blue Bottle Clown College
Cafexperiment
Coffeegeek
Denver Coffeehouses
Dogmilque
Doug Miller
Emily Chang's eHub
Hewn & Hammered
Jill's Definition of Weblog
Jonas Luster
Laughing Squid
Le Blaugue à Beleg
Loïc Le Meur Blog
Mark Bernstein
Moleskinerie
Seesmic Blog
Tant Mieux
The Dynamist
Tonx Dot Org

[Go]
Send Me Email:
coffeeblogger (at) doublesquids.com




<<
#

?
>>

Who Links Here
8:23 PM Tuesday, April 8, 2008
[A productive way of telling stories.]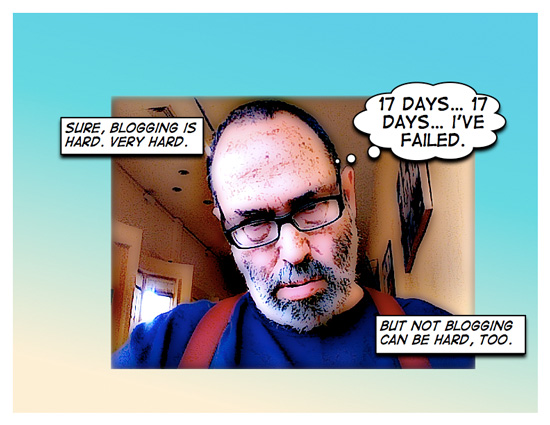 It's Tuesday, April 8, 2008 5:17:01 PM US/Pacific. I just looked at the Coffeeblog and learned that my last post was March 20: Purim. It's over. It's been over for 17 days. And yet, until this item, I haven't posted anything to the Coffeeblog. Seventeen days. Two weeks and three days. And that troubles me. I experience it as stressful. The stress of not blogging. And that brings me to a recent meme purveyed in the dead tree medium known as the New York Times. As their recent headline (April 6) trumpeted (in part) "Writers Blog Till They Drop."
Now it turns out that this was a kind of follow-up on a January 7, 2008 NYT item concerning Om Malik's heart attack, which occurred a few weeks earlier. The Times quoted Paul Kedrosky, whom they described as a friend of Om Malik: "You feel huge pressure to not just do a lot, but to do a lot with your name on it. You have pressure to not just be the C.E.O., but at the same time to write, and to do it all on a shoestring. Put it all together, and it's a recipe for stress through the roof."
OK. That makes sense. I too feel a huge pressure to not just do a lot, but to do a lot with my name on it. But let's get a few things straight. I'm not a CEO of anything. And the Times referred to "brand-name" bloggers, and I'm not even a Brand X blogger. My little Coffeeblog doesn't even show up on one of those Alexa charts. So I wouldn't dream of putting myself in the same league with Om Malik, Michael Arrington or any other of the surviving big-time bloggers mentioned by the Times. Could that be why I haven't had a heart attack yet?
Concerning the Maliks and Arringtons of the blogosphere, is the Times on to something? Is blogging at the root of the deadly stress the Times describes? Well, maybe, in the sense that the sheer overavailability of breaking news over newsfeeds creates a situation where the puny human brain can't keep up with the machines. The metaphor that occurs to me is a human runner in a foot-race with a locomotive.
But frankly, and obviously, humans have had heart attacks and succumbed to stress for eons before blogs existed. The sheer productive power of information technology could tempt a productive person (and the brand-name bloggers are very productive people, unlike, well, me) to push himself (or herself, but funny, the Times didn't mention any women) a little, or a lot, too hard. As for women bloggers, Virginia Postrel, whose blog The Dynamist I have mentioned before, is now a breast cancer survivor. Was her cancer stress-induced? From blogging? Harrumph.
It seems to me that the species Homo sapiens is hard-wired for productivity at some level, not always Om Malik level, and for telling stories. Blogging is a way of telling stories. And for brand-name bloggers, blogging is a very productive way of telling stories.
So here's to dead, lamented bloggers Russell Shaw and Marc Orchant, who, the Times tells us, died of heart attacks. They went out in a blaze of glory. If I were in a bar I'd drink to them. But I'm in a cafe and I already finished my Capuccino. As I look into my sad, empty cup, I think, defiantly: "Keep on blogging, people. Keep on blogging."
More Links: Productivity RussellShaw Blogging Dynamist
More Images: MarcOrchant OmMalik MichaelArrington PaulKedrosky
Permanent Link to This Entry
| | Technorati Tag:
Productivity
blog comments powered by
Comments (View)
Send the URL for this item to your Twitter Friends!
Word search for recent posts to Jonathan's Coffeeblog:
"The meaning of life and other trivia." Copyright ©2004, 2005, 2006, 2007, 2008 Jonathan David Leavitt. All rights reserved.
Every page now has Seesmic/Disqus video commenting. Scroll to the bottom to see or post video comments. There are also Haloscan comments at the end of each separate blogpost article. To read a text-only version of Jonathan's Coffeeblog on your iPhone or other mobile phone, click here. Or to see the graphics with less text, click here.