This is a weird time of year. Here in Berkeley it's a gorgeous day, sunny, though chilly. The magnolias are already blooming. It's not spring yet, not even winter. The looming New Year makes a guy think about transitions, the passage of time, new stuff—the usual. The numeral 2005 sounds new—shiny and pristine, just out of the box, wheareas 2004 sounds (already), old, scratched, a little battered, like my camera cellphone (which I bought in 2004). This blog is one of the transitions for the new year. I've started it This is a weird time of year. Here in Berkeley it's a gorgeous day, sunny, though chilly. The magnolias are already blooming. It's not spring yet, not even winter. The looming New Year makes a guy think about transitions, the passage of time, new stuff—the usual. The numeral 2005 sounds new—shiny and pristine, just out of the box, wheareas 2004 sounds (already), old, scratched, a little battered, like my camera cellphone (which I bought in 2004). This blog is one This is a weird time of year. Here in Berkeley it's a gorgeous day, sunny, though chilly. The magnolias are already blooming. It's not spring yet, not even winter. The looming New Year makes a guy think about transitions, the passage of time, new stuff—the usual. The numeral 2005 sounds new—shiny and pristine, just out of the box, wheareas 2004 sounds (already), old, scratched, a little battered, like my camera This is a weird time of year. Here in Berkeley it's a gorgeous day, sunny, though chilly. The magnolias are already blooming. It's not spring yet, not even winter. The looming New Year makes a guy think about transitions, the passage of time, new stuff—the usual. The numeral 2005 sounds new—shiny and pristine, just out of the box, wheareas 2004
[About]
[Blogroll]
Anders Fagerjord
Bay Area Bloggers
Berkeley Blogs
Bloggerdydoc
Doug Miller
Hewn & Hammered
Jill's Definition of Weblog
Jonas Luster
Laughing Squid
Le Blaugue à Beleg
Mark Bernstein
Moleskinerie
Tant Mieux
The Dynamist
The Year of Coffee Blog

[Go]
Tag Cloud: 50 Tags
Tag Cloud: 125 Tags
Tag Cloud: 250 Tags




<<
#

?
>>

Who Links Here
Go: [ Home | Previous | Archive | Gods & Myths | Cafes | Coffee | People | Arts ]
Getting Stuff Done
3:54 PM Monday, October 24, 2005
[Using the blog to distract yourself from Getting Things Done?]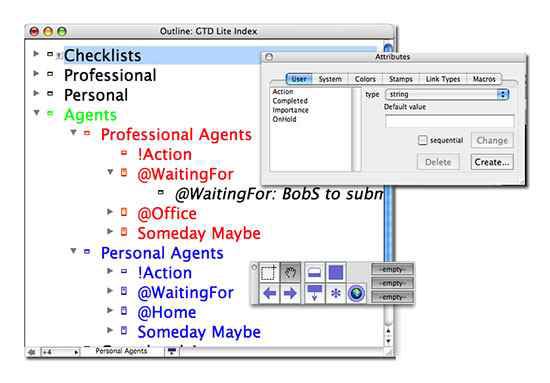 This past week I reacquainted myself with a current trend towards Productivity on Steroids, as exemplified by the book Getting Things Done, with its companion website, and the software implementation by Tinderbox user Ryan Holcomb. Did my interest in GTD, as it is known, help me get a lot more done? Well, maybe a little more. But there were two things that I did not get done: 1. Buy the book, and 2. Update this blog during an eight-day interval.
The second of these lapses in Getting Things Done, gives rise to a whole raft of questions, from the merely practical to the deeply philosophical: 1. Why didn't I update the blog for the past eight days? 2. What does it matter that I did not update the blog? 3. What, if anything, would have been more important than updating the blog? 4. How could I determine the relative importance of updating the blog and the other Things that I could have been Getting Done? And of course, 5. What, then is the meaning of life? The last question, comes full circle to the subject of this blog, which, Coffee, Cafes, the Arts, Mythology, and People, to the contrary notwithstanding, is really the meaning of life. And the question, therefore, begs begging: 6. What is the meaning of not updating, over a seven-day period, a blog about the meaning of life?
If you are still reading this, it is clear that you could be Getting another Thing Done but would rather be reading about this at the expense of the other Thing. And, if you have stopped reading before this sentence, or never started reading this post, you certainly would not be using the blog to distract yourself from Getting Things Done, but that would be no guarantee whatsoever that you have succeeded in Getting any Thing Done, least of all any Thing of any importance.
Astute and vigilant readers of Jonathan's Coffeeblog, and I would like to believe that there are many of you out there, will acknowledge that I have addressed many of these issues before, Blogger's Block, for example. As for the relative Importance of things, I refer you to my erstwhile lay Zen Master Keisuke, who saw clearly through the veil of illusion concerning that most important of subjects, Importance. Perhaps you think that all of the aforegoing prose is a mere joke, poking fun at Getting Things Done and deeper issues. Beware. The word in Yiddish for joke is "chochme" ("ch" as in Loch Lomond, not as in cherry.) Chochme, in turn, comes from "chochom", a sage or Wise Man, from the Hebrew haham, meaning the same. Put that in your GTD tickler file and smoke it.
|
Technorati Tags:
Productivity
GTD
Wisdom
Zen
Go: [ Home | Previous | Archive | Gods & Myths | Cafes | Coffee | People | Arts ]
Copyright ©2004-2005 Jonathan David Leavitt