This is a weird time of year. Here in Berkeley it's a gorgeous day, sunny, though chilly. The magnolias are already blooming. It's not spring yet, not even winter. The looming New Year makes a guy think about transitions, the passage of time, new stuff—the usual. The numeral 2005 sounds new—shiny and pristine, just out of the box, wheareas 2004 sounds (already), old, scratched, a little battered, like my camera cellphone (which I bought in 2004). This blog is one of the transitions for the new year. I've started it This is a weird time of year. Here in Berkeley it's a gorgeous day, sunny, though chilly. The magnolias are already blooming. It's not spring yet, not even winter. The looming New Year makes a guy think about transitions, the passage of time, new stuff—the usual. The numeral 2005 sounds new—shiny and pristine, just out of the box, wheareas 2004 sounds (already), old, scratched, a little battered, like my camera cellphone (which I bought in 2004). This blog is one This is a weird time of year. Here in Berkeley it's a gorgeous day, sunny, though chilly. The magnolias are already blooming. It's not spring yet, not even winter. The looming New Year makes a guy think about transitions, the passage of time, new stuff—the usual. The numeral 2005 sounds new—shiny and pristine, just out of the box, wheareas 2004 sounds (already), old, scratched, a little battered, like my camera This is a weird time of year. Here in Berkeley it's a gorgeous day, sunny, though chilly. The magnolias are already blooming. It's not spring yet, not even winter. The looming New Year makes a guy think about transitions, the passage of time, new stuff—the usual. The numeral 2005 sounds new—shiny and pristine, just out of the box, wheareas 2004
[Tsatskes]
[Readers]
[About]
[Blogroll]
43 Folders
Anders Fagerjord
Bay Area Bloggers
Berkeley Blogs
Blue Bottle Clown College
Cafexperiment
Coffeegeek
Denver Coffeehouses
Dogmilque
Doug Miller
Emily Chang's eHub
Hewn & Hammered
Jill's Definition of Weblog
Jonas Luster
Laughing Squid
Le Blaugue à Beleg
Loïc Le Meur Blog
Mark Bernstein
Moleskinerie
Seesmic Blog
Tant Mieux
The Dynamist
Tonx Dot Org

[Go]
Send Me Email:
coffeeblogger (at) doublesquids.com




<<
#

?
>>

Who Links Here
6:15 PM Monday, February 4, 2008
[Does the Bermuda Triangle have a branch in Cupertino?]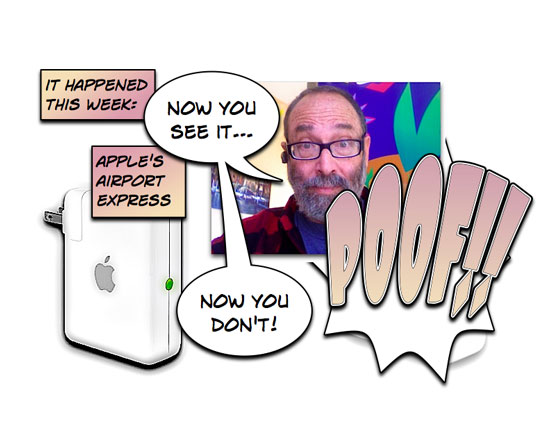 Since 2004, Apple has had a nifty product called Airport Express, a $100 wireless router with an audio jack that works with iTunes. Run an audio cable from the gadget to your stereo system or TV sound system, and you can play back iTunes from any computer in the house that has wireless access. It's a great way to listen to your MP3's and purchased iTunes over your best speakers. For years I've coveted Airport Express, but held off buying one, making do with a wired connection from an old iPod.
Last week, however, I finally decided "what the heck," and sauntered into an Apple Store to buy one. Guess what. They were all gone, and they didn't know when they would get some more. I tried other (non-Apple) stores, and was told of a rumor that Apple would be coming out with an new model very shortly. Today I called back the Apple Store and they were still all out, though the online store said they were available in "3-5 days."
I searched online forums and found no confirmation, just echoes of the rumor that Apple was coming out soon with an updated product. The Apple store told me that the new Time Capsule devices, coming out "in February" had no audio port.
Now, much as I want to get an Airport Express, I don't want to buy one immediately if Apple will be coming out with a new version soon.
Since the disappearance of the Airport Express from store shelves is mysterious, I began to imagine all kinds of scenarios, ranging from the most likely to the most paranoid:
There was a sudden unpredicted increase in comsumer demand which overwhelmed the supply.
Apple will soon announce a new version and is waiting to get rid of all their inventory of the old model.
Apple's contracted manufacturer has stopped production temporarily in order to meet the February deadline for Time Capsule, which they also manufacture.
Apple has stopped supporting this product, having wafer-thin computers, Apple TV, and other fish to fry.
The enemies of Western Civilization, Christianity, and/or Rugged Individualism have discovered that the Airport Express can be used as a cheap detonator for weapons of mass destruction, and they have bought out the existing supply.
Microsoft, after their hostile takeover of Yahoo, will perpetrate an even more hostile takeover of Apple, of which a buy-out of Airport Express devices is a planned maneuver to turn loyal Apple fans (such as myself) against Apple. (But no, I don't have an Apple logo tattoo.)
The Bermuda Triangle has a branch in Cupertino.
Meanwhile, I've still got my old iPod hooked up to my even older stereo system, and I'm waiting for Apple's announcement of the new, improved, faster, more stylish, eco-friendly glass and aluminum $75 Airport Express, available in March.
More Links: AirportExpress Macintosh iPod
More Images: AirportExpress TimeCapsule iTunes
Permanent Link to This Entry
|
|
| Technorati Tag:
iTunes
blog comments powered by
Comments (View)
Send the URL for this item to your Twitter Friends!
Word search for recent posts to Jonathan's Coffeeblog:
"The meaning of life and other trivia." Copyright ©2004, 2005, 2006, 2007, 2008 Jonathan David Leavitt. All rights reserved.
Every page now has Seesmic/Disqus video commenting. Scroll to the bottom to see or post video comments. There are also Haloscan comments at the end of each separate blogpost article. To read a text-only version of Jonathan's Coffeeblog on your iPhone or other mobile phone, click here. Or to see the graphics with less text, click here.