This is a weird time of year. Here in Berkeley it's a gorgeous day, sunny, though chilly. The magnolias are already blooming. It's not spring yet, not even winter. The looming New Year makes a guy think about transitions, the passage of time, new stuff—the usual. The numeral 2005 sounds new—shiny and pristine, just out of the box, wheareas 2004 sounds (already), old, scratched, a little battered, like my camera cellphone (which I bought in 2004). This blog is one of the transitions for the new year. I've started it This is a weird time of year. Here in Berkeley it's a gorgeous day, sunny, though chilly. The magnolias are already blooming. It's not spring yet, not even winter. The looming New Year makes a guy think about transitions, the passage of time, new stuff—the usual. The numeral 2005 sounds new—shiny and pristine, just out of the box, wheareas 2004 sounds (already), old, scratched, a little battered, like my camera cellphone (which I bought in 2004). This blog is one This is a weird time of year. Here in Berkeley it's a gorgeous day, sunny, though chilly. The magnolias are already blooming. It's not spring yet, not even winter. The looming New Year makes a guy think about transitions, the passage of time, new stuff—the usual. The numeral 2005 sounds new—shiny and pristine, just out of the box, wheareas 2004 sounds (already), old, scratched, a little battered, like my camera This is a weird time of year. Here in Berkeley it's a gorgeous day, sunny, though chilly. The magnolias are already blooming. It's not spring yet, not even winter. The looming New Year makes a guy think about transitions, the passage of time, new stuff—the usual. The numeral 2005 sounds new—shiny and pristine, just out of the box, wheareas 2004
[About]
[Blogroll]
Anders Fagerjord
Bay Area Bloggers
Berkeley Blogs
Bloggerdydoc
Doug Miller
Hewn & Hammered
Jill's Definition of Weblog
Jonas Luster
Laughing Squid
Le Blaugue à Beleg
Mark Bernstein
Moleskinerie
Tant Mieux
The Dynamist
The Year of Coffee Blog

[Go]
Tag Cloud: 50 Tags
Tag Cloud: 125 Tags
Tag Cloud: 250 Tags




<<
#

?
>>

Who Links Here
Peet's Coffee of Berkeley
9:12 PM Friday, December 9, 2005
[Vaticans (or perhaps Meccas or Jerusalems)]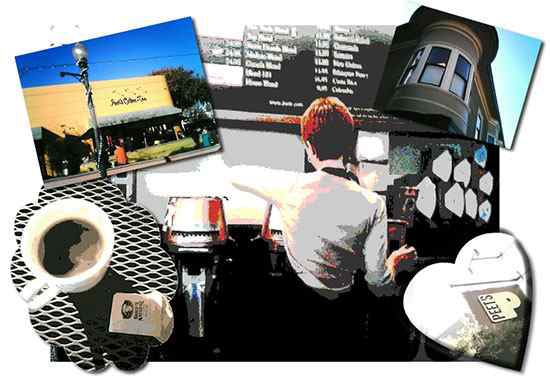 Imagine my shock and horror when I looked at my "Cafes" page of the Coffeeblog and discovered that I had posted no entries since October 2. What kind of coffeeblog has nothing to say about cafes for more than two months? But it gets worse. This is a Berkeley coffeeblog, after all, and I haven't dedicated any posts to Alfred Peet, the legendary Berkeley coffee entrepreneur, and the local Peet's Coffee stores. That's the moral equivalent of blogging on "religious institutions in Rome, Italy" and omitting the Vatican. I am hereby atoning for such a colossal sin of omission.
Speaking of Vaticans (or perhaps Meccas or Jerusalems) my first stop was a pilgrimage to the original Vine Street Peet's coffee store. I have been here countless times, in part due to the fact that my dentist's office is right above it. This time, however, I am not a mere coffee consumer but a representative of the New Media. I bought some whole beans of Ethiopian coffee to brew at home with my French Press. My questions about storage (sealed, in the refrigerator), shelf life (one month at peak flavor), and grinding process (they say buy less and let them do it) were answered patiently.
The Vine Street store is not a cafe, however. The Fourth Street store is. There is a classy, albeit small terrace at the heart of this little "mall done right." Shoppers stop here for refreshment, but the cafe is worth the trip by itself, with the caveat that it may be necessary to park two or more blocks away. And so, today the cafe was my second stop. I ordered an Americano made by pulling the espresso shot directly into the cup of hot water, as recommended by tonx of Seattle's Victrola Coffee. A helpful barista named Nate made it the way I asked, and threw out the first cup because there was a low-pressure malfunction of the machine. After a rapid machine repair, I got my Americano, which had crema on the top. Sadly, the crema did not last long. The Americano tasted like espresso, without a trace of bitterness, but not as intense as a "short pull" ristretto. I lingered over the Americano while uploading photos to Flickr, and montage of which is shown above.
I wanted to report on the historical connection between Peets and Starbucks, but I'll save that for another time.
|
Technorati Tags:
Peets
Cafes
Coffee
Espresso
Copyright ©2004, 2005, 2006 Jonathan David Leavitt