This is a weird time of year. Here in Berkeley it's a gorgeous day, sunny, though chilly. The magnolias are already blooming. It's not spring yet, not even winter. The looming New Year makes a guy think about transitions, the passage of time, new stuff—the usual. The numeral 2005 sounds new—shiny and pristine, just out of the box, wheareas 2004 sounds (already), old, scratched, a little battered, like my camera cellphone (which I bought in 2004). This blog is one of the transitions for the new year. I've started it This is a weird time of year. Here in Berkeley it's a gorgeous day, sunny, though chilly. The magnolias are already blooming. It's not spring yet, not even winter. The looming New Year makes a guy think about transitions, the passage of time, new stuff—the usual. The numeral 2005 sounds new—shiny and pristine, just out of the box, wheareas 2004 sounds (already), old, scratched, a little battered, like my camera cellphone (which I bought in 2004). This blog is one This is a weird time of year. Here in Berkeley it's a gorgeous day, sunny, though chilly. The magnolias are already blooming. It's not spring yet, not even winter. The looming New Year makes a guy think about transitions, the passage of time, new stuff—the usual. The numeral 2005 sounds new—shiny and pristine, just out of the box, wheareas 2004 sounds (already), old, scratched, a little battered, like my camera This is a weird time of year. Here in Berkeley it's a gorgeous day, sunny, though chilly. The magnolias are already blooming. It's not spring yet, not even winter. The looming New Year makes a guy think about transitions, the passage of time, new stuff—the usual. The numeral 2005 sounds new—shiny and pristine, just out of the box, wheareas 2004
[About]
[Blogroll]
Anders Fagerjord
Bay Area Bloggers
Berkeley Blogs
Bloggerdydoc
Doug Miller
Hewn & Hammered
Jill's Definition of Weblog
Jonas Luster
Laughing Squid
Le Blaugue à Beleg
Mark Bernstein
Moleskinerie
Tant Mieux
The Dynamist
The Year of Coffee Blog

[Go]
Tag Cloud: 50 Tags
Tag Cloud: 125 Tags
Tag Cloud: 250 Tags




<<
#

?
>>

Who Links Here
A Male Alice in A Wonderland of Women
3:54 PM Saturday, January 21, 2006
[A giant inflatable fantasy woman with a halo]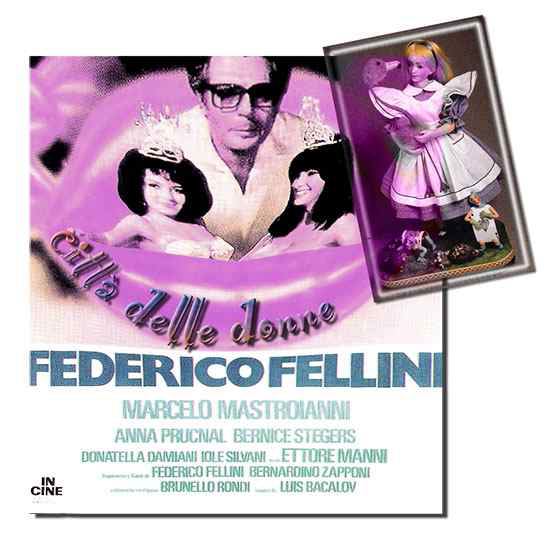 In Federico Fellini's black-and-white film 8 1/2, in which he makes a spectacle of his own incapacity to complete a movie he is working on, there are many scenes about the influence of women in his life, as a boy, young man, and mature film director. In that film, his protagonist "Guido Snaporaz", played by Marcello Mastroianni, is surrounded by adoring women who turn mean and gang up on him, until he tames them by cracking a bullwhip like a lion-tamer. In a later production, City of Women (Città delle Donne), made in 1980 shortly after Italy's wave of feminism, Fellini expands those themes into a full-length color extravaganza, taking advantage of his "auteur" reputation and seemingly inexhaustible resources. The Alice in this Wonderland is a middle-aged husband, again "Snaporaz", again played by Mastroianni, with a playboy mentality, a disappointed, bitter wife, and an apparently limitless tolerance for surrealistic nightmare predicaments. Like the Lewis Carroll book for children, the scenes and characters are more important than a story line. (Who came first in Alice? The Red Queen or the Cheshire Cat? And does it matter?)
In City of Women, the counterpart of Alice's White Rabbit is a well-dressed woman with sunglasses and a Russian-style fur hat (Bernice Stegers), whom he follows into an overheated conference of very angry feminists. In Fellini's world these are all super-glamourous and all seem to have taken much time to apply makeup impeccably. The rabbit hole does not appear until the end of the film, in the form of a train tunnel. Other great scenes include a Hefneresque super-playboy named Kazzone (literally, Big Dick) celebrating his ten-thousandth conquest, only to be hassled by tough policewomen in Gestapoesque uniforms; a wild nocturnal car ride with a mob of stoned grrrlz who try to shoot down a plane; and a balloon ride suspended beneath a giant inflatable fantasy woman with an illuminated angel's halo. Snaporaz's indestructible bones are jumped by a robust, uninhibited peasant woman in a greenhouse and by his wife in a colossal white bed while a hurricane howls outside. Snaporaz does not accept gracefully the role of sex object. The least obnoxious woman in the whole fantasy appears to be an elderly cleaning lady, but credit seems to be due to the red-haired wife Elena, who is portrayed as still in love with Snaporaz in spite of his neuroses and arrested development.
Unlike some other Fellini's movies like La Strada, this is not one to sweep the viewer up in the plot and carry her along; some have even called it tedious. It is not a happy movie, and it never quite becomes either a comedy or a horror movie, but has elements of both. I'll probably rent it again sometime.
|
Technorati Tags:
Fellini
Women
Cinema
Fantasy
Copyright ©2004, 2005, 2006 Jonathan David Leavitt