This is a weird time of year. Here in Berkeley it's a gorgeous day, sunny, though chilly. The magnolias are already blooming. It's not spring yet, not even winter. The looming New Year makes a guy think about transitions, the passage of time, new stuff—the usual. The numeral 2005 sounds new—shiny and pristine, just out of the box, wheareas 2004 sounds (already), old, scratched, a little battered, like my camera cellphone (which I bought in 2004). This blog is one of the transitions for the new year. I've started it This is a weird time of year. Here in Berkeley it's a gorgeous day, sunny, though chilly. The magnolias are already blooming. It's not spring yet, not even winter. The looming New Year makes a guy think about transitions, the passage of time, new stuff—the usual. The numeral 2005 sounds new—shiny and pristine, just out of the box, wheareas 2004 sounds (already), old, scratched, a little battered, like my camera cellphone (which I bought in 2004). This blog is one This is a weird time of year. Here in Berkeley it's a gorgeous day, sunny, though chilly. The magnolias are already blooming. It's not spring yet, not even winter. The looming New Year makes a guy think about transitions, the passage of time, new stuff—the usual. The numeral 2005 sounds new—shiny and pristine, just out of the box, wheareas 2004 sounds (already), old, scratched, a little battered, like my camera This is a weird time of year. Here in Berkeley it's a gorgeous day, sunny, though chilly. The magnolias are already blooming. It's not spring yet, not even winter. The looming New Year makes a guy think about transitions, the passage of time, new stuff—the usual. The numeral 2005 sounds new—shiny and pristine, just out of the box, wheareas 2004
[About]
[Blogroll]
Anders Fagerjord
Bay Area Bloggers
Berkeley Blogs
Bloggerdydoc
Doug Miller
Hewn & Hammered
Jill's Definition of Weblog
Jonas Luster
Laughing Squid
Le Blaugue à Beleg
Mark Bernstein
Moleskinerie
Tant Mieux
The Dynamist
The Year of Coffee Blog

[Go]
Tag Cloud: 50 Tags
Tag Cloud: 125 Tags
Tag Cloud: 250 Tags




<<
#

?
>>

Who Links Here
Ketchup
7:36 PM Saturday, February 25, 2006
[None will come and then a lot'll]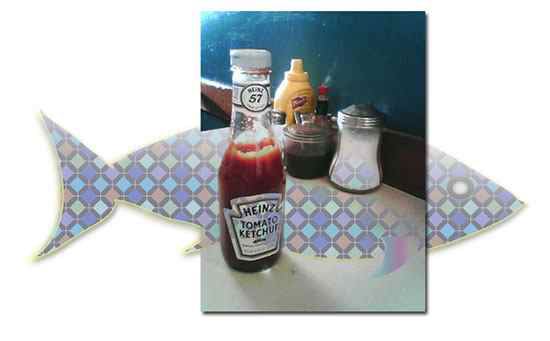 Ketchup (aka catsup) is seen as the quintessential American condiment, although Berliners are beginning to make it their own. (More about that later). I grew up thinking of ketchup as the tomato sauce in a bottle that didn't want to come out. My father used to say, quoting Ogden Nash, I think, "Shake, shake the ketchup bottle; none will come and then a lot'll." Here in California, where tomatoes are big agribusiness, ketchup is known as the final destination for the surplus that never makes it fresh to the table. At Hearst Castle, the San Simeon retreat of the former mainstream media mogul, the castle walls may have been transported stone by stone from Europe, but there is always a bottle of ketchup on the banquet table.
Ketchup, I have learned, did not start as a tomato sauce, but as a Chinese fish sauce. Fish sauce on its own is a fascinating topic. Fish, especially small bony ones caught in large quantities, are salted and stored in a container. As the salt leaches out the juices, it is drained off and becomes fish sauce. A paste is made of the remaining solids. On a trip to Barcelona I learned that in Roman times, the sauce, garum in Latin, was shipped all over the Empire and highly prized. High-quality anchovies are still salted and exported from the same coast. My own introduction to anchovies occurred with my first taste of a pizza from the Colonial Pizzeria in Easton, Pennsylvania. The salty little critters are still my favorite pizza topping.
So: back to ketchup. The name apparently comes from ke-tsiap, said to be literally "fish sauce" in the language of Amoy, a Chinese island now known as Xiamen. A similar fish sauce, nuoc mam, is a staple in Vietnamese cuisine. Supposedly sailors acquired a taste for ketchup and brought it back to Europe where, lacking a local version of fish sauce, it was made from such bizarre ingredients as mushrooms or walnuts. Later the Americans tried tomatoes and the rest is history. In Berlin, I have learned, a kind of bratwurst-like sausage is served with a homemade ketchup, fried potatoes, and curry powder, and is called currywurst. Go figure.
|
Technorati Tags:
Ketchup
Anchovy
Heinz
Currywurst
Copyright ©2004, 2005, 2006 Jonathan David Leavitt