This is a weird time of year. Here in Berkeley it's a gorgeous day, sunny, though chilly. The magnolias are already blooming. It's not spring yet, not even winter. The looming New Year makes a guy think about transitions, the passage of time, new stuff—the usual. The numeral 2005 sounds new—shiny and pristine, just out of the box, wheareas 2004 sounds (already), old, scratched, a little battered, like my camera cellphone (which I bought in 2004). This blog is one of the transitions for the new year. I've started it This is a weird time of year. Here in Berkeley it's a gorgeous day, sunny, though chilly. The magnolias are already blooming. It's not spring yet, not even winter. The looming New Year makes a guy think about transitions, the passage of time, new stuff—the usual. The numeral 2005 sounds new—shiny and pristine, just out of the box, wheareas 2004 sounds (already), old, scratched, a little battered, like my camera cellphone (which I bought in 2004). This blog is one This is a weird time of year. Here in Berkeley it's a gorgeous day, sunny, though chilly. The magnolias are already blooming. It's not spring yet, not even winter. The looming New Year makes a guy think about transitions, the passage of time, new stuff—the usual. The numeral 2005 sounds new—shiny and pristine, just out of the box, wheareas 2004 sounds (already), old, scratched, a little battered, like my camera This is a weird time of year. Here in Berkeley it's a gorgeous day, sunny, though chilly. The magnolias are already blooming. It's not spring yet, not even winter. The looming New Year makes a guy think about transitions, the passage of time, new stuff—the usual. The numeral 2005 sounds new—shiny and pristine, just out of the box, wheareas 2004
[About]
[Blogroll]
Anders Fagerjord
Bay Area Bloggers
Berkeley Blogs
Bloggerdydoc
Doug Miller
Hewn & Hammered
Jill's Definition of Weblog
Jonas Luster
Laughing Squid
Le Blaugue à Beleg
Mark Bernstein
Moleskinerie
Tant Mieux
The Dynamist
The Year of Coffee Blog

[Go]
Tag Cloud: 50 Tags
Tag Cloud: 125 Tags
Tag Cloud: 250 Tags




<<
#

?
>>

Who Links Here
Kiss Me, I'm Irish
2:40 PM Thursday, March 16, 2006
[The gift of Blarney for a blogger]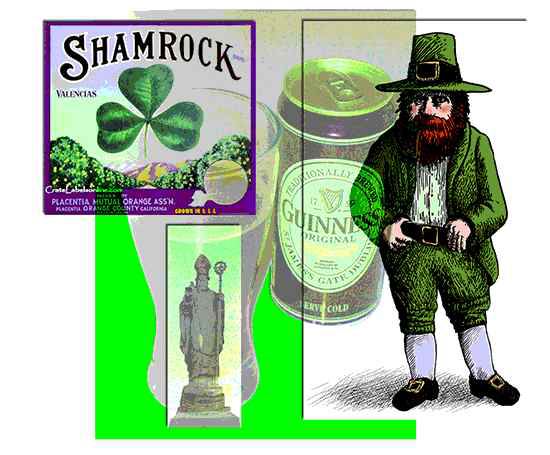 In my last post to the c'blog, I made a brief mention of St. Patrick's day, and after thinking about it, I decided to dedicate a whole post to that one day a year when everyone is Irish. I'm picking out my green wardrobe for the occasion and looking forward to consuming some corned beef and cabbage at Brennan's restaurant, the place to be in Berkeley for the occasion. And what will I be drinking? Green beer? Think again. That's right: Irish Coffee. I dutifully searched the Internet for some appropriate Celtic lore, for who has greater need for the gift of Blarney than a blogger, especially a blogger who is Irish for only one day a year.
The Internet, by the way, did not disappoint me. Yes, of course, there is St. Patrick himself, and the wearing of the green, and shamrocks (three leaves, the Trinity, get it?), leprechauns, and Guinness. But there's lots more. There's the Tuatha Dé Danann, and the old mother Danu herself, and The Dagda, and Brigid the Fire Goddess, and St. Brigid, and the Fire of Tara (not to be confused with the one in Gone with the Wind), which segues nicely into the story of St. Patrick's inextinguishable Christian fire on the Hill of Slane, which of course put a permanent end once and for all to Celtic paganism. Right? Yes? Just ask Philadelphia's Mary Jones.
Which brings us back to the leprechaun. What is St. Patrick's day without leprechauns? One of the faerie folk (the aforementioned Tuatha Dé Danann) who inhabited the Celtic domains long before Romans, the Christians, and the Gaelic Celts themselves, leprechauns were shrewd old cobblers who had somehow managed to salt away a tidy nest egg, the famous pot of gold at the end of the rainbow. For some reason, unscrupulous humans are always trying to cheat the leprechauns out of their life savings, but most leprechauns were and still are smart enough to outwit the greedy bastards. And this blogger, who has to cobble together a good story once or twice a week, will remember the leprechaun fondly with awe and admiration for the next entire month, when his taxes fall due.
More links to photos and art about Ireland St. Patrick Green Shamrock
More links and bookmarks concerning Blarney Celts Danu Faerie
|
Technorati Tags:
Eire
Brigid
St. Patrick
Irish
Copyright ©2004, 2005, 2006 Jonathan David Leavitt