3:22 PM Thursday, September 13, 2007
[Ink and Blood]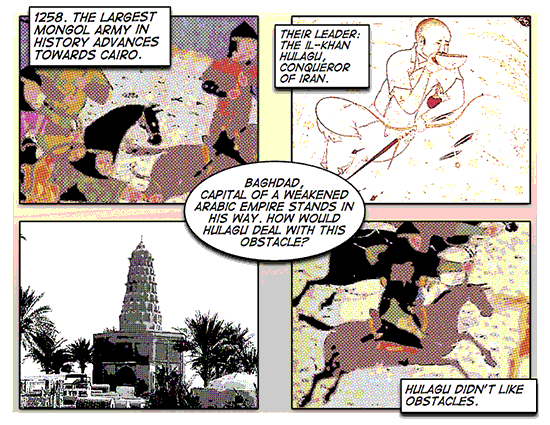 In the year 1258, the Mongol Il-Khan Hulagu ordered the sack of Baghdad, which for 508 years had been the capital of a Muslim empire, ruled by a Caliph, and called the Abbasids after `Abbas ibn `Abd al-Muttalib, paternal uncle and companion of the Prophet Mohammad. The Abbasids were staunch Sunni Muslims. Baghdad, prior to Hulagu's arrival, was renowned for its architecture and culture, including the House of Wisdom, a huge library and scholarly institution housing works in, and translated from Persian, Syriac, and Greek in the fields of astrology, mathematics, agriculture, medicine, and philosophy.
By the time of Hulagu's arrival, the once-huge Abbasid empire had been whittled down to the provinces of Iraq and Syria, and was ruled by a Caliph, Al-Musta'sim Billah, a mellow fellow who had been convinced (says Wikipedia) that the Mongols could be driven off with stones tossed by the women of Baghdad. As it happened, Hulagu had assembled the largest army in Mongol history. His February 10, 1258 conquest of Baghdad was a cakewalk. Superstitious about spilling the blood of the heir of Mohammad (although Hulagu was not a Muslim, and had a Christian mother and wife), according to legend he had the Caliph wrapped in a carpet before having horses trample him to death.
The context of all of this was that a Khagan, that is, a Khan of Khans or Emperor of the Mongols, Güyük, grandson of the first and most famous Khagan, Genghis, had wanted the Mongols to end the Abbasid Caliphate and extend the Mongol Empire to Egypt, but, being an alcoholic who died prematurely, did not live to realize this dream. The honor, as it were, fell to Hulagu, another grandson of Genghis Khan, but of lesser rank, an Il-Khan, who had already conquered Persia and established an Ilkhanate dynasty in the Iranian lands. It seems that he picked up a lot of support from Iranian Shia Muslims on the way. There are even stories that Musta'sim, the Caliph who ended his life rolled up in a rug, had thrown the manuscript of a poem by a respected Shia poet into the river, and the that the vizier, or adviser, who convinced Musta'sim that women throwing stones at the Mongols would drive them off, was a Shia mole for the Mongols. Whatever, the case, Hulagu had serious Shia backing, and having conquered Baghdad, now needed an exit strategy.
For most of history, there was a custom of giving conquering troops a time-limited opportunity to loot a conquered city, grabbing as much of the good stuff as they could. There was also a custom of killing men who could arm themselves later and cause trouble. Finally, Mongols, who lived most of their life on horseback, living in small, portable shelters, had no tradition at the time of taking over cushy palaces and villas and living the soft life. That made Hulagu's exit strategy a no-brainer. His men, including his Iranian Shia supporters (either enthusiastically or merely following orders) trashed Baghdad, which has never been the same since, slaughtered staggering numbers of Sunni men, women, and children, and dumped the contents of the House of Wisdom into the river. The legend is that the river ran red from the blood of the Arabs and black from the ink of the library's books.
Another aspect of Hulagu's exit strategy was to intimidate future victims into surrendering, as the Persians did, rather than resisting and suffering mass executions and ruthless destruction. That worked when Hulagu moved on to Damascus, Syria soon after Baghdad. But it didn't work when he tried to take over Cairo as part of the Khagan Güyük's grand plan. For centuries, the Abbasid Muslims had captured slaves and recruited them as slave-soldiers, called Mamluks (Mamelukes), who were converted to Islam and then trained as cavalry. Eventually the Mamluks had taken over Egypt, and they were there to defeat Hulagu at the Spring of Goliath (Ain Jalut) in the Valley of Jezreel, now part of Israel. The Mongol Empire, once the largest contiguous empire in all history, went into decline after Ayn Jalut, and rapidly disintegrated into smaller empires. Today, Mongolia is an independent nation, 85% of whose population are ethnic Mongols, and half of whose population are Tibetan Buddhists. Genghis Khan is still revered there. As for the descendants of the survivors of Hulagu's 1258 sack of Baghdad, there is still said to be bad blood between some Sunni and Shia Muslims, and between some Arabs and Iranians.
More Links: Hulagu Mamluk Mongols AinJalut
Permanent Link to This Entry
|
|
| Technorati Tag:
Mongols
blog comments powered by
Comments (View)
Send the URL for this item to your Twitter Friends!
Word search for recent posts to Jonathan's Coffeeblog:
"The meaning of life and other trivia." Copyright ©2004, 2005, 2006, 2007, 2008 Jonathan David Leavitt. All rights reserved.
Every page now has Seesmic/Disqus video commenting. Scroll to the bottom to see or post video comments. There are also Haloscan comments at the end of each separate blogpost article. To read a text-only version of Jonathan's Coffeeblog on your iPhone or other mobile phone, click here. Or to see the graphics with less text, click here.