This is a weird time of year. Here in Berkeley it's a gorgeous day, sunny, though chilly. The magnolias are already blooming. It's not spring yet, not even winter. The looming New Year makes a guy think about transitions, the passage of time, new stuff—the usual. The numeral 2005 sounds new—shiny and pristine, just out of the box, wheareas 2004 sounds (already), old, scratched, a little battered, like my camera cellphone (which I bought in 2004). This blog is one of the transitions for the new year. I've started it This is a weird time of year. Here in Berkeley it's a gorgeous day, sunny, though chilly. The magnolias are already blooming. It's not spring yet, not even winter. The looming New Year makes a guy think about transitions, the passage of time, new stuff—the usual. The numeral 2005 sounds new—shiny and pristine, just out of the box, wheareas 2004 sounds (already), old, scratched, a little battered, like my camera cellphone (which I bought in 2004). This blog is one This is a weird time of year. Here in Berkeley it's a gorgeous day, sunny, though chilly. The magnolias are already blooming. It's not spring yet, not even winter. The looming New Year makes a guy think about transitions, the passage of time, new stuff—the usual. The numeral 2005 sounds new—shiny and pristine, just out of the box, wheareas 2004 sounds (already), old, scratched, a little battered, like my camera This is a weird time of year. Here in Berkeley it's a gorgeous day, sunny, though chilly. The magnolias are already blooming. It's not spring yet, not even winter. The looming New Year makes a guy think about transitions, the passage of time, new stuff—the usual. The numeral 2005 sounds new—shiny and pristine, just out of the box, wheareas 2004
[Tsatskes]
[Readers]
[About]
[Blogroll]
43 Folders
Anders Fagerjord
Bay Area Bloggers
Berkeley Blogs
Blue Bottle Clown College
Cafexperiment
Coffeegeek
Denver Coffeehouses
Dogmilque
Doug Miller
Emily Chang's eHub
Hewn & Hammered
Jill's Definition of Weblog
Jonas Luster
Laughing Squid
Le Blaugue à Beleg
Loïc Le Meur Blog
Mark Bernstein
Moleskinerie
Seesmic Blog
Tant Mieux
The Dynamist
Tonx Dot Org

[Go]
Send Me Email:
coffeeblogger (at) doublesquids.com




<<
#

?
>>

Who Links Here
4:23 PM Tuesday, September 18, 2007
[Now they've got Jottit.]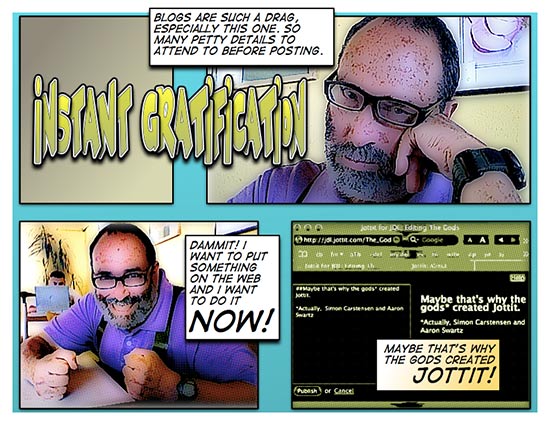 It's taken me years to come up with this format for Jonathan's Coffeeblog, and meanwhile things keep changing on the Internet. Now they've got Jottit, created by Simon Carstensen and Aaron Swartz. It's basically a website for making websites. Instant websites. I mean, really instant. Go to the URL (http://jottit.com) and you're immediately asked to create a "page," meaning a web page. Type something. BAM! You've got a web page. Just email the URL to others and they can read what you've got there. If you name the pages for the date and time you wrote them, you've got a blog. You can't put images on it (yet) except for ASCII images (remember them?) But you can put links and even format the text a little bit.
OK. So what? So this. It's quicker and easier than any other way I've seen to put up a website. I've done blogs on Blogger and I've joined LiveJournal and Vox and Facebook, all of which can put up new blogs in less than an hour, to which you can post as often as you want, but they're not instant, because you've got to set them up first. I have Apple's iWeb, which is a quick way to make elegant or humorous formatted blogs and web pages using iWeb's templates, which include places for photos, video, and even podcasts. It's almost instant. But it's not instant. And then, there's the Coffeeblog. The Coffeeblog is not instant. Oy, is it not instant!
I've created a monster. But it's my monster, and I love my monster. So do a lot of readers who show up in my site stats. It's taken me a long time to get the Coffeeblog the way it is now, and I like it that way. I even like the new background color. And I especially like the graphics that I create for each blogpost. As a kid, I loved comics, and the whole culture of comics, and so I have to have a comic-like image with every Coffeeblog post. It didn't used to be comics, but now it is, because I like it that way. But you can't make an instant comic and I can't post to the Coffeeblog instantly, because it's too complex. I do it from my home computer, which means I have to be at home. And so I will be posting this to the Coffeeblog in due course, maybe tomorrow. First I have to create the comic, which means that I will have to think about how I will represent the theme graphically. I suppose I could show images of myself looking puzzled and frustrated about the lack of instant Coffeeblog posts.
Yeah, I could do that. But I like instant gratification. I want to post this web page NOW!!! OK, I will. I'll post it to Jottit. I'll consider it a sneak preview of my next Coffeeblog post.
More Links: Jottit iWeb webware
More Images: Jottit iWeb WebsiteDesign
Permanent Link to This Entry
|
|
| Technorati Tag:
Jottit
blog comments powered by
Comments (View)
Send the URL for this item to your Twitter Friends!
Word search for recent posts to Jonathan's Coffeeblog:
"The meaning of life and other trivia." Copyright ©2004, 2005, 2006, 2007, 2008 Jonathan David Leavitt. All rights reserved.
Every page now has Seesmic/Disqus video commenting. Scroll to the bottom to see or post video comments. There are also Haloscan comments at the end of each separate blogpost article. To read a text-only version of Jonathan's Coffeeblog on your iPhone or other mobile phone, click here. Or to see the graphics with less text, click here.