This is a weird time of year. Here in Berkeley it's a gorgeous day, sunny, though chilly. The magnolias are already blooming. It's not spring yet, not even winter. The looming New Year makes a guy think about transitions, the passage of time, new stuff—the usual. The numeral 2005 sounds new—shiny and pristine, just out of the box, wheareas 2004 sounds (already), old, scratched, a little battered, like my camera cellphone (which I bought in 2004). This blog is one of the transitions for the new year. I've started it This is a weird time of year. Here in Berkeley it's a gorgeous day, sunny, though chilly. The magnolias are already blooming. It's not spring yet, not even winter. The looming New Year makes a guy think about transitions, the passage of time, new stuff—the usual. The numeral 2005 sounds new—shiny and pristine, just out of the box, wheareas 2004 sounds (already), old, scratched, a little battered, like my camera cellphone (which I bought in 2004). This blog is one This is a weird time of year. Here in Berkeley it's a gorgeous day, sunny, though chilly. The magnolias are already blooming. It's not spring yet, not even winter. The looming New Year makes a guy think about transitions, the passage of time, new stuff—the usual. The numeral 2005 sounds new—shiny and pristine, just out of the box, wheareas 2004 sounds (already), old, scratched, a little battered, like my camera This is a weird time of year. Here in Berkeley it's a gorgeous day, sunny, though chilly. The magnolias are already blooming. It's not spring yet, not even winter. The looming New Year makes a guy think about transitions, the passage of time, new stuff—the usual. The numeral 2005 sounds new—shiny and pristine, just out of the box, wheareas 2004
[Tsatskes]
[Readers]
[About]
[Blogroll]
43 Folders
Anders Fagerjord
Bay Area Bloggers
Berkeley Blogs
Blue Bottle Clown College
Cafexperiment
Coffeegeek
Denver Coffeehouses
Dogmilque
Doug Miller
Emily Chang's eHub
Hewn & Hammered
Jill's Definition of Weblog
Jonas Luster
Laughing Squid
Le Blaugue à Beleg
Loïc Le Meur Blog
Mark Bernstein
Moleskinerie
Seesmic Blog
Tant Mieux
The Dynamist
Tonx Dot Org

[Go]
Send Me Email:
coffeeblogger (at) doublesquids.com




<<
#

?
>>

Who Links Here
3:05 PM Thursday, May 17, 2007
[The contemporary consequences.]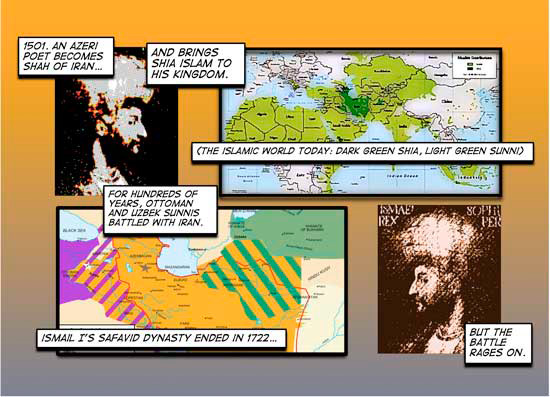 This is a story about an extraordinary man who was born in 1487 and died at age 36, of a broken heart, it is said, because his beloved wife was taken hostage by the Turkish Sultan. He was a famous poet who wrote in two languages under the pen name of Khata'i. He was better known, however, by the name of Ismail the First, Shah of Iran, who came to the throne before the age of 16. (This Coffeeblog post is based on Wikipedia articles.)
There have been many Shahs of Iran and countless poets, so what was special about Shah Ismail? Read current news any day on the Internet or the mainstream media, and you will be reading about the contemporary consequences of the career of Ismail I of Iran. It was he who brought Shia Islam permanently to Iran, at least permanently until the day I am writing this. He was the founder of the Safavid Dynasty, the first major Shia dynasty of Iran.
Ismail the First was descended from Iranians, Turks, and Greeks, and is identified with the Azeri ethnic group. His great-grandfather on his mother Martha's side was the Greek King John IV Komemnos of Trebizond on the Black Sea. On his father's side, he was the great-great-great-great-grandson of Sheikh Safi al-Din Ardabil, a Sufi Grand Master, for which the Iranian dynasty was named. Militant Sunnis today refer to the Iranian Shiites as heretics or "Safavid Apostates", impugning the followers of Sheikh Safi. Go ahead, Google it. When I did, I got 999 hits.
The Ottoman Turks, loyal Sunnis, fought the Safavid Dynasty from 1501 until a shaky treaty was signed in 1639. In 1722 Afghans moved in and ended the dynasty, but, spurred by opportunists, Shia and Sunnis fight on to avenge past atrocities in the region. The most hotly contested turf between Safavid Iranians and Turkish Ottomans was the area between the Tigris and Euphrates rivers, known to the Greeks as Mesopotamia. In the news reports you may be reading today, it's called Iraq.
More Links: Sufi Shia Sunni Safavid
More Images: Ardabil Iraq Sufi
Permanent Link to This Entry
|
|
| Technorati Tag:
Safavid
blog comments powered by
Comments (View)
Send the URL for this item to your Twitter Friends!
Word search for recent posts to Jonathan's Coffeeblog:
"The meaning of life and other trivia." Copyright ©2004, 2005, 2006, 2007, 2008 Jonathan David Leavitt. All rights reserved.
Every page now has Seesmic/Disqus video commenting. Scroll to the bottom to see or post video comments. There are also Haloscan comments at the end of each separate blogpost article. To read a text-only version of Jonathan's Coffeeblog on your iPhone or other mobile phone, click here. Or to see the graphics with less text, click here.