This is a weird time of year. Here in Berkeley it's a gorgeous day, sunny, though chilly. The magnolias are already blooming. It's not spring yet, not even winter. The looming New Year makes a guy think about transitions, the passage of time, new stuff—the usual. The numeral 2005 sounds new—shiny and pristine, just out of the box, wheareas 2004 sounds (already), old, scratched, a little battered, like my camera cellphone (which I bought in 2004). This blog is one of the transitions for the new year. I've started it This is a weird time of year. Here in Berkeley it's a gorgeous day, sunny, though chilly. The magnolias are already blooming. It's not spring yet, not even winter. The looming New Year makes a guy think about transitions, the passage of time, new stuff—the usual. The numeral 2005 sounds new—shiny and pristine, just out of the box, wheareas 2004 sounds (already), old, scratched, a little battered, like my camera cellphone (which I bought in 2004). This blog is one This is a weird time of year. Here in Berkeley it's a gorgeous day, sunny, though chilly. The magnolias are already blooming. It's not spring yet, not even winter. The looming New Year makes a guy think about transitions, the passage of time, new stuff—the usual. The numeral 2005 sounds new—shiny and pristine, just out of the box, wheareas 2004 sounds (already), old, scratched, a little battered, like my camera This is a weird time of year. Here in Berkeley it's a gorgeous day, sunny, though chilly. The magnolias are already blooming. It's not spring yet, not even winter. The looming New Year makes a guy think about transitions, the passage of time, new stuff—the usual. The numeral 2005 sounds new—shiny and pristine, just out of the box, wheareas 2004
[Tsatskes]
[Readers]
[About]
[Blogroll]
43 Folders
Anders Fagerjord
Bay Area Bloggers
Berkeley Blogs
Blue Bottle Clown College
Cafexperiment
Coffeegeek
Denver Coffeehouses
Dogmilque
Doug Miller
Emily Chang's eHub
Hewn & Hammered
Jill's Definition of Weblog
Jonas Luster
Laughing Squid
Le Blaugue à Beleg
Loïc Le Meur Blog
Mark Bernstein
Moleskinerie
Seesmic Blog
Tant Mieux
The Dynamist
Tonx Dot Org

[Go]
Send Me Email:
coffeeblogger (at) doublesquids.com




<<
#

?
>>

Who Links Here
1:17 PM Thursday, May 3, 2007
[Cuteness is essential.]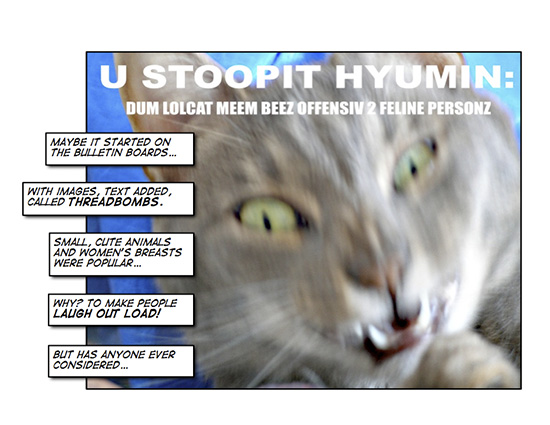 I'll get right to the point: The lolcat is a species of cartoon. As I did, you may have seen one or more without knowing what they were called, because lolcats are a big Internet fad, or in Internet jargon, a viral meme. A basic lolcat consists of a cute cat photo overprinted with a humorous caption. Cuteness is essential, and is usually intensified by the use of odd spelling and bizarre grammar. The lol, of course refers to the abbreviation for "laughing out loud," found throughout the anglophone Internet. (Hmmm… I wonder: what is the expression in, say, the Hungarian Internet?)
As cartoon taxonomy goes, a lolcat is a subspecies of the gag cartoon, a one-panel pictorial joke, as exemplified currently in the New Yorker magazine. Gag cartoons are to be differentiated from multi-panel comics and animated cartoons. My last post to Jonathan's Coffeblog documented the rise of a multimedia empire from a single gag cartoon. The availability of digital cat photos, downloaded or homemade, and of software which can superimpose a caption, has made cartooning (like weblog publishing, typography, and videography) possible for almost anyone.
Wikipedia describes lolcats as a form of image macro, a high-falutin' term for another Internet medium, the thread bomb. Thread bombs are lobbed by Internet bulletin board participants, who want to make a point emphatically. One of my favorite thread bombs is, "Holy retarded topic, Batman!" An exploration of the amusing fare dished out by threadbombing.com reveals a particular interest in the human female breasts in addition to cats and other small animals.
This element of sexism gave rise to the idea reflected in the lolcat I created for the image accompanying this blogpost. (Acknowledgement is due here to my cat Mazel for posing for the photo.) Is it possible that crude humor at the expense of members of the species Felis cattus is nothing more that crass speciesism? In other words are those of us, me included, who derive amusement from lolcats little more than speciesist pigs? But on further reflection, it is unquestionably speciesist to hurl political invectives, such as "racist p--" at the expense of the species Sus scrofa domestica. Gee, life in the 21st Century is complicated.
More Links: Lolcat ThreadBomb Cartoon
More Images: Lolcat Cat FurryFriday Cartoon
Permanent Link to This Entry
|
|
| Technorati Tag:
Lolcat
blog comments powered by
Comments (View)
Send the URL for this item to your Twitter Friends!
Word search for recent posts to Jonathan's Coffeeblog:
"The meaning of life and other trivia." Copyright ©2004, 2005, 2006, 2007, 2008 Jonathan David Leavitt. All rights reserved.
Every page now has Seesmic/Disqus video commenting. Scroll to the bottom to see or post video comments. There are also Haloscan comments at the end of each separate blogpost article. To read a text-only version of Jonathan's Coffeeblog on your iPhone or other mobile phone, click here. Or to see the graphics with less text, click here.