This is a weird time of year. Here in Berkeley it's a gorgeous day, sunny, though chilly. The magnolias are already blooming. It's not spring yet, not even winter. The looming New Year makes a guy think about transitions, the passage of time, new stuff—the usual. The numeral 2005 sounds new—shiny and pristine, just out of the box, wheareas 2004 sounds (already), old, scratched, a little battered, like my camera cellphone (which I bought in 2004). This blog is one of the transitions for the new year. I've started it This is a weird time of year. Here in Berkeley it's a gorgeous day, sunny, though chilly. The magnolias are already blooming. It's not spring yet, not even winter. The looming New Year makes a guy think about transitions, the passage of time, new stuff—the usual. The numeral 2005 sounds new—shiny and pristine, just out of the box, wheareas 2004 sounds (already), old, scratched, a little battered, like my camera cellphone (which I bought in 2004). This blog is one This is a weird time of year. Here in Berkeley it's a gorgeous day, sunny, though chilly. The magnolias are already blooming. It's not spring yet, not even winter. The looming New Year makes a guy think about transitions, the passage of time, new stuff—the usual. The numeral 2005 sounds new—shiny and pristine, just out of the box, wheareas 2004 sounds (already), old, scratched, a little battered, like my camera This is a weird time of year. Here in Berkeley it's a gorgeous day, sunny, though chilly. The magnolias are already blooming. It's not spring yet, not even winter. The looming New Year makes a guy think about transitions, the passage of time, new stuff—the usual. The numeral 2005 sounds new—shiny and pristine, just out of the box, wheareas 2004
[Tsatskes]
[Readers]
[About]
[Blogroll]
43 Folders
Anders Fagerjord
Bay Area Bloggers
Berkeley Blogs
Blue Bottle Clown College
Cafexperiment
Coffeegeek
Denver Coffeehouses
Dogmilque
Doug Miller
Emily Chang's eHub
Hewn & Hammered
Jill's Definition of Weblog
Jonas Luster
Laughing Squid
Le Blaugue à Beleg
Loïc Le Meur Blog
Mark Bernstein
Moleskinerie
Seesmic Blog
Tant Mieux
The Dynamist
Tonx Dot Org

[Go]
Send Me Email:
coffeeblogger (at) doublesquids.com




<<
#

?
>>

Who Links Here
5:43 PM Friday, December 29, 2006
[The making of a "meme".]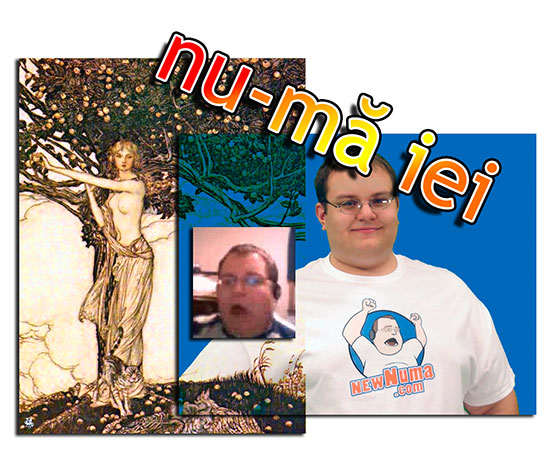 Love from the linden trees. For Americans like me it doesn't make a lot of sense. I remember from ninth grade shop class that basswood, a high-quality hardwood, came from American linden trees. If I had been born in Northern Europe or a Slavic country, I might have learned that the linden (lipa in Czech and Slovak, lime tree in the UK) was a very special tree, associated with the love-goddess Freyja, with village councils, and as a material for making ikons in Russia. And if I had been born in Moldova or Romania, I would have understood the lyrics to a song called "Dragostea din Tei." In the rest of the world, the song, which might sound like nonsense for non-Romanian-speakers, is known as the song for the Numa Numa Dance, and it is at the root of what Wikipedia calls the second most popular meme on the Internet.
About two years ago, a video geek and chick magnet from New Jersey named Gary Brolsma, made a video of himself lip-synching Dragostea and posted it to the Flash video site Newgrounds. The huge success in viewership and fame of Brolsma's video of his "Numa Numa Dance." is an object lesson on celebrity in the early 21st century. Brolsma earned much more that his Warholian 15 minutes of fame. But why? The video has been called "viral" (sort of like Ebola?) and a "meme", a word which I maintain means a "mindless theme." But the Numa Numa Dance is not mindless. Not by a long shot. And there are many themes. The most basic, of course, is love. Add to that, joy, youthful exuberance, the global village, strange languages which sound like nonsense if you don't speak them, and, yes, linden trees, and maybe even the Norse sorceress, battle goddess, and überdiva Freyja, who has a popular day of the week named after her. If I were the superstitious type, which of course I am not, I would say that Gary Brolsma managed to get on Freyja's good side.
The original Numa Numa song was recorded by a Moldovan group called O-zone (and also by a blonde Romanian named Haiducii ("the outlaws"), who lives in Italy and has made a hit in Russian. Napoleon Dynamite, in his namesake film, performed another Numa Numa dance, but credit is also due to Ikari, a Japanese animator who created the first version, featuring dancing cats, which inspired Brolsma to make his chart-busting video.
And the song? It starts out with the "ma-ia-hii," which is nonsense even in Romanian, but instantly conveys the joy of the rest of the song, which is basically about a guy, calling himself "Picasso," who sends a text message on a cellphone (called a "beep" in Romanian) to a girl, to whom he offers love from the linden trees, then assures her "you should know that I'm not asking for anything from you." Yeah, right. One of the stories about Freyja is that she wanted a famous amber necklace made by and in the possession of four dwarves. The necklace was said to make the wearer irresistible. Freyja got the necklace, and the dwarves got lucky. So did Gary Brolsma. The only thing I can add is: thank the gods it's Friday.
More Links NumaNuma GaryBrolsma Freyja Freya
More Images: UnterDenLinden NumaNuma Goddess
Permanent Link to This Entry
| | Technorati Tag:
NumaNuma
blog comments powered by
Comments (View)
Send the URL for this item to your Twitter Friends!
Word search for recent posts to Jonathan's Coffeeblog:
"The meaning of life and other trivia." Copyright ©2004, 2005, 2006, 2007, 2008 Jonathan David Leavitt. All rights reserved.
Every page now has Seesmic/Disqus video commenting. Scroll to the bottom to see or post video comments. To read a text-only version of Jonathan's Coffeeblog on your iPhone or other mobile phone, click here. Or to see the graphics with less text, click here.