This is a weird time of year. Here in Berkeley it's a gorgeous day, sunny, though chilly. The magnolias are already blooming. It's not spring yet, not even winter. The looming New Year makes a guy think about transitions, the passage of time, new stuff—the usual. The numeral 2005 sounds new—shiny and pristine, just out of the box, wheareas 2004 sounds (already), old, scratched, a little battered, like my camera cellphone (which I bought in 2004). This blog is one of the transitions for the new year. I've started it This is a weird time of year. Here in Berkeley it's a gorgeous day, sunny, though chilly. The magnolias are already blooming. It's not spring yet, not even winter. The looming New Year makes a guy think about transitions, the passage of time, new stuff—the usual. The numeral 2005 sounds new—shiny and pristine, just out of the box, wheareas 2004 sounds (already), old, scratched, a little battered, like my camera cellphone (which I bought in 2004). This blog is one This is a weird time of year. Here in Berkeley it's a gorgeous day, sunny, though chilly. The magnolias are already blooming. It's not spring yet, not even winter. The looming New Year makes a guy think about transitions, the passage of time, new stuff—the usual. The numeral 2005 sounds new—shiny and pristine, just out of the box, wheareas 2004 sounds (already), old, scratched, a little battered, like my camera This is a weird time of year. Here in Berkeley it's a gorgeous day, sunny, though chilly. The magnolias are already blooming. It's not spring yet, not even winter. The looming New Year makes a guy think about transitions, the passage of time, new stuff—the usual. The numeral 2005 sounds new—shiny and pristine, just out of the box, wheareas 2004
[Tsatskes]
[Readers]
[About]
[Blogroll]
43 Folders
Anders Fagerjord
Bay Area Bloggers
Berkeley Blogs
Blue Bottle Clown College
Cafexperiment
Coffeegeek
Denver Coffeehouses
Dogmilque
Doug Miller
Emily Chang's eHub
Hewn & Hammered
Jill's Definition of Weblog
Jonas Luster
Laughing Squid
Le Blaugue à Beleg
Loïc Le Meur Blog
Mark Bernstein
Moleskinerie
Seesmic Blog
Tant Mieux
The Dynamist
Tonx Dot Org

[Go]
Send Me Email:
coffeeblogger (at) doublesquids.com




<<
#

?
>>

Who Links Here
5:45 PM Saturday, April 21, 2007
[A harrowing fershlugginer Internet search.]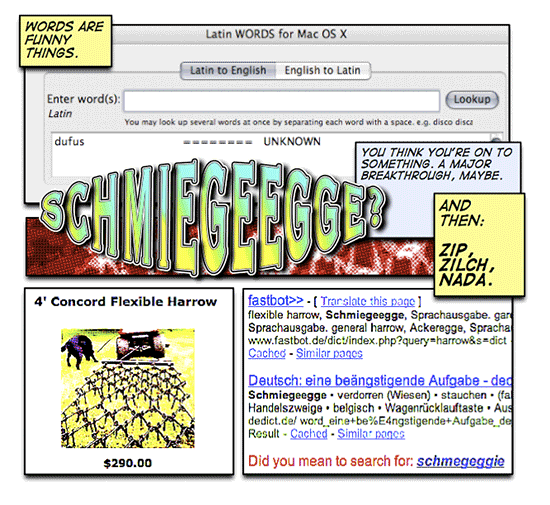 It all began when I was putzing around the Internet when I should have been in bed. I had encountered a German word Schmiege, which, with various spellings, is a recurring surname in Jewish genealogical research in Poland and nearby areas. What does it mean? You would think something common and utilitarian. If you're a woodworker, it is. In eighth-grade shop class we used one, and we called it a "sliding T-bevel." It is related to a German verb schmiegen, which means to nestle up against something, which is what a sliding T-bevel does to your piece of wood if you sawed, planed, and sanded it properly.
While doing this research on the extraordinary German translation site dict.cc, I came across a related word. The heavens opened. The related word was Schmiegeegge. At first glance I thought I was reading the Yiddish word schmegeggie, a mild to moderate term of opprobrium meaning roughly, or perhaps precisely, doofus. Then I noticed the extra E. In German, an Egge is a an agricultural implement called a harrow in English. Dragged behind a tractor (or, in earlier times, horses or serfs), it tears up the ground surface preparing it for planting. A Schmiegeegge is a harrow with flexible tines that nestle up against stuff, saving time and fuel. Wanna see one? OK, take a look.
But, one might ask (and the Google bots did ask), what is the relationship between a Schmiegeegge and a schmegeggie? Being Jewish, I would not find it surprising than some wag back in the mists of etymological time wanted to imply that an acquaintance of his, or perhaps a family member, had all of the intelligence of a flexible harrow. But there is no proof.
And that is when my reseach became, as it were, harrowing. I could find no definitive explanation for the source of the Yiddish word schmegeggie. On a Yiddish-origin bulletin board I encountered the opinion that the word came from "megege", as in "megege, schmegeggie." I found no evidence, however, that megege is Yiddish, although it happens to be a town in Mozambique. And so, dear reader, the Schmiegeegge-schmegeggie connection remains unresolved. At this point, I shall depart this fershlugginer topic, only to open another briefly. Is dufus (doofus), English for schmegeggie, a Latin word? As far as I know, it's not. Too bad.
More Links: schmegeggie doofus harrow Yiddish
More Images: doofus harrow Schmiege Schmiegeegge
Permanent Link to This Entry
|
|
| Technorati Tag:
Doofus
blog comments powered by
Comments (View)
Send the URL for this item to your Twitter Friends!
Word search for recent posts to Jonathan's Coffeeblog:
"The meaning of life and other trivia." Copyright ©2004, 2005, 2006, 2007, 2008 Jonathan David Leavitt. All rights reserved.
Every page now has Seesmic/Disqus video commenting. Scroll to the bottom to see or post video comments. There are also Haloscan comments at the end of each separate blogpost article. To read a text-only version of Jonathan's Coffeeblog on your iPhone or other mobile phone, click here. Or to see the graphics with less text, click here.