8:00 PM Monday, October 20, 2008
[Better for my health than the milk]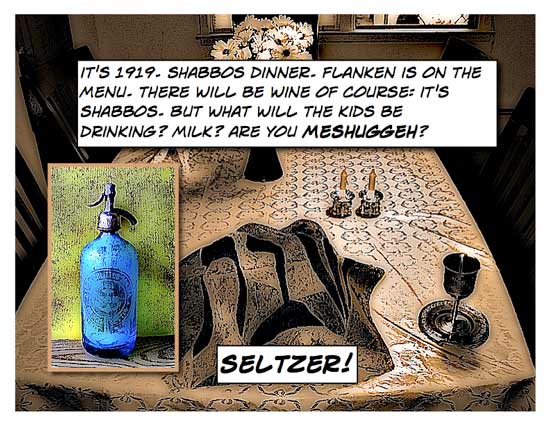 Old-timers like me remember an early TV show featuring a marionette named Howdy Doody and a malicious clown named Clarabell who, once per show, spritzed the emcee, Buffalo Bob Smith, with pressurized carbonated water from a bottle. All Howdy Doody fans, and most Jewish kids of the era knew what was in that bottle: seltzer. It wasn't until a few decades later that I learned that my maternal grandmother's forebears earned their living selling that very same beverage, which was dubbed, in the New York of the 1930's, "Jewish Champagne." Although my mother served milk, not seltzer, with every meal, I still love to drink effervescent mineral water, preferably the kind bottled at Italy's Pellegrino source, or in the interest of saving money, our local California seltzer, Crystal Geyser. It turnes out it's a lot better for my health than the milk.
Natural spring water, sometimes effervescent, has been assumed to have healthful properties for centuries, and the springs whence it flows have been renowned as healing spas since antiquity, when it was believed that female spirits, sprites or naiads, lived there. Vichy (France), Saratoga (New York State), Lourdes (French Basque country), and Calistoga (Northern California) are but a few of the many places whose waters acquired legendary reputations. Pellegrino itself means "pilgrim." One legendary water, Selterswasser, from Hesse in Germany, reportedly gave seltzer its name.
Wikipedia attributed the invention of artificially carbonated water to Joseph Priestley, the guy they taught us in high school chemistry was the discoverer of oxygen. The story is that he discovered carbon dioxide by testing the gas rising above a beer vat on mice, who died. Traditional seltzer was made by injecting carbon dioxide into water in a sturdy syphon bottle, and cases of the drink were peddled from wagons in Jewish neighborhoods, as my ancestors did in the land now called Ukraine. Syphon bottles with gas cartridges are still available for home seltzer production.
Kosher dietary laws from the Bible and Talmud forbid the consumption of meat and dairy products within a certain time frame, so any meal of meat or poultry had to be accompanied by kosher wine or beer, or a non-dairy non-alcoholic beverage, and seltzer was often the top non-alcoholic choice. Of course it's healthier than a beverage sweetened with sugar, and was served as "two cents plain" in New York soda fountains. With ice cream added, it was an ice cream soda.
In 2002, a radio program about a seltzer vendor was produced for NPR. There are, of course, podcasts about seltzer. Hey, it's the twenty-first century. This episode begins and ends in the Yiddish language. So, drink up. No calories, no sugar, no fat, and maybe some nice minerals. And it's kosher, if you care.
Photo Credits: Shabbat Table from Czrussian, Wikipedia. Seltzer bottle image in public domain from Pbroks13, Wikimedia. Comics-style composite by Jonathan David Leavitt using Comic Life Magiq from plasq.com.
Keywords: beverage bottle drink kosher milk seltzer water Coffeeblog
More Links: Seltzer Naiad Springwater
More Images: Seltzer Selters Calistoga
Permanent Link to This Entry
| | Technorati Tag:
Seltzer
blog comments powered by
Comments (View)
Send the URL for this item to your Twitter Friends!
Word search for recent posts to Jonathan's Coffeeblog: