This is a weird time of year. Here in Berkeley it's a gorgeous day, sunny, though chilly. The magnolias are already blooming. It's not spring yet, not even winter. The looming New Year makes a guy think about transitions, the passage of time, new stuff—the usual. The numeral 2005 sounds new—shiny and pristine, just out of the box, wheareas 2004 sounds (already), old, scratched, a little battered, like my camera cellphone (which I bought in 2004). This blog is one of the transitions for the new year. I've started it This is a weird time of year. Here in Berkeley it's a gorgeous day, sunny, though chilly. The magnolias are already blooming. It's not spring yet, not even winter. The looming New Year makes a guy think about transitions, the passage of time, new stuff—the usual. The numeral 2005 sounds new—shiny and pristine, just out of the box, wheareas 2004 sounds (already), old, scratched, a little battered, like my camera cellphone (which I bought in 2004). This blog is one This is a weird time of year. Here in Berkeley it's a gorgeous day, sunny, though chilly. The magnolias are already blooming. It's not spring yet, not even winter. The looming New Year makes a guy think about transitions, the passage of time, new stuff—the usual. The numeral 2005 sounds new—shiny and pristine, just out of the box, wheareas 2004 sounds (already), old, scratched, a little battered, like my camera This is a weird time of year. Here in Berkeley it's a gorgeous day, sunny, though chilly. The magnolias are already blooming. It's not spring yet, not even winter. The looming New Year makes a guy think about transitions, the passage of time, new stuff—the usual. The numeral 2005 sounds new—shiny and pristine, just out of the box, wheareas 2004
[Tsatskes]
[Readers]
[About]
[Blogroll]
43 Folders
Anders Fagerjord
Bay Area Bloggers
Berkeley Blogs
Blue Bottle Clown College
Cafexperiment
Coffeegeek
Denver Coffeehouses
Dogmilque
Doug Miller
Emily Chang's eHub
Hewn & Hammered
Jill's Definition of Weblog
Jonas Luster
Laughing Squid
Le Blaugue à Beleg
Loïc Le Meur Blog
Mark Bernstein
Moleskinerie
Seesmic Blog
Tant Mieux
The Dynamist
Tonx Dot Org

[Go]
Send Me Email:
coffeeblogger (at) doublesquids.com




<<
#

?
>>

Who Links Here
2:05 PM Sunday, May 13, 2007
[I'll stick with the traditional phone call.]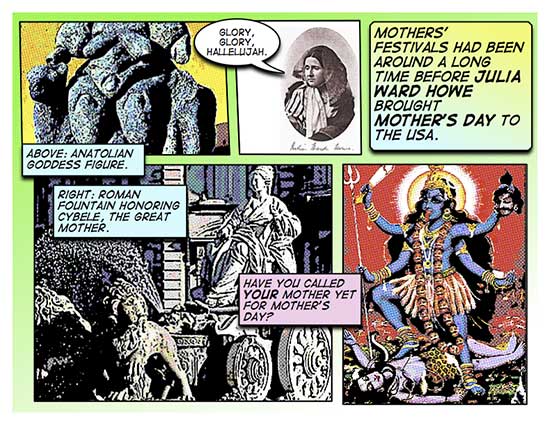 Yup. It's Mother's Day again. I already made the phone call to my mother, who is 3000 miles away. Looking up Mother's Day in Wikipedia, I discovered that the holiday has ancient origins, But first, what of modern Mother's Day? The British Mother's Day was brought to the USA by Julia Ward Howe, a pacifist and feminist born in 1819. Her "Mother's Day Proclamation" included this:
We, the women of one country, will be too tender of those of another country
To allow our sons to be trained to injure theirs."
But lest you think that Ward Howe was opposed to self-defense, bear in mind that she wrote the Battle Hymn of the Republic ("Glory, Glory Hallelujah") which included the line, "Let the hero, born of Woman, crush the serpent with his heel." The serpent, in this case was the slave-owning Confederacy, and Ward Howe hated slavery. She was married to Samuel Gridley Howe, who had gone to Greece as a battle surgeon during that country's successful war for independence from 1821-1829. And speaking of Greece, that brings us to what may have been the Mother of All Mother's Days, the festival of Cybele (Kubaba), a spring holiday. With origins in ancient Sumer, Phyrygia, and the Hittite pantheon, Cybele the Great Mother was long worshiped in Anatolia, which the Greeks called Asia Minor. The Romans eventually began worshiping Magna Mater on the Ides of March. The most devout worshipers of Cybele once castrated themselves and became transsexuals. As for me, I think I'll stick with the traditional phone call and maybe a card or present on the second Sunday of May.
No Mother's Day retrospective would be complete without reference to Gaia, Rhea, and Kali Ma. Hesiod, ancient Greek writer of the Theogony, a narrative about the origin of the Gods, described the Earth Mother Gaia as one of five beings who emerged from the nothingness of chaos at the beginning of time. (Eros, god of the erotic, was another). The ecotopian Gaia Hypothesis was named after her. Rhea, daughter of Gaia, has long been identified with Cybele and was considered by the Greek pagans as the Mother of All the (major) Gods. In South Asia, a mother goddess is still worshiped, Kali Ma. Not fond of evil demons, she is depicted as a frightening creature, and Kali has been associated with the cosmic cycle where all must come to an end. And that includes this Mother's Day post to Jonathan's Coffeeblog.
More Links: Mother Cybele Gaia Kali
More Images: MothersDay Mother Kali
Permanent Link to This Entry
| | Technorati Tag:
Mother
blog comments powered by
Comments (View)
Send the URL for this item to your Twitter Friends!
Word search for recent posts to Jonathan's Coffeeblog:
"The meaning of life and other trivia." Copyright ©2004, 2005, 2006, 2007, 2008 Jonathan David Leavitt. All rights reserved.
Every page now has Seesmic/Disqus video commenting. Scroll to the bottom to see or post video comments. To read a text-only version of Jonathan's Coffeeblog on your iPhone or other mobile phone, click here. Or to see the graphics with less text, click here.