This is a weird time of year. Here in Berkeley it's a gorgeous day, sunny, though chilly. The magnolias are already blooming. It's not spring yet, not even winter. The looming New Year makes a guy think about transitions, the passage of time, new stuff—the usual. The numeral 2005 sounds new—shiny and pristine, just out of the box, wheareas 2004 sounds (already), old, scratched, a little battered, like my camera cellphone (which I bought in 2004). This blog is one of the transitions for the new year. I've started it This is a weird time of year. Here in Berkeley it's a gorgeous day, sunny, though chilly. The magnolias are already blooming. It's not spring yet, not even winter. The looming New Year makes a guy think about transitions, the passage of time, new stuff—the usual. The numeral 2005 sounds new—shiny and pristine, just out of the box, wheareas 2004 sounds (already), old, scratched, a little battered, like my camera cellphone (which I bought in 2004). This blog is one This is a weird time of year. Here in Berkeley it's a gorgeous day, sunny, though chilly. The magnolias are already blooming. It's not spring yet, not even winter. The looming New Year makes a guy think about transitions, the passage of time, new stuff—the usual. The numeral 2005 sounds new—shiny and pristine, just out of the box, wheareas 2004 sounds (already), old, scratched, a little battered, like my camera This is a weird time of year. Here in Berkeley it's a gorgeous day, sunny, though chilly. The magnolias are already blooming. It's not spring yet, not even winter. The looming New Year makes a guy think about transitions, the passage of time, new stuff—the usual. The numeral 2005 sounds new—shiny and pristine, just out of the box, wheareas 2004
[Tsatskes]
[Readers]
[About]
[Blogroll]
43 Folders
Anders Fagerjord
Bay Area Bloggers
Berkeley Blogs
Blue Bottle Clown College
Cafexperiment
Coffeegeek
Denver Coffeehouses
Dogmilque
Doug Miller
Emily Chang's eHub
Hewn & Hammered
Jill's Definition of Weblog
Jonas Luster
Laughing Squid
Le Blaugue à Beleg
Loïc Le Meur Blog
Mark Bernstein
Moleskinerie
Seesmic Blog
Tant Mieux
The Dynamist
Tonx Dot Org

[Go]
Send Me Email:
coffeeblogger (at) doublesquids.com




<<
#

?
>>

Who Links Here
7:38 PM Sunday, July 1, 2007
[Shedding light on contemporary tensions.]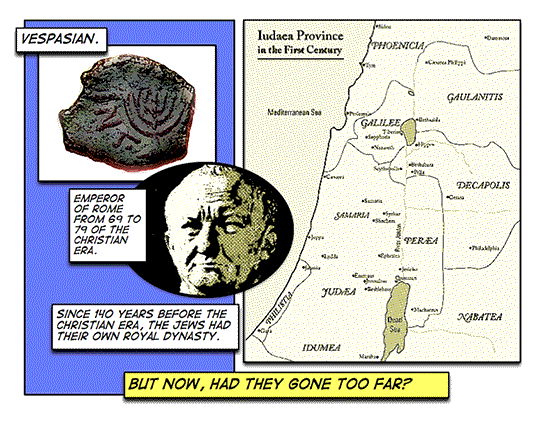 While working on a Coffeeblog post about theocracies I discovered that the word, Greek-derived (meaning dictatorship of a god) appeared in the writing of T. F. Josephus, a fascinating fellow who was born in the land of Israel around 37 years before the Christian era. Descended from priests of the Temple in Jerusalem, he wrote in Greek and became a citizen of Rome. Having written about Jesus, his writing has become part of the controversy among secular scholars and historians whether Jesus actually existed. I find Josephus fascinating for a variety of reasons, shedding light on contemporary tensions between religion vs. secularism, empires vs. "national liberation," and theocracy vs. liberalism. His life also makes vivid the nature of the Near East before Mohammad, and how those pre-Islamic cultures impact the region, and the world, today.
Josephus is described as a historian, but the accuracy of his writing has been disputed. Bear in mind that in Italian, the word for history is storia, which also means a story. I just started Josephus' first chapter in a freebie Google Books download, and what struck me immediately is how a studio could make a great action movie from it. Josephus was a rip-roaring storyteller. (It is my belief, by the way, that the capacity for storytelling is what most distinguishes the human species from other mammals.)
Having started out as a teenager choosing among the three sects of Judaism, the Pharisees, the Sadducees, and the monastic, ascetic Essenes, as an adult Josephus was caught up in the politics of the Galilee region, where local rulers, the Roman empire, and religiously inspired Jewish insurgents clashed with much bloodshed. It seems that Josephus was caught in the middle. When an insurgent band robbed a traveling wealthy Roman woman's caravan, intending to divide the spoils, Josephus kept the loot intact, planning to return it to the victim, or, if necessary, to sell it and spend the proceeds on rebuilding local infrastructure, depending on which way the local political winds were going to blow. He was thus proclaimed a traitor by young militant insurgents (Jewish, of course), who tried repeatedly to kill him. After much adventure and the passage of time, during which a full-scale war broke out between Judea and Rome (the first of three), Josephus became a client of the Roman Emperor Vespasian.
What did it mean to be a client in the Roman Empire? The word does not mean a "customer" in the modern sense. The Romans lived by patronage and clientage, relationships which continue today primarily among politicians and in the Cosa Nostra. For example, if you are a Sopranos fan, consider Paulie Walnuts. In the ancient Roman tradition Paulie would have been considered a client of Tony Soprano. As Vespasian's client, Josephus took the names Titus and Flavius, honoring Vespasian's family. In fact Vespasian was known as the first of the Flavian emperors, and Josephus' documentation about Jesus is known among Christian scholars as the Testimonium Flavianum. It was Vespasian's successor, Titus, who finally crushed the Jews and renamed Judea as Palestine.
More Links: RomanJews JewishWars Josephus Vespasian
More Images: Rome Galilee Titus Jews
Permanent Link to This Entry
|
|
| Technorati Tag:
Josephus
Vespasian Josephus JewishWars RomanJews
blog comments powered by
Comments (View)
Send the URL for this item to your Twitter Friends!
Word search for recent posts to Jonathan's Coffeeblog:
"The meaning of life and other trivia." Copyright ©2004, 2005, 2006, 2007, 2008 Jonathan David Leavitt. All rights reserved.
Every page now has Seesmic/Disqus video commenting. Scroll to the bottom to see or post video comments. There are also Haloscan comments at the end of each separate blogpost article. To read a text-only version of Jonathan's Coffeeblog on your iPhone or other mobile phone, click here. Or to see the graphics with less text, click here.