This is a weird time of year. Here in Berkeley it's a gorgeous day, sunny, though chilly. The magnolias are already blooming. It's not spring yet, not even winter. The looming New Year makes a guy think about transitions, the passage of time, new stuff—the usual. The numeral 2005 sounds new—shiny and pristine, just out of the box, wheareas 2004 sounds (already), old, scratched, a little battered, like my camera cellphone (which I bought in 2004). This blog is one of the transitions for the new year. I've started it This is a weird time of year. Here in Berkeley it's a gorgeous day, sunny, though chilly. The magnolias are already blooming. It's not spring yet, not even winter. The looming New Year makes a guy think about transitions, the passage of time, new stuff—the usual. The numeral 2005 sounds new—shiny and pristine, just out of the box, wheareas 2004 sounds (already), old, scratched, a little battered, like my camera cellphone (which I bought in 2004). This blog is one This is a weird time of year. Here in Berkeley it's a gorgeous day, sunny, though chilly. The magnolias are already blooming. It's not spring yet, not even winter. The looming New Year makes a guy think about transitions, the passage of time, new stuff—the usual. The numeral 2005 sounds new—shiny and pristine, just out of the box, wheareas 2004 sounds (already), old, scratched, a little battered, like my camera This is a weird time of year. Here in Berkeley it's a gorgeous day, sunny, though chilly. The magnolias are already blooming. It's not spring yet, not even winter. The looming New Year makes a guy think about transitions, the passage of time, new stuff—the usual. The numeral 2005 sounds new—shiny and pristine, just out of the box, wheareas 2004
[Tsatskes]
[Readers]
[About]
[Blogroll]
43 Folders
Anders Fagerjord
Bay Area Bloggers
Berkeley Blogs
Blue Bottle Clown College
Cafexperiment
Coffeegeek
Denver Coffeehouses
Dogmilque
Doug Miller
Emily Chang's eHub
Hewn & Hammered
Jill's Definition of Weblog
Jonas Luster
Laughing Squid
Le Blaugue à Beleg
Loïc Le Meur Blog
Mark Bernstein
Moleskinerie
Seesmic Blog
Tant Mieux
The Dynamist
Tonx Dot Org

[Go]
Send Me Email:
coffeeblogger (at) doublesquids.com




<<
#

?
>>

Who Links Here
7:13 PM Sunday, December 31, 2006
[A song called "Old Long Since"]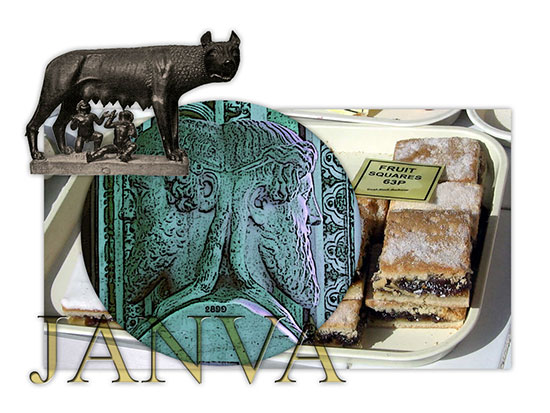 Our story begins with yet another Numa. In this case, it is not Numa Numa, but Numa Pompilius, the legendary second King of Rome, after Romulus. Remember? Romulus and Remus, the twin brothers raised by a she-wolf? Anyhow, around 713 years before the Christian era, Numa Pompilius added two months to the calendar: January and February. Why, you might ask, add two months? Pre-Numa, the Roman winter was considered so useless that it wasn't even assigned months. The year ended in December (the "tenth month") and began after winter in March, named after the god Mars, who was at first a fertility-vegetation god, before He joined the military-industrial complex. But I digress. Back to January.
As every high school Latin student knows (are there any high school Latin students left in the USA?), January was named after the god Janus, the one with two faces, one looking forward and the other backward. It might have been the other way around, the god named after a word for door, IANUA, or even named after the goddess Diana (not Princess Di, it's the other goddess.) How could that be? Change Diana (feminine ending) to Dianus (masculine ending) and drop the "D."
In January, newly elected American politicians take office, but that custom was observed by the Romans too. Their republic elected consuls, heads of state who, more powerful than the US President, had executive, legislative, and judicial power, and could also be commanders in chief during wartime. In 153 BCE, two consuls reportedly declared January 1 election day, giving a consul-elect the whole winter for inaugural ceremonies, legislating, adjudicating, and executing, before March, when he would march off to war with his army.
The January 1 New Year's day, once associated with the solstice, is celebrated with many customs around the world, one of the more interesting of which is the Scottish Hogmanay. At midnight, the Scots try to be the first to cross the thresholds of their friends and neighbors, bearing gifts including fruit bars (shown above using Dave Souza's excellent photo), which are called flies cemeteries because the currants inside them look like dead flies. And the Scots do, as I understand it, take a cup of kindness, while singing a song called "Old Long Since," better known by its title in Scots: "Auld Lang Syne."
More Links: 2007 2006 Janus January
More Images: Janus Romulus Hogmanay
Permanent Link to This Entry
| | Technorati Tag:
January
blog comments powered by
Comments (View)
Send the URL for this item to your Twitter Friends!
Word search for recent posts to Jonathan's Coffeeblog:
"The meaning of life and other trivia." Copyright ©2004, 2005, 2006, 2007, 2008 Jonathan David Leavitt. All rights reserved.
Every page now has Seesmic/Disqus video commenting. Scroll to the bottom to see or post video comments. To read a text-only version of Jonathan's Coffeeblog on your iPhone or other mobile phone, click here. Or to see the graphics with less text, click here.